The 2017 Awards are sponsored by Bloom – CoSector.
The Awards are open to individuals and teams based anywhere in the world and celebrate and reward excellent practice and outstanding achievement in the learning technology field and to promote intelligent use of Learning Technology on a national scale. 
Find out more about the finalists.
Find out who the winners of 2017 are.
First, second and third prizes were available in each of two categories: individual, and team, as follows: 1st prize £1000; 2nd prize £500; 3rd prize £250. A Community Choice Award, voted for openly, was also awarded. The Awards were presented at the ALT Annual Conference in September 2017 at the University of Liverpool, UK.
Find out more about previous winners:
Judging Panel
The panel was chaired by Fiona Harvey, President of ALT. The panel members include:
Darren Moon, Senior Learning Technologist, London School of Economics and Political Science, representing the Team Winner 2016
Daniel Scott, Digital Learning Specialist and Individual Winner 2016
Lorna Campbell, Trustee of ALT and OER Liaison – Open Scotland, LTW, University of Edinburgh
Lynne Downey, Dean, Online Education, University College of Estate Management
Josie Fraser, OER17 Co-Chair and Trustee of Wikimedia UK.
Selection process and criteria
Entries were judged (from the completed entry form, and, if short-listed, at interview) on the basis of evidence summarised in the following four areas:
A clear description of the actions taken to develop and support the achievement
Clear, credible, statement of individual or team approach to the technological, and/or methodological, and/or managerial, and/or teaching and learning choices made by the applicant (individual or team), during the period covered by the application
Major and beneficial impact on practices within the applicant's or team's organisation, community, or sphere of influence
Outstanding overall contribution in managing, researching, supporting or enabling learning, teaching or assessment with the use of learning technology.
Entrants had 200 words in which to summarise why they should win and a maximum of 400 words per area in which to provide evidence against the four areas listed above.
How to enter (now closed)
The closing date for entries was Sunday, 4 June 2017.
Short-listed entries were notified in mid-June.
Interviews took place in early July.
Videos & supporting information required in July.
Public voting was opened in August.
Awards winners were announced on 6 September.
The awards are free to enter and finalists (up to two free places for teams) will be invited to attend the ALT Conference Gala Dinner to receive their Awards.
Face-to-face, telephone or virtual interviews of short-listed entrants took place in early July (in London if face-to-face).
NEW 2017: announcing the inaugural Award to recognise research in Learning Technology
Now in their 11th year, the Learning Technologist of the Year Awards have established national recognition of individual and team achievements. As part of the 2017-2020 Strategy consultation Members expressed strong support for establishing a new Award to recognise research in Learning Technology. At this year's Annual Conference we launched the inaugural Award which will celebrate outstanding research achievement and in particular early career researchers.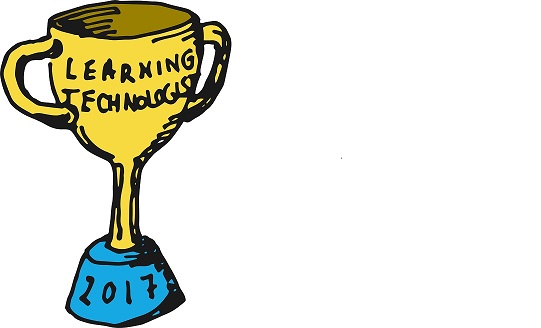 Community Choice award
We also gave everyone the opportunity to vote on the shortlisted finalists to select this year's 'Community Choice'. To help the community decide who to vote for, shortlisted finalist had the opportunity to provide information about their application including a short video.
Supporting the 2018 Learning Technologist of the Year Awards: if you are interested in supporting or sponsoring next year's awards, please email maren.deepwell@alt.ac.uk.
For news about the awards, follow #altc on Twitter.