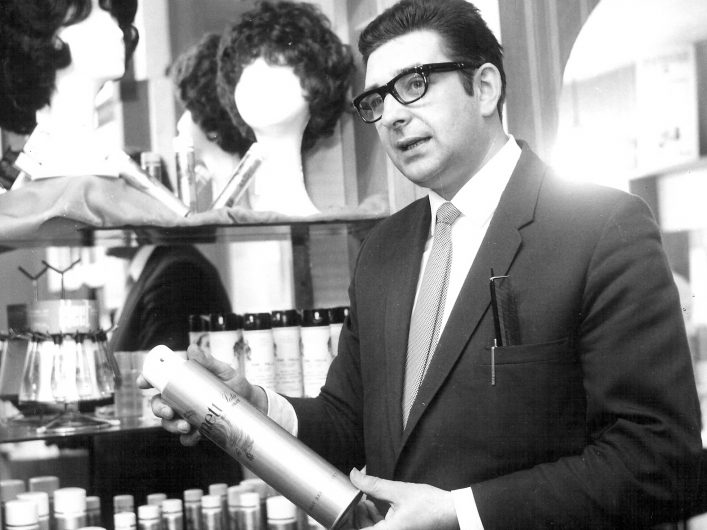 Taken in the 1960's, this picture shows my dad, Clifford Whitney, talking about products he used in our family hairdressing business Villa Hair Fashions in the Midlands. He was chosen to be the face of L'Oréal's latest salon professional product line. My parents had little formal education. With financial support from an auntie they were able to get the security needed to move to Warwickshire and set up their own hairdressing business all those years ago. Unfortunately dad died in 2004 but he had been able to grow his business and support our family very well. Turned out he really knew how to create a brand that attracted customers and my mother was talented at delivering great customer service. Skills that they could not have acquired through any amount of schooling at the time. They were however great advocates of on the job learning, working with local Further Education colleges to support apprenticeships. Of course, customers had to pay for their services but my parents knew the business value of connecting with their community and getting a good reputation. They remained relevant and evolved over 30 years to fit the needs of that community.
Business is evolving.
Every now and then business models have to change and evolve to suit the ever evolving social context in which they find themselves but there are some characteristics of business which remain constant:
Business exists to make a profit
The best way to increase your "bottom line" (the difference between turnover and business costs) is to limit costs
Brands live and die by their reputation
The arrival of the internet age has changed our society in many ways. As it has become more embedded in the way we live and shop, businesses have had to take it very seriously and many have done so very successfully. Some sectors have been totally transformed, not without pain – think of photography, book sales, music production and telecoms for example. The 3 constants listed above have to be interpreted in the light of societal changes and each business has to reshape itself to survive and remain relevant to the Zeitgeist. Failure to do so results in extinction of the brand. We are seeing the impact of this dynamic on our high streets. Individuals are more easily able to control their own destiny by reaching out directly to the market place. For some such as photographer Jonathon Worth Creative Commons licencing has empowered personal growth and effectiveness. The Open Innovation report 2016 speaks of us facing a fourth industrial revolution which is moving at a rapid pace, changing the notion of ownership (p73).
So what does this have to do with Open?
Many believe that the sharing economy which is advocated by the open movement is unrealistic, has no place in the "real" economic model of contemporary society and is too idealistic to survive the dog eat dog world of capitalism. Our earlier post reveals that this is not the case but that there are serious moral and ethical issues to be taken into account. I think some people dismiss Open as they have a naive understanding of the potential of open principles, failing to recognise the importance of soft power to all economic transactions.  The most successful businesses in the post-internet era are those who have wisely reinvested profit into developing online systems that deliver their business well. They have also navigated the tricky path of limiting their costs without reducing investment in their people. Those who support the development of their staff and reward appropriately gain staff loyalty and continue to grow their brand relevance in a challenging economic climate. Of course many businesses are still struggling to come to terms with this new context, they lose customers who reject poor customer service, low employee welfare standards. Today's consumers are aware of the importance of good business principles. Such brands will be the losers in a society where a poor reputation on social media can quickly impact on your bottom line. The notion of ownership, fiercely defended in protracted legal battles between individuals and companies is starting to be recognised as a cost, pressure grows for a legal infrastructure which is better fitted for the digital era.
Open does not mean that everything you do is without cost. That is unrealistic.
Open does not mean that your intellectual property is not respected. That is unfair.
Open principles support fairness and good value, transparency and truth. A social responsibility for business in the coming years.
Is your business able to adapt and survive in the context of the internet age and the open innovation that is an inevitable part of it?
Teresa MacKinnon, Co-chair Open Education SIG, t.mackinnon@warwick.ac.uk
If you enjoyed reading this article we invite you to join the Open Education SIG