This year's winter conference is set to be another jam packed programme of insightful engaging discussions from experts in leading institutions, as well as a lot of festive fun to celebrate what has been the end to a very challenging year for us all.
If you're raring to go and highly anticipating the ALT online conference, here's what you can expect:
Topical panel discussions and insightful sessions
The full two-day programme will uncover stories, examples and insightful discussions on the biggest challenges that are facing University and educators right now. Some of these sessions include topics such as student and staff wellbeing, virtual learning and online class experiences, the impact of the global pandemic on the student learning experience and examples of how universities are utilising technology to support whole institutions during these challenging times. As well as learning from these meaningful discussions there is the opportunity to have some fun with a digital game for Learning Technologist entitled "Cards Against Learning Technology: A Post Digital Game for Learning Technologists". We will of course be running our Learning Technologist of the Year awards and 2020 community awards at the end of the two-day conference so it will be great to see you all there and celebrate what has been a very hard-working year for us all!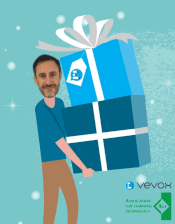 This time of year is all about having a bit of fun, letting our 'hair down' and enjoying the festive season! What's better than having an animated festive GIF of yourself and your colleagues to share on social media and with your friends? We all love a GIF!
At the Vevox breakout sessions, we'll be creating these personalised Christmas GIFs for you all. All you need to do is join the Vevox virtual breakout session (on the 15th & 16th) looking all festive and ready for us to screenshot your smiley faces!
We'll then get to work and send your personalised festive GIFs for you to enjoy and smile at. Don't forget to share yours on Twitter and to tag @VevoxApp and use #ALTC, so everyone from the ALT community can see all the glorious Christmas GIFs! It's a bit of festive fun, but not to missed so please do come and join in!
An interactive quiz to get you in the competitive and festive mood
The Vevox team are proud to be a strategic partner of the winter conference and once again supporting our friends and colleagues of the ALT community. This year we will be supporting the event by helping to run an interactive quiz full of Christmas trivia, fun facts and testing your ALT knowledge. The quiz will take place on the evening of the first day of the conference (15th December) at 6:30pm. We'll be using the Vevox app to run the live interactive quiz, so make sure you have a digital device or mobile to hand and we'll explain all at the start! There will be 3 rounds of themed questions with prizes up for grabs including a Vevox Hamper (including an Amazon voucher) and a Vevox branded chilly bottle for the best festive joke!
We look forward to seeing and speaking to you all at the conference!