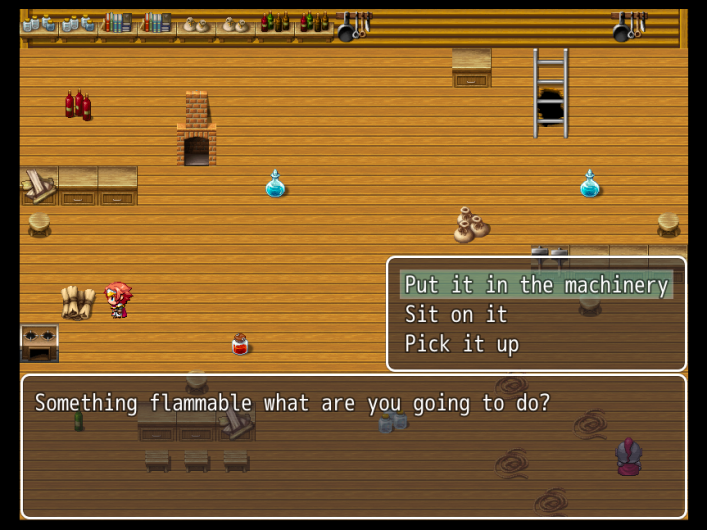 December 1, 2018 11:24 am
#PLSIG members have just completed their first Games Jam, on Nov 29th and 30th at the University of Brighton.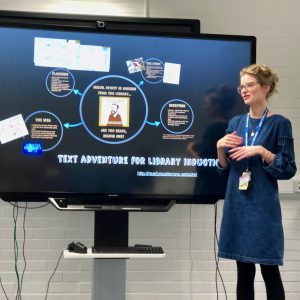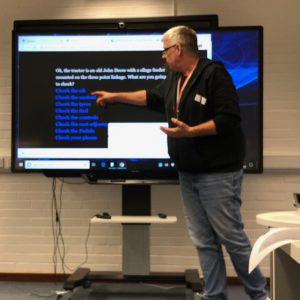 Kim and Rob introduce inform7 (text based adventures) and Twine (branching story). There were exploding tractors.
Playful learning is much more than teaching through a game – but the idea for this event was to focus on software to create games for use in teaching. We looked at some example games:
And then talked about what kind of teaching would lend itself to being taught via a game – mostly process driven tasks which could be presented as branching options of some kind.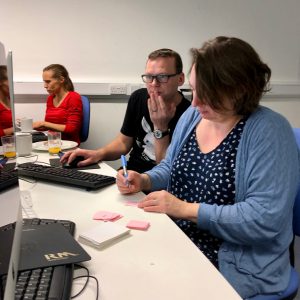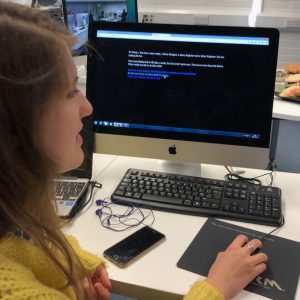 Game design in progress
The teams chose some likely topics, and then set to work to create the following (about 2 1/2 hours development time).
Health & Safety Gone Mad by Mia and George
Created in RPG Make MV
Play it: http://health-safety.katiepiatt.brighton.domains/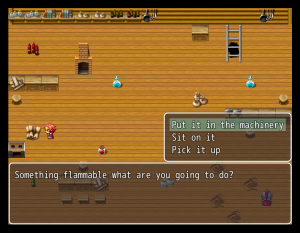 Designed to prepare learners for a more formal assessment, introducing hazards in a playful way.
Mooning Can be Risky by Katie & Juliette
Created in Twine
Play it: http://uni-moon.katiepiatt.brighton.domains/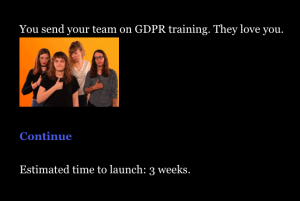 Designed to spark discussion about risk mitigation in project management – is it possible to mitigate all risks and still meet a deadline?
Disaster Manage Your Own Adventure – Rosie, Brena and anon
Created in Twine
Play it: http://disaster-manage-your-pwn-adventure.katiepiatt.brighton.domains/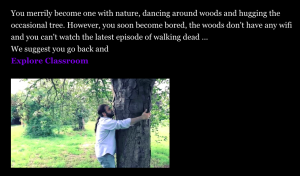 Designed to make players think about consequences of their decisions.
X-Breed – Nic and Alex
Created in cardboard 🙂
An offline game covering genetics, attitude to risk and basic numeracy through attempting to cross breed various animals.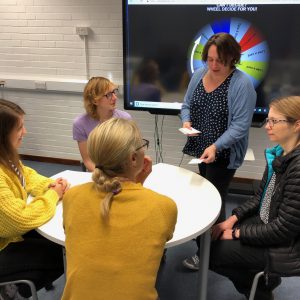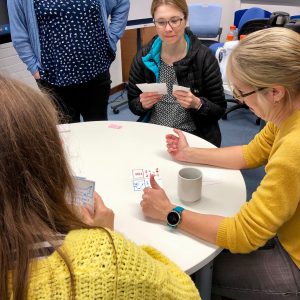 X-Breed in action, using Wheel Decide for card penalties
And to the judging…
"Health and Safety gone Mad" (Mia and George) was voted the best game for "Learnability" (ie was there potential here for players actually learning something). "X-Breed" was voted highest for "Playability" (imagination, graphics, game play, creativity).
It was great to see we could actually create a game in just a few hours – even if not quite to the standard of this weekend's rather more high profile Games Jam!
Thanks to everyone who came along for playing and creating!