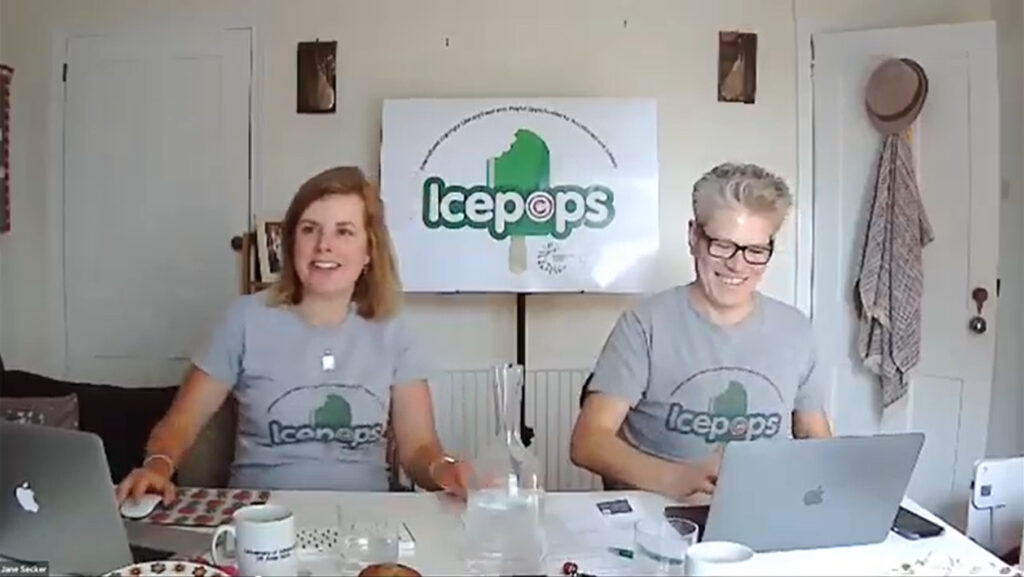 Introduction and background on Icepops
Summertime is with us once again, and that can only mean it was time for the International Copyright-Literacy Event with Playful Opportunities for Practitioners and Scholars (Icepops) 2021. In conjunction with CILIP Information Literacy Group and ALT Copyright & Online Learning SIG, this free conference was delivered on Friday the 25th of June by the creators, Chris Morrison and Jane Secker as an online event called "I Can't Believe its Not Icepops".
The previous face-to-face Icepops (2018 & 2019) events employed a mixture of keynote speakers, five minute lightning talks and 'World Café' sessions, to encourage the exchange of knowledge and best practice in a welcoming social environment. This year's online event was no exception as attendees had their 'top trump' name badges with geeky credentials, which were useful for virtual introductions during the pre-conference icebreaker session, and Zoom was used facilitate the conference. To generate discussion around the event, distribute resources and inform attendees about the upcoming speakers, the Twitter hashtag #Icepops2021 was used to enable this. As someone who has had the privilege of speaking at the previous two events, it was a real pleasure seeing the innovative use of technology to replicate that 'feeling' of attending a face-to-face conference. Full credit must be given to Chris, Jane, the conference speakers, and CILIP & ALT CoOLSIG support staff who provided this fantastic experience.
Conference welcome from Chris and Jane
Chris and Jane, delivered a welcoming introduction, which touched on the sector wide shift to an online delivery due to the pandemic and the well-received weekly webinars they've delivered (in conjunction with ALT), to help support the wider community during this challenging period. Looking at the programme, it was great to see continued international representation from copyright experts/academics from America and Australia. This was reflected in the attendees, who were from a variety of countries, reminding us that is indeed a global conference and community.
Morning Lightning Talks
After the introduction from Jane and Chris, the first series of lightning talks took place. The four speakers delivered five-minute presentations which explored copyright compliance, to the inequality of rights for published literary works and teaching copyright by stealth. It was interesting to hear the steps both Beth Pearce and Helen Balfour employed in their respective organisations to upskill staff to underpin a culture of copyright compliance. Irene Barranco Garcia discussed the pro-active online teaching method she employed to educate staff around copyright compliance and how to infringe copyright. Leslie Lansman from Springer Nature illustrated the varying "levels" of protection afforded to authors, when the same 'science news' was published in a journal, periodical, newspaper and academic blog.
Morning World Café
The morning session lightning talks were followed up by the engaging and interactive World Café section, which encouraged attendees to view realted online resources, prior to the event commencing. This session comprised of four ten minute presentations or interactive games that attendees could get involved in. Game Based learning (Hannah Pyman), and the use of video based narratives (Dina Martzoukou were show cased as innovative methods of teaching copyright in an online environment. Dr Claudy Op Den Kamp's "Collagementary" method of teaching 2nd year BA Hons film students at Bournemouth University about the contemporary issues surrounding IP in playful manner, again highlighted the use of video to teach complex themes to students. Dr Emily Hudson discussed the research she is currently undertaking with Professor Tanya Aplin (both Kings College London), in relation to the UK copyright quotation exception. Emily's talk provided a valuable overview and encouraged discussion around the proposed methodology and experiences with licencing text and images. You can participate in the discussion around Emily and Tanya's research via this Padlet, or email Emily directly at: Emily.hudson@kcl.ac.uk
---
Afternoon Lightning Talks
After lunch, the afternoon was kick started with another round of lightning talks, with discussions from copyright experts from across America. Learning about copyright, licences and game-based learning were the overarching themes covered in the four talks. Anita Walz discussed the approach she is taking, to refine advice for copyright and open licences when dealing with academic staff. Anita has made the advice digestible for the target audience, and I particularly liked the 'bike' metaphor and how this related to borrowing, a definite "a-ha" moment. Conference regular Kyle K. Courtney followed up the discussion around licencing, by exploring Controlled Digital Lending 2.0, as this practice has empowered institutions to provide access to provide access to materials to their users in an online environment. Following on from Kyle, was Monica VanDieren and Jenny Greene both of whom discussed how they have modified Copyright the Card Game for use in the respective institutions during each of their lightning talks. It was fascinating to see how they both adapted the existing game to create unique online training resources. Monica created a scenario-based resource that was used to teach students writing their theses about Fair Dealing and Creative Commons licencing, where as Jenny and her colleagues had created a refined Welsh version of the card game.
Afternoon World Café
The depth of conversation and wealth of innovation, continued throughout the day to our last session, which was the final four World Café presentations. Best practice around online learning materials, teaching methodology and game-based resources were covered in this exciting session. Will Cross promoted the online "Scholarly Communications Notebook" (SCN), as repository and community hub for students, scholars and practitioners to share ideas and explore concepts, some of which were show cased. The SCN is underpinned by OER, which further adds to the collaborative environment. and Open practices. Focus shifted to Kat Sundsbo's highly interactive online game, where participants take on the role of a character and partake in solving the whodunnit, whilst addressing key issues in scholarly communications to solve the Open Access mystery. Kyle K. Courtney made a welcome return to the World Café session, where he was able to expand on his lightning talk presentation by discussing the issues surrounding digital loaning of e-books. Emilie Algenio followed on to discuss her journey as a copyright librarian in developing an educational program for an archivist, curator and reading room coordinator. We got an overview of the various resources and types of approaches Emilie employed to teach her cohort of learners, which was very useful as it demonstrated how problem learning using scenarios and quizzes had been utilised. This rounded up a fantastic day, and all that was left was a conference wrap from Chris and Jane, who thanked everyone involved and mentioned that the festivities were going to continue in the evening Karaoke social event to formally wind up Icepops 2021.
---
Closing thoughts
You will have noticed the words "innovation" and "welcoming community" throughout this reflective report, as I think these were in abundance throughout the day. All of the speakers kindly shared their innovations in terms of teaching, research and expertise very generously adding to the feeling of being part of a global community. The audience was engaged with the event, and this was reflected in active discourse throughout all of the sessions, but social media as well. Chris and Jane's welcoming atmosphere and energy was infectious, and, I'm very much looking forward to next year's Icepops in June 2022.
Icepops 2021 resources