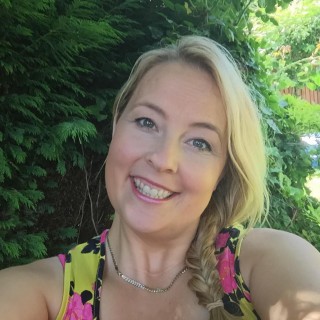 Message from Teresa

The committee members of the Open Education Special Interest group would like to get to know you. In the coming months we will each post a profile to tell you more about who we are and why we support opening up education. Here's our first fabulous post!

---
Name
Debbie Baff
Institution
Senior Academic Developer, Swansea University
Role at OE SIG
Acting Co-Chair and Secretary
Passionate About
Learning New Things, Open Education, Open Digital Badges , Sketchnoting … Cats, oh and anything Pink !
My Open Network
Twitter @debbaff My Blog https://debbaffled.wordpress.com/
My Recommendations :
#LTHEchat  Learning and Teaching in HE Weekly Tweet Chats – This weekly chat is open to anyone interested in higher education and provides an opportunity to share practices as well as ideas and connect with other practitioners.Each week the chat focuses on a specific aspect of learning and teaching in HE. I'd highly recommend this as the best bit of ongoing and open CPD I have ever done !
About me
I work at Swansea University in Wales, UK as one of the Senior Academic Developers in SALT ( Swansea Academy of Learning and Teaching). I have a cross-institutional remit to develop, support and embed best practice in learning and teaching through Technology Enhanced Learning (TEL) across the University. I teach on the TEL module of the Post Graduate Certificate in HE and am responsible for organising the Annual Learning and Teaching Conference.
I facilitate a variety of workshops and seminars and co-lead the SALT CPD Framework which provides opportunities for colleagues to share best practice in learning and teaching innovation. I am the lead for the implementation of Open Digital Badges within SALT and am also a part time PhD Student in E Research and Technology Enhanced Learning at Lancaster University.
I've been involved with the OE SIG as a committee member since 2014 initially through my work as Project Manager  for OER Wales, a national open education resources initiative. As part of that work I organised the OER15 Mainstreaming Open Education conference in Wales and as a result became more involved with both ALT and the OE SIG.   I have since acted as Secretary for the committee and have  helped to set up the new OE SIG website and other online community spaces. I am now delighted to be undertaking an additional role as Co-Chair (along with my other lovely Co-Chairs Teresa and Kelly)  as this will enable our current Co- chair the awesome Viv Rolfe to focus on her activities as Chair of next year's conference OER18 in Bristol.
What OPEN means to me …
Personally I  think that 'Open' means different things to different people and that's ok … the most important thing for me is being Open to the notion of Being Open …
Navigating in the OPEN
I am an advocate for Open Education and I try to incorporate Open Educational Resources as much as possible. I openly share  as much as I can in the Open and describe myself as an Open Education Practitioner. ( For more about OEP, the lovely Catherine Cronin has some great blog posts on Open Educational Practice )
I agree with Catherine that the notion of 'being open' itself is a continuum that is constantly evolving and is renegotiated depending on context. ( For more about this see more of Catherine Cronin's excellent work here ) . For me this is most evident depending on whether I am wearing my OE SIG hat or perhaps wearing my usual 'work' hat as often this can mean that I need to take a somewhat different approach and be a bit less open than I would like.
How I believe the OPEN ED SIG can contribute to progress in education / society
We undertake lots of activities within ALT OE SIG to help raise the profile of Open Education and Practice, including helping out with the annual ALTC Conference  , Hosting Webinars and maintaining  our online community space and even hosting an online party during the ALT C Winter Online Conference !  Personally, I think that the ALT OE SIG can contribute in many ways to the progress of Open Education in education and through our continuing focus on work such as  the Joining the Open Dots initiative we are able to connect educators across the various areas in the education sector who are involved in Open Education and Practice.
It is such a privilege to be involved in the ALT OE SIG  I really enjoy working with such a talented bunch of people, they are really supportive, accommodating and volunteer their time, energy and vast amounts of expertise with such enthusiasm, it's a pleasure to be part of it.