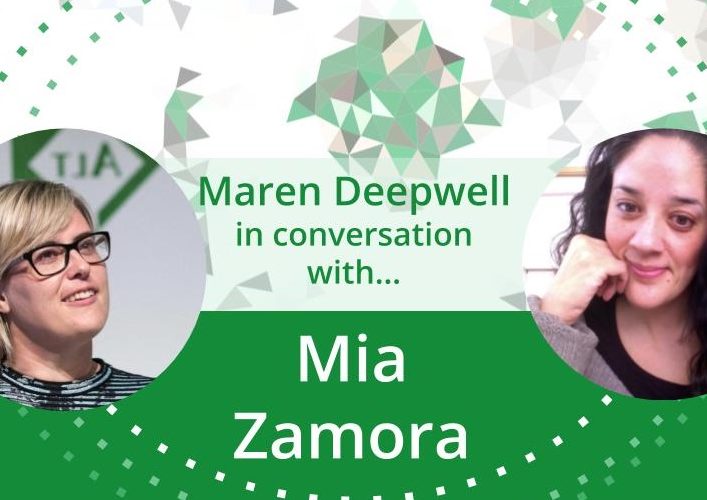 September 24, 2019 11:52 am
This time I am joined by Mia Zamora (@MiaZamoraPhD), one of the Co-Chairs for next year's OER Conference and Associate Professor of English & Director of MA in Writing Studies, Kean University. Mia and I often only get to meet virtually in conference settings, so it's a particular pleasure for me to find out more about Mia's work and what's on her mind just now:
Maren: Tell us about what you are currently working on?
Mia: #OER20 I am thrilled to be invited to co-chair #OER20 with wonderful collaborators Daniel Villar-Onrubia & Jonathan Shaw from the Disruptive Media Learning Lab at Coventry University, UK. We are having a great time working together while we prepare for a very special #OER20 conference. We have been thinking a lot about theories of care, and we have decided to embrace these ideas as the theme for next Spring's conference. Covering issues of privilege, equity, precarity, power relations and public interest, #OER20 will put the spotlight on both the value and limitations of care in open education. We would like to address several critical questions throughout the conference: -In the age of data surveillance and significant risk on the open web, how can we map out and give visibility to the critical component of care practices? -How can we build sustainable communities, participatory practices, and civic engagement for the public good and a healthier democracy?
Equity Unbound (#unboundeq) is an equity-focused, open, connected, intercultural curriculum that builds critical digital literacies in a global context, highlighting issues of web representation, digital colonialism, safety and security risks, and how these differ across contexts. I have launched this project with co-founders Maha Bali & Catherine Cronin, and we have together developed this curriculum with the motto "the only way to make borders meaningless is to keep insisting on crossing them" (Mounzer, 2016). Together we have included undergraduate and postgraduate students in our own courses, as well as educators and students in other contexts and countries, and also interested individuals outside formal education. This Fall 2019, we are gearing up to energize a new "round" of Equity Unbound collaboration. This includes a focus on data literacy integrating great resources from Tactical Tech (based in Berlin) including their "Data Detox Kit" and the "Glassroom Exhibition". In addition, our Equity Unbound research component includes a collaborative autoethnography we are currently writing which critically reflects on both our theory and practice.
Networked Narratives (#NetNarr) – I am also currently writing an article that maps a connected learning approach to the teaching of electronic literature as I share specific strategies for an open pedagogy of play. My case study is an open participatory course entitled Networked Narratives which I have co-designed and co-taught with Alan Levine over the course of Spring 2017, Spring 2018 & Spring 2019. Seeking to transform what is possible in the real world, we have designed a world-building fictional community while exercising collective civic imagination. By taking a cue from the age of alchemy, #NetNarr has been a three year openly networked writing collaboration that pursues transformation through "digital alchemy".
Maren: What influences your work?
Mia: I think there might be two consistent threads that influence all of my work:
The first is my personal and academic interest in transnational experience and identity. I am Filipino-American, and my early research (in the field of Comparative Literature) was heavily influenced by postcolonial theory, questions of embodiment, and the challenges that arise when crossing both literal and metaphorical borders. This early work has lead me to my current interest in intercultural learning in open networks and issues of equity in higher education.
The second thread of influence is my ongoing interest in transformation(s) regarding textuality – from the analogue sense of text to digital con(text). I am someone who thinks alot about how we tell our stories, and how our current storytelling tools have changed what can be written when embracing a computational environment (i.e. electronic literature). How have our writing and reading (and thinking) processes been transformed by digital tools and open networks of collaboration?
Maren: Current recommended reading?
Mia: It is summer time! For me that means I am reading all the time (it is my favorite past time besides taking a walk). I think of reading as the greatest luxury of all. I savor it, I take my time (and still, I always feel like I don't get enough reading time). Here is what I am reading at the moment:
For work:
The Age of Surveillance Capitalism by Shosanna Zuboff
Algorithims of Opression by Safiya Noble

For my soul:
A Field Guide to Getting Lost by Rebecca Solnit
Falling Upward: A Spirituality for the Two Halves of Life by Richard Rohr

For my love of mysteries:
The Witch Elm by Tana French

Maren: How do you make your to-do lists.. analogue or digital or both?
Mia: I have a little blank book that goes with me everywhere. I write down most of my reflective half-thoughts and the seeds of fleeting ideas in there. But for itemized lists (i.e. tasks or groceries), I use my notepad in my iphone.
Maren: On work travel, you are never without..?
Mia: …my little blank book and my iphone. My laptop too.
Maren: Which learning technology makes the biggest difference to your work (and why)?
Mia: My Reclaim Hosting server! … So I can make endless websites (subdomains) for my various courses and my other work (learning networks, installations, participatory art projects, etc.). It is critical to all the things I do.
I will also mention google docs, simply because so much of my best collaborative writing and thinking is done in this context.
Maren: Who are your learning technology heroes?
Mia: This is so so hard to answer. I could go on and on and speak about so many amazing people. But I guess I will just try to scratch the surface by mentioning a few:
My dear "Equity Unbound" partners Maha Bali, Catherine Cronin. These women are a lifeline for me. They nuture my thinking and my reflection, they help me through harder days, and they are just good for my soul.
Alan Levine is an incredible collaborator and a good friend, and I have learned a million things (little and big things) from working with him. He also reminds me to stop saying "I'm sorry". I love him for that.
Howard Rheingold is a font of wisdom, a kind mentor, and a kindred free-spirit that inspires me to tend to the big (wonder-filled) picture when life seems too task-oriented.
A quick shout out to two very special communities:
The Virtually Connecting network – a group of generous, smart, and fun people who keep on learning and discovering in the open.
The "Connected Learning" community from the Digital Media & Learning Research Hub & the National Writing Project. I have learned so much from so many bright minds in these intertwined networks.
Maren: If you had learning technology superpowers for a day, what would you change?
Mia: My superpower would be to help everyone understand that data (algorithims) may be able to show us WHAT happens, but not WHY it is happening. And I would make it clear to everyone that the algorithm often doesn't offer the big picture. Algorithms can be a useful tool. But if I had this superpower, I would be sure everyone really knew that human behaviour is more than the sum of our data.
Maren: What are your favourite hashtags?
Mia: Hashtags change (sometimes they are on fire, and sometimes they are sort of dead or quiet). That said, I would like to mention #connectedlearning, #netnarr, and #unboundeq.
Maren: What's the best way for someone to learn more about what you do?
Mia: You can check out my website: miazamoraphd.com. Or check out my twitter (@miazamoraphd) or instagram (miazamoraphd) feeds.
Ask any of my students what I do, and you will hear that I listen and I pay attention, I tell stories, I ask challenging questions, and I model what it means to have a curious and open intellect. I share my knowledge in order to grow our collective curiosity.
Ask any of my colleagues, and you will hear that I work hard, that I am a mentor to many, that I research and write in a way that is always connected to my teaching. Also, that I want to change the world at least a little bit for the better, and that I love to explore complex ideas in collaboration.
Ask my children, and they will say that I like to talk to them and hang out, that I read and walk and travel, I doodle and paint, I cook and bake, and that I organize and generally take care of things. They might throw in that I am a professor, but they don't care about that all too much.
Ask my husband, and he will probably say I do just about everything (except gardening and guitar, which are his things).
Maren: I really enjoyed talking to you, thank you Mia!