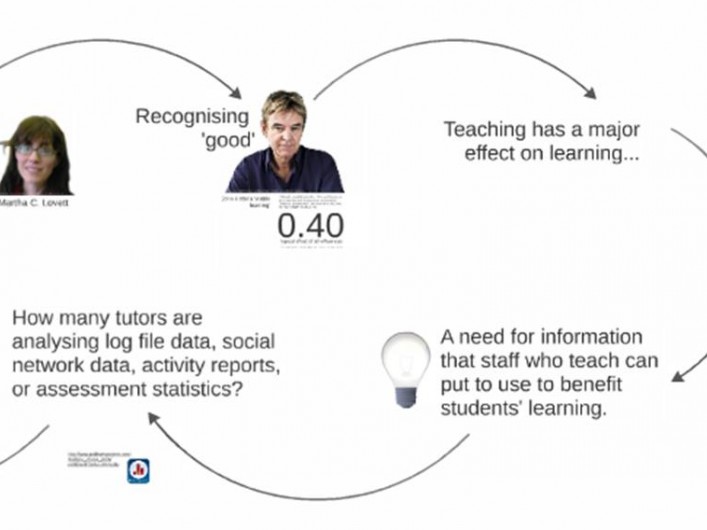 January 29, 2014 12:02 pm
The M25 Learning Technologists group and MUGGL (Moodle Users Group Greater London) held their winter meeting at King's College London on 19th November 2013. The all-day event offered a diverse mix of the technical and theoretical and attracted over 60 participants from London and outlying areas.  Attendance was one of the highest to date for the M25 RIG and included a large number of academics.
MUGGL
MUGGL's morning meeting was a mix of creative presentations; practical, problem-solving discussions; and 'open mic' style exchanges. During Plugins Swap Shop participants took the stage to show plugins they have been using. Challenge Muggle allowed users to share problems encountered in Moodle. Many of these problem have been discussed subsequently on MUGGL's mailing list.
Presentations focused on alternative uses of Moodle, including for development of student skills, CPD, and Moodle training, and provided an opportunity for presenters to show their course and VLE designs along with some of the external tools they have used to integrate with Moodle.
Matt Jenner from University College London (UCL) presented a MOOC-style Moodle (UCLeXtend), which has been integrated with CourseMerchant to allow visitors to search and pay to register for courses.
Pete Roberts at Goldsmiths showed how a Moodle course has been used to teach Moodle. This highly successful project allows teachers to test different tools in a realistic environment and includes weekly exercises set up in response to feedback from teachers.
Carol Shergold presented plugins developed at the University of Sussex.  Her presentation showed Sussex's technical skill as well as design sensitivity. She presented modifications to core Moodle code used to display videos as thumbnails. The result is a better, more economical design, together with considerable improvement in page performance. Sussex has also developed a plugin for Talis Aspire, the library reading list tool, which allows course developers to show reading lists in smaller parts (for example by week) that integrate with a course's overall structure.
If you are interested in learning more about MUGGL please contact Sarah Sherman (ble1.bloomsbury@gmail.com).
M25 Learning Technologists Group
Following a welcome from the Professor Mark Russell, Head of King's Centre for Technology Enhanced Learning, a panel discussion about video management tools, prompted by online exchanges on the M25 and ALT listservs, became the central event of the day. Sarah Sherman (Bloomsbury Group) chaired the session and was joined by panelists from King's College, Royal Veterinary College, City University, and UCL who mooted the advantages of different lecture capture systems. Panelists expressed particular concern about sound quality, compared different methods for storage and discussed potential cost implications, a concern as lecture capture becomes increasingly popular and as contract terms change.
Presentations focused on e-learning pedagogy:
Lisa Baker from City University presented her study on how their VLE has influenced teaching methods and experience. Based on interviews with teachers and students, she found that their VLE had played a role in shaping pedagogy and student experience.
Prof. Steve Warburton from Surrey presented a dialogical model of e-learning support called 'SNaP' (Scenarios, Narratives and Patterns). This model applies problem-based learning approach to e-learning support and encourages teachers to form a clear narrative of their design problem before considering possible solutions.
Vicki Dale from UCL presented work on a pilot study for the Electronic Voting System (EVS) LectureTools which allows teachers to create interactions in their PowerPoint presentation, then students and teachers can participate using their laptop or mobile devices. Students have responded positively overall, finding that the EVS stimulated discussion, increased engagement, and helped them prepare better for exams.
Mira Vogel, also of UCL, considered pedagogical and methodological concerns for learning analytics. VLEs provide increasing opportunities to gather data about how teaching is shaping student learning and Mira discussed how we infer student learning and what we count as a 'good' effect.  Live twitter polls were used to gauge the audience's engagement with learner analytics and revealed that most institutions are only starting to consider harnessing this wealth of data.
After the presentations, participants enjoyed the British Film Institute's Benugo Bar. The M25 group has built not only an extremely lively channel for sharing insights about e-learning, but also a community across a swathe of HE institutions. Many of us go to the M25 LTG and MUGGL to network and meet friends as much as to learn from the day's lively presentations.
If you are interested in finding out more about the M25 LTG, please contact Colin Loughlin (c.loughlin@surrey.ac.uk) or register on the M25 LTG website.
An Elluminate recording of the M25 session can be found here: bit.ly/1moB6T0
Leonard Houx
Floream
leonard.houx@gmail.com
If you enjoyed reading this article we invite you to join the Association for Learning Technology (ALT) as an individual member, and to encourage your organisation to join ALT as an organisational or sponsoring member.