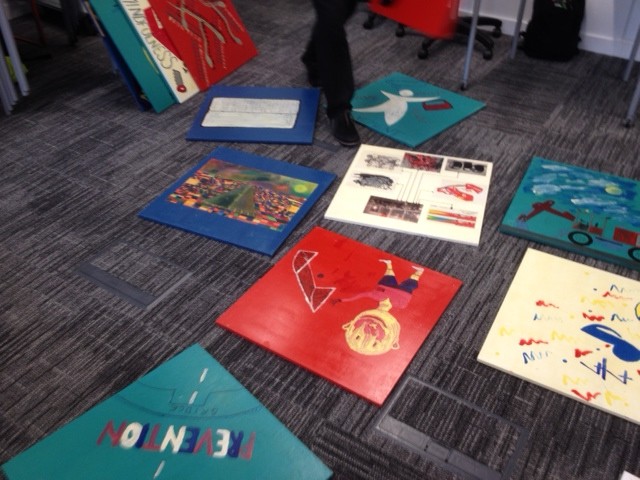 September 26, 2014 10:00 am
For this latest gathering of ALT-GLSIG (the Games and Learning Special Interest Group, hosted by the Association for Learning Technology and chaired by myself and Nicola Whitton), we returned to Manchester. This time, a little further down the road at the University of Manchester's excellent Alan Gilbert Learning Commons building: an extremely well thought-out and provisioned study/learning space for students next to the main library.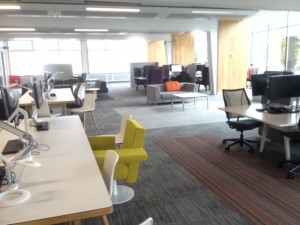 These regular SIG meetings are a chance for members to meet and share practice, play games, share ideas and collaborate on projects and writing; but we also like to include the local context: incorporating themes or groups from the host university. Rosie Jones, Commons Manager and long-term SIG member, was our accommodating host, and had invited colleagues from the university along to present and join in with the meeting, which added value to an already packed programme.
We kicked off on Thursday lunchtime, with 14 members new and old: to get everyone straight into the spirit we played a quick game of Curate-a-fact (the winning group coming up with the intriguing history of 'Llama Nut Ball'), and 'people bingo' (where we each had a list of traits, and had to find people with matches for each): two great ways to get everyone to find out random facts about each other, and start the proceedings in a playful way.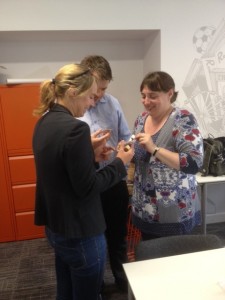 Our first session proper was a discussion about conference games: using games to help attendees network, and engage with the conference themes. This contributed to planning for the FOTE 2014 conference, which members of the SIG were invited to create a game for within the atmospheric surroundings of Senate House. More of this in a later post.
The first of our guest speakers, David Jackson (Manchester Metropolitan University) introduced us to Storyjacker in both digital and paper versions: a fun group writing activity which helps people to collaborate together on a narrative. We had great fun, and generated some impressive prose; with the paper and digital versions offering different experiences. Our second guest speakers were Jonathan Slater and Glenn Painter (NHS Nottingham) who wheeled in an intriguing set of giant boards. Ten minutes later, we were walking through a journey into the minds of recovering therapy patients, played out through a giant game board. It was a great example of how playful experiences can help to bring people together, and open them up to ideas and discussions they might otherwise find difficult.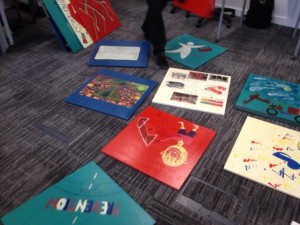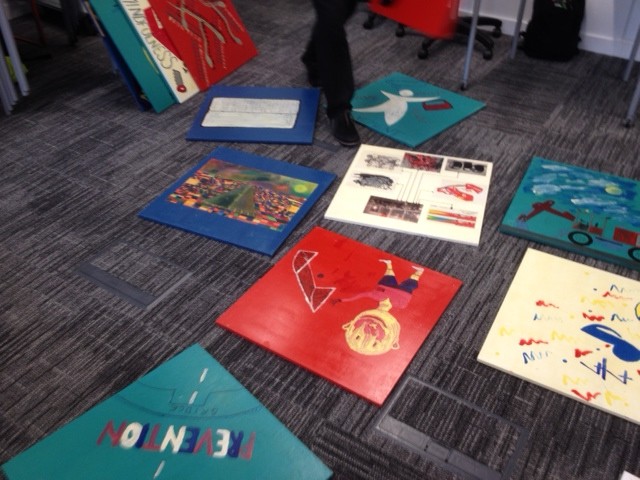 Continuing the discussion and games into the evening, we finished by playing the brash but hilarious/cringeworthy Cards against Humanity over a meal in a local hostelry. The Friday began with Katie Piatt asking us to solve the STEM quiz she had devised for a Sussex childrens' science fair, which was great fun and resulted in puzzle designs for future events. Rosie and her Learning Commons colleague Jade Kelsall then provided us with a challenge: we had to design games to help students engage with eLearning resources. To add further competition, good designs were awarded cubes of plasticine – which were added to growing tall sculptures (the highest structure at the end was awarded a highly detailed plasticine dinosaur: the perfect prize?). It was an excellent, fast and creative way to generate ideas – resulting in some great approaches.
A conference planning session was next up: there is a dearth of conferences covering adult learning games and play (or, indeed, any learning games) for both researchers and practitioners in Europe, and so we brainstormed the possibility of a focussed conference in 2015. A working party, and plenty of playful ideas for structure, themes and other events emerged. Watch this space.
The event finished with a round up of SIG news, and we headed off around midday, to arrive home in time for tea.
All attendees, both existing SIG members and new / invited guests, said how much they had gained from the event – and as ever we were bowled over by everyone's enthusiasm, creativity and examples of their own, local work. Our next meeting is in November at the University of Hull, where we expect something completely different, yet just as playful.
If you are interested in the work of the ALT-GLSIG, sign up to our group at: http://gamesandlearningsig.ning.com
Alex Moseley, University of Leicester
If you enjoyed reading this article we invite you to join the Association for Learning Technology (ALT) as an individual member, and to encourage your organisation to join ALT as an organisational or sponsoring member.