ALT spoke with Bob Harrison about the continued endeavours to promote digital technologies in further and higher education. Bob is one of the key drivers of the FELTAG (Further Education Learning Technology Action Group) recommendations report and was a recent keynote speaker at Jisc Digifest.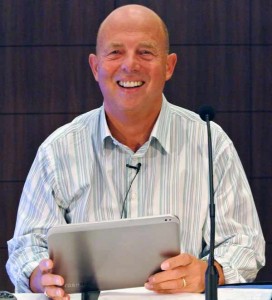 ALT: Some educators are curious about the meaning of '21st century skills' deriving from digital technologies. How do you see these skills?
Bob Harrison: I have never been clear about what are referred to as 21st Century Skills. We are already 15 years into the 21st Century in any case. What I do observe as I travel around the country and the world is the very different way the emerging businesses are working and also how established business who adapt and develop the skills of their workforce seem to thrive. I believe the workforce in education has been sadly denied the necessary opportunities to develop due to a number of cultural and policy constraints. The FELTAG recommendations are designed to remove some of these barriers.
ALT: FELTAG cites Further Education as needing to adapt to "market needs", yet frequent feedback from the business world is that the skill sets lacking are traditional ones, like basic literacy and numeracy. Will technology help to instil these skills?
BH: If you think about the history of Further Education its roots are firmly planted in the industrial age. Consequently the design principles are predicated on a mechanistic, Industrial Revolution-era process. This is not fit for the digital age. The relationship between employers and FE providers needs reform and this is critical in the digital industries and technology start-ups. Why don't FE providers allow tech star-ups to use the spaces and infrastructure in the underused buildings? We need a much greater synergy between business and FE providers.
ALT: The FELTAG report is mainly aimed at FE and concedes that the populations there have"frequently not achieved highly at school." Could the expectation of students to be more independent and self-determined (for instance in flipped, blended or online/distance learning) be too high for them?
BH: I do not accept students who have "frequently not achieved highly at school" are incapable of being motivated to learn by online, blended, distance or flipped learning. It could be because they were denied these opportunities previously they did not do well at school perhaps? I firmly believe technology can engage, motivate, empower and progress more learners but we need a differently skilled workforce and a much more equitable and reliable infrastructure.
ALT: In a competitive culture, how can colleges achieve the paradigm shift you described at Digifest?
BH: Culture change takes time and requires vision from policy makers, funding and accountability agencies, Governors, Principals and Managers at all levels. That is why FELTAG identified the "cultural inhibitors" to innovation and made the necessary recommendations. It is however up to providers to take action.
ALT: How is further innovation possible with deeper spending cuts pending?
BH: Innovation is not only possible but essential. There are many free resources available but the big challenge is the realignment of the asset base from one designed for an industrial era to one fit for the digital future. This means disposing of underused land and buildings and reinvestment in more teachers with a different skill set and a robust and reliable infrastructure. We also need FE providers to be liberated from the claustrophobic influence of the audit, inspection and assessment system.
ALT: How can teaching staff influence i) their own internal institutional policies on technology use and ii) the wider educational institutions (in the report, the Office of Qualifications and Examinations Regulation, Office for Standards in Education, Children's Services and Skills (OFSTED), the Office of Qualifications and Examinations Regulation (Ofqal), Federation of Awarding Bodies (FAB), and the Joint Council for Qualifications (JCQ) are all cited)? 
BH: "We can't change policy but we can change practice" is an often quoted mantra but the reality is much more complex. The most powerful change agents in any educational organisation are the learners themselves. There is a growing number of FE providers who are already implementing the FELTAG recommendations and encouraging teachers to innovate in the use of digital technology. This takes vision, courage and leadership at all levels. All FE providers should have a Teaching and Learning policy and this should obviously have digital technology embedded within it. The FELTAG recommendations are being addressed by the Skills Funding Agency (SFA), OFSTED, the Department for Business, Innovation and Skills (BIS) and JISC, but we need to do more – and faster
ALT: How are those institutions responding to changes and what more could they be doing?
BH: I was a judge at the TES FE awards this year and there is a growing number of FELTAG pioneers who are leading the way. Jisc have facilitated the formation of the "FELTAG Coalition" which consists of all the major agencies and groups in FE. The momentum is growing but needs to move faster.
ALT: How are the FELTAG recommendations being tracked and upheld?
BH: BIS is keeping a watchful overview on progress but a key feature of Matt Hancock's support for FELTAG was that the changes should be owned by the sector. Jisc is also doing a great job supporting with the coalition. FELTAG is not a "top down" intervention. It aims to remove or reduce the cultural inhibitors to innovation and create some space for teachers to enhance learning using technology
ALT: Which tech developers and providers are partnering colleges to make a difference?
BH: There are some excellent partnerships between the technology industry and FE providers but many, many more are needed. Toshiba have launched a few successful Digital Leaders projects with FE providers but the synergy between the technology industry and FE providers needs to be significantly improved and quickly.
ALT: Evidence is vital in educational research; what framework can be used to ensure effective use of tech in teaching and learning, or in leadership?
BH: There is insufficient research. There is plenty of "puff" around products and services, which is more PR than research or evaluation. We know there is no evidence of a causal link between technology and improved learning outcomes. However, we cannot afford to wait for "pilot studies" and research evidence to "prove" good technology and good teaching will improve learning.
ALT: What opportunities can the new Government commit to FE?
BH: Given the result of the election and the relative continuity of returning ministers, such as Nicky Morgan in Department for Education and Nick Boles at BIS and fresh blood of ex FE learner and Department for Culture Media and Sport minister Sajid Javid, I think we can be hopeful that FELTAG implementation will continue. We anticipate a Government response to the Etag recommendations shortly, but irrespective of Government interventions, the direction of travel towards Education's digital future will surely only increase. The appointment of a new Chair of Jisc and the resignation of Jisc CEO Martyn Harrow means some uncertainty in Higher Education.
Bob Harrison,
Education Adviser, Toshiba Information Systems Northern Europe
Chair Teaching Schools Technology Advisory Board
Member of ETAG, UK Forum for Computer Education, Board Member NIACE, UfI Trust
If you enjoyed reading this article we invite you to join the Association for Learning Technology (ALT) as an individual member, and to encourage your own organisation to join ALT as an organisational or sponsoring member