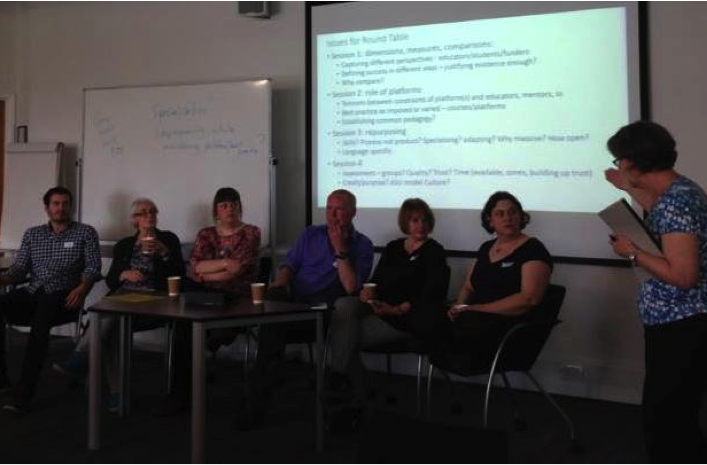 On 24 April 2015 forty educators from 19 institutions discussed key issues in MOOC design and implementation at a one-day workshop hosted and funded by the University of Reading, a leading member of the FutureLearn MOOC consortium. The workshop offered the opportunity to evaluate practical lessons from the design and delivery of MOOCs, particularly those encouraging skills development. The focus was on problem-based discussion of approaches to teaching and learning, and the extent to which MOOC learning outcomes can be defined, measured, or achieved.
Four presentations explored a particular issue related to the central theme, and were followed by group discussion around questions suggested by the presenters.
Dimensions of MOOCs. Shirley Williams (University of Reading) provided an overview of MOOC statistics and taxonomies, and highlighted MOOC issues viewed from the 'outside' and from the provider's view. She asked participants to extend her list of MOOC dimensions, discuss how the measurement of success, and consider whether and how courses can be compared.
Pedagogy as a service: lessons and challenges from the perspective of the platform. David Major from FutureLearn shared some key lessons and challenges and led discussion of two major questions: Are MOOCs platforms for content and courses, or for learning and pedagogy; and How can we coalesce individualism (i.e. effectively reconcile the inherent variedness of individuals' goals) from the view of courses, platform, educators and learning?
Repurposing MOOCs for language learning purposes. Liam Murray (University of Limerick) shared the results and recommendations from the evaluation of a number of MOOCs to determine the potential for repurposing for second language acquisition. Liam asked us to consider aspects of specialisation and adaptability in relation to both content and audience.
Designing assessed group work for MOOCs. Marion Waite, Elizabeth Lovegrove and Abigail Ball (Oxford Brookes University) shared their experience with group work on the TOOC15 MOOC. They asked us to discuss why and how we assess in a MOOC and consider issues and practical challenges associated with grouping students and peer review.
The round-table at the end of the day helped establish key lessons learned and provided some useful tips.
Lessons learned:
There is a long(ish) history of massive scale, online learning behind MOOCS (starting with Usenet groups), so it is important for us to avoid re-inventing the wheel.
Initial MOOC-hype is dying down, but interest is still growing, as seen in the takeup of repeat MOOCs.
MOOC measurement is best avoided, especially if it is superficial, for instance only about numbers signing up.
MOOCs are a good way of marketing and need institutional support.
The learners you get on a MOOC may not be the ones you expected, so there is a need to keep (re)assessing learning goals.
Best practice tips from the day:
Keep your eyes open: educators can benefit from enrolling on other MOOCs as learners.
Keep talking to each other: it's important to have Communities of Practice.
MOOCS should draw on best practice in teaching and learning: let pedagogy lead.
MOOCs – where next?
Finally, the round table panel also identified some future directions for MOOCs, which reflected a positive view of MOOC development and expansion.
'The walls of the institution are coming down to the level of the learners' – there will be an opening up of practice in range and aims of MOOCs.
Types of MOOC will include: Tasters for University courses; retirees taking MOOCS for interest/enjoyment; and MOOCs embedded in f2f courses (eg basic Maths).
A lot could be presented as REF case studies, so reliable research context is vital.
MOOCS will get more specific/specialised as the market place gets more crowded, but there will still be value in 'Introductions to….' MOOCs.
There will be more mixed x- and c-MOOCs.
There will be more training/professional MOOCs, but many people will still do academic MOOCs for enjoyment.
MOOCS will get better at delivering pedagogic aims.
There will be a wider range of stakeholders (e.g. employers).
They also left us with two questions about MOOC assessment.
Do MOOCs need to be assessed? If so, assessment must be paid for.
How can participants demonstrate what they have learned in non-traditional forms of assessment?
Overall, the workshop allowed presenters and delegates to share questions and lessons learned, and to consider how to take forward best practice in online massive-scale learning. We very much hope to keep the dialogue going in the future.
Further information about the University of Reading
Dr Clare Wright & Prof Clare Furneaux (Department of English Language and Applied Linguistics) @UniRdg_EngLang,
Dr Liz Wilding (International Study and Language Institute) @LizWilding1
If you enjoyed reading this article we invite you to join the Association for Learning Technology (ALT) as an individual member, and to encourage your own organisation to join ALT as an organisational or sponsoring member