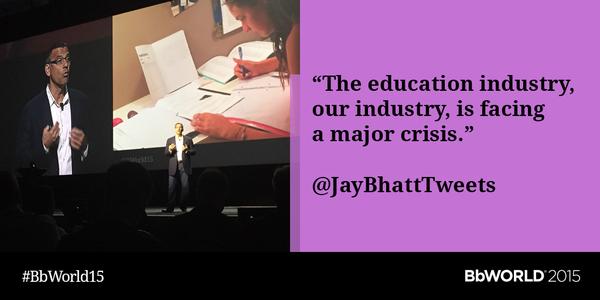 Change management is a phenomenon pretty much every individual in every workplace in the world must have experienced in the last decade or so, an attempt to control the impact of multiple changes and keep the business, whatever it may be, moving forward despite disruption. The pace of change – particularly technological change – has had unexpected consequences. The industrial, commercial, educational and social status quo are challenged. Change has become a constant, we need to be open to change to find our place in a new world order. This is a very interesting era for researchers as we observe the tectonic plates shifting and forming new landscapes around us.
It was with my researcher hat on that I attended the Blackboard World 2015 (#Bbworld15) conference this year. Well, I virtually attended it. That is a first, the conference has traditionally been a US only affair with this educational technology giant focusing first on their home market. Not so this year, the keynotes are available for all who register online. I became a customer when Bb acquired Wimba, an education company that provided voice over the internet products, very helpful for language teaching. Their slogan "People teach people" was dear to my heart as it underlines that human relationships are central to learning. I was pleased to find that this ethos echoed through Jay Bhatt's (President and Chief Executive of Blackboard, former teacher) keynote. His commitment to learner success was self-evident, going beyond revenue generation to social contribution – giving back. This was a new tune to the edtech giant's song. Less brash and confident, more self-aware and humble.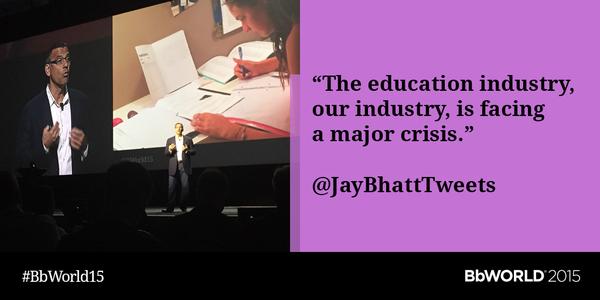 "Learners are not satisfied by their learning experience" he told us. In an era driven by the importance of the student experience, we are all well aware of the possible consequences of such judgements. He stood before us openly admitting that Blackboard had taken their eye off the changing dynamic of "new learners" – there are no "traditional learners", anyone who accesses education expects to learn on the go, wants accessibility and interaction at the heart of an engaging learning experience. The Blackboard tool suite has been redesigned from the ground up to offer a seamless experience, connecting students, teachers, communities and support staff. The redesign was informed using an applied ethnographic research approach which involved listening and empathising with the end user.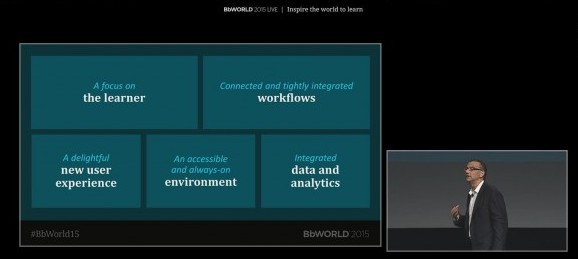 OK, so that's good then. However, I'm sure that many would remain sceptical of the motives of a commercial giant such as Blackboard. There were more surprises to come however. A central role for the recently acquired Moodlerooms, putting the open source Moodle project on stage in the keynote, confirming Blackboard research and development expertise as a partner in developing learning for all. The "Ultra" experience was shown live-browser based (java free) it  is already available for both Blackboard Learn 9.1 and Moodlerooms customers, more LTI compliant environments will also be supported , additional features are being released as they become available. There's no doubt that webRTC standards are central to Ultra,  recordings will generate in mp4 format with development under way to provide non-proprietary video output formats which capture the rich media experience of Blackboard Collaborate, a trusted and robust distance learning environment.
It's never easy to turn a large ocean liner on a sixpence but here was evidence of a determination to manage change whilst retaining a commitment to high quality, robust technology. The messages were consistent throughout the conference and, as a customer, I am pleased to say that the promised changes are being delivered in keeping with the timeframe I was given. I think it takes a deal of courage to reflect and change. No doubt a not insignificant allocation of resources is needed to deliver a new vision. When this giant says it is willing to be a catalyst for change in improving our education system for all we can be pleased that we have scale and experience on our side. The new landscape that is emerging is more interconnected than ever and as such is better placed to cope with the challenges we face.
Tweets from the conference are curated here.
See also http://www.wired.com/2015/07/blackboard-reinvention/
Teresa MacKinnon, Principle Teaching Fellow, Language Centre, University of Warwick
t.MacKinnon@warwick.ac.uk (@warwicklanguage)
If you enjoyed reading this article we invite you to join the Association for Learning Technology (ALT) as an individual member, and to encourage your own organisation to join ALT as an organisational or sponsoring member