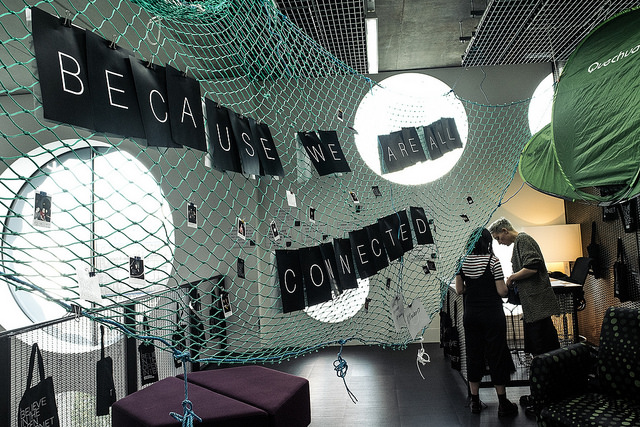 November 13, 2017 9:00 am
A conference review from Anne-Marie Scott, Head of Digital Learning Applications and Media, Edinburgh University.
This year was my fourth trip to MozFest – the annual global gathering of the Mozilla Foundation. The event has been held in Ravensbourne College in London for the last 7 years and is a nine stories high extravaganza of participatory sessions and speaker talks covering hacking, making, data, digital art and culture, ethics and privacy, the open web, open science, data journalism, social justice, access and inclusion and many other things too numerous to list. This year there were 338 sessions spread across two days. The programme is available online to browse for a flavour of the sessions on offer.
Sessions take place in themed areas within the venue, with each space aligning with an area of strategic focus for Mozilla: Decentralization, Digital Inclusion, Open Innovation, Privacy and Security, Web Literacy and a Youth Zone.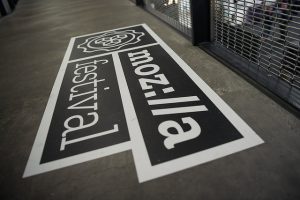 MozFest isn't heavily marketed to the HE sector, and so I suspect a number of colleagues aren't aware of it. However this event is the one that breaks me out of my Higher Education bubble and into thinking about open and the impact of the web in the broadest sense. I leave fired up and excited having learned completely new things and collected practical ideas and information that I can I contribute back into my own institution.
MozFest is also the most diverse event that I attend. Participants come from across the world and can be all ages and all languages. Although the event is conducted in English, participants are actively encouraged to flag other languages that they speak via stickers on their badges or in their session descriptions. Travel to London is surely prohibitive for many still, but there is usually better representation from the global south at this event than at any other I go to.
Each year there's a slightly different emphasis, and this year the overall theme was about what makes a healthy internet.
"Today, the concept of Internet health reaches far beyond the realm of open source code: it's linked to civil liberties and public policy, free expression and inclusion. Discussions about the state of the web include engineers, but now also teachers, lawmakers, community organizers and artists". (Mark Surman, Executive Director of the Mozilla Foundation)
It was noticeable this year that there were more sessions on data sovereignty and combatting fake news. Online privacy and web literacy have been a strong focus of MozFest since the start, but it felt like this year there was a bit of an inflection point – the events of the past 12 months have brought these issues into sharp focus perhaps, making it clear that they are societal challenges and not niche issues. Developing information literacy skills has been a core part of learning in an Higher Education environment and digital literacy is probably in all our graduate attributes in some form or another. These talks and sessions brought into sharp relief how much more quickly we need to move on developing these skills within our institutions, particularly as we consider new areas of activity such as learning analytics.
There is so much choice in terms of sessions that it can be overwhelming, so on Saturday after an excellent first session crowd-sourcing ideas for pathways and career tracks into civic technology, I spent a couple of hours exploring each of the spaces. I picked up a copy of the Mozilla Internet Health Report and had an interesting conversation about how one goes about trying to measure such a thing and the feedback that they are using to develop the next iteration of it.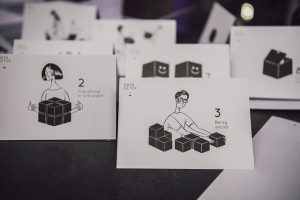 I also picked up a Data Detox kit developed by the Tactical Technology Collective at a Data Detox Bar (part of the larger "The Glass Room" project – a series of interactive exhibits that pose questions about our relationships with technology). The kit is an 8 day program, beautifully designed, printed onto cards and packaged in a small box. Chatting to the "barrista" at the Detox Bar he explained that the kit is designed to tap into our emotional response to technology products, in particular the sort of "unboxing" pleasure that comes with something like a brand new Apple product. Part of the problem they had identified was the inaccessibility of many existing online InfoSec and privacy resources both in terms of language and design. In this case they had found that a well designed physical resource was getting more traction with less technical audiences. They also had a great tips sheet outlining how to run Data Detox sessions in libraries, based on some experience within the Swedish public library system.
I visited the Meme Lab (exploring how memes are made and a little about the relationship of memes to social movements) and the Humans of the Internet podcast lounge and then it was pretty much time to run my own session "Wikipedia Games" along with Alice White, the Wikimedian in Residence from the Wellcome Library.
Saturday was rounded off with a Virtually Connecting session featuring Josie Fraser, along with ALT's very own Maren Deepwell and Martin Hawksey – both themselves fresh from running a session on professional development for learning technologists.
Sunday started (for me) with a series of short talks by Audrey Tang, Emily May and Nighat Dad covering topics around using technology for civic engagement, practical tips for combating online harassment, and a sobering reminder that access to the web is not available without consequence for everyone.
My next session choice was NefertitiBot – exploring the possibilities for museum artefacts to curate themselves via chatbots, rather than being constrained to the interpretation given to them by museum curators. We had a lively discussion about the extent to which bots could break free of being scripted and the potential for them to develop in ways that we might not like. With an increasing interest in chatbots in Higher Education in student support roles it was a useful and practical discussion and left me wondering about the extent to which we need to 'perfect' such bots versus be open about exactly what they are.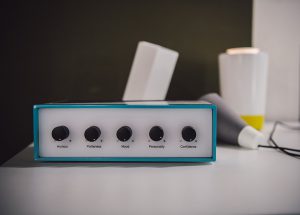 The final speakers session that I went to on Sunday was opened by Gillian Crampton Smith who talked about the emotional elements of technology design and where artists fit into the technology development process. It reminded me again of the Data Detox conversation the day before. She was followed by Sarah Jeong and Emily Gorcenski in conversation with each other talking about fake news and fake data.
It served to remind me once again of how vital events like this are, where not only are the issues discussed, but solutions are crowd-sourced, discussed and hacked out across various sessions.
---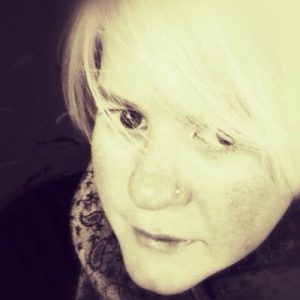 Anne-Marie Scott, Head of Digital Learning Applications and Media, Edinburgh University. Email: anne-marie.scott@ed.ac.uk, twitter profile
If you enjoyed reading this article we invite you to join the Association for Learning Technology (ALT) as an individual member, and to encourage your own organisation to join ALT as an organisational or sponsoring member