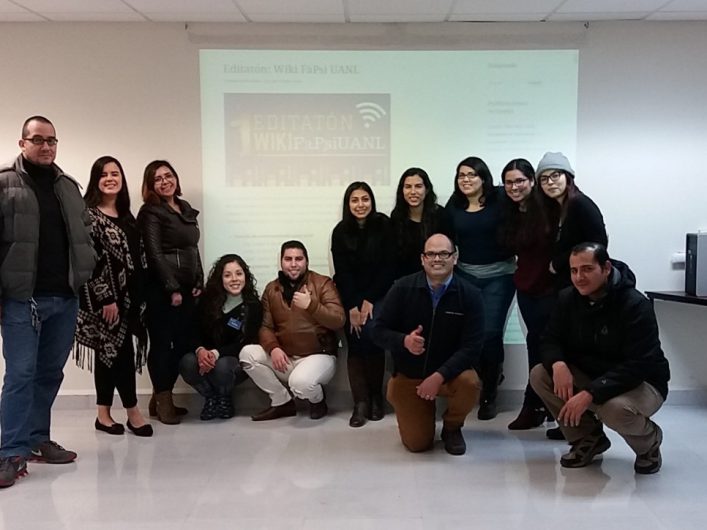 Post by Brenda Cecilia Padilla Rodriguez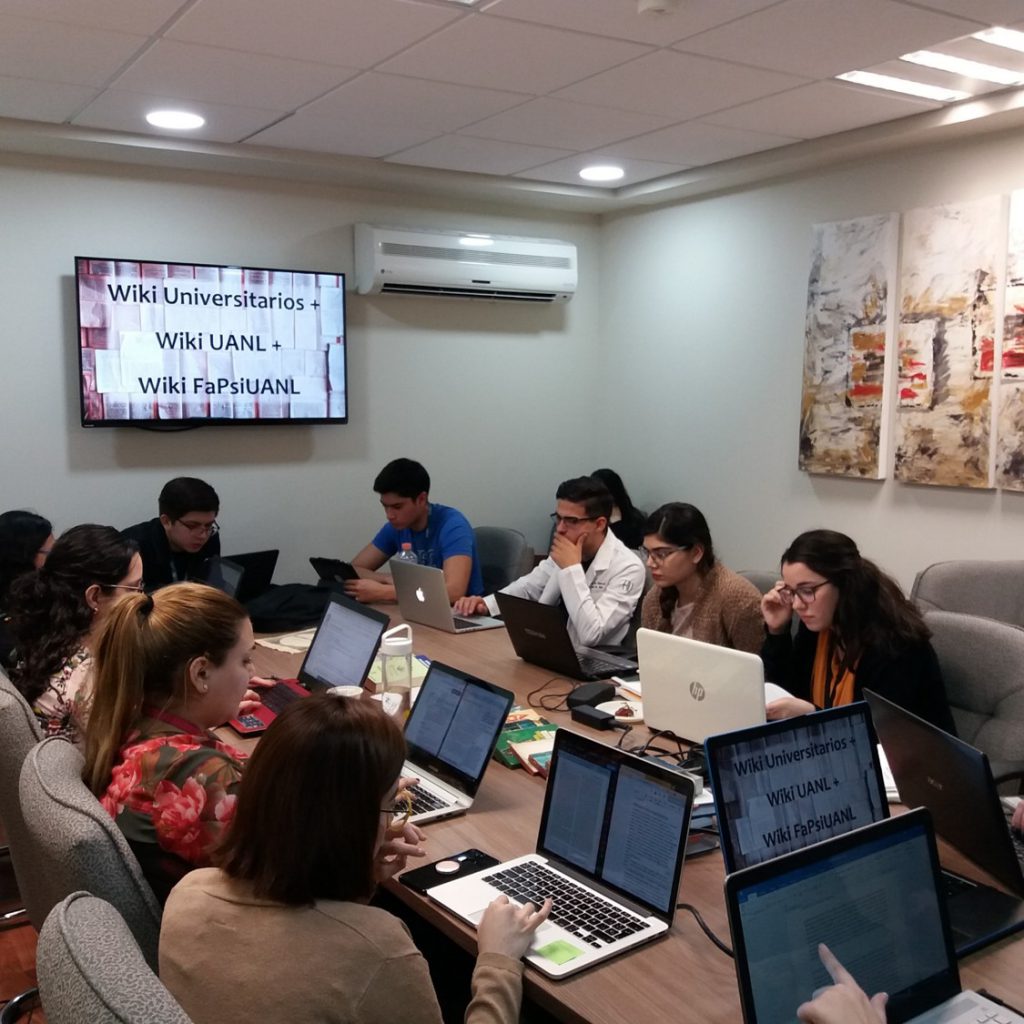 Origins: Students as Wikipedia Editors
It all started in 2016. As part of a course assignment, Master's-level students at the Faculty of Psychology of the Autonomous University of Nuevo Leon (UANL, for its acronym in Spanish) in Mexico edited Wikipedia articles related to their research interests. They could add examples, explanations or references. They could create their texts from scratch or translate the English versions to Spanish. While they had all used Wikipedia as a source of information, they had not not created content for it. Their task was to make valuable contributions that could withstand Wikipedia's quality control. As their teacher, I aimed to help them develop their writing skills and their digital literacy.

Students faced this process with nervousness, uncertainty and questions: What can I contribute? What if I am wrong? How do I do this? It represented a shift from being mere knowledge consumers to knowledge creators. It required them to learn about open knowledge, and overcome their fear of not being good enough. Most participants succeeded and were thrilled about it. Their words that are now helping people all around the world. They are now part of Wikipedia.

And suddenly I realised we could do so much more. It was not only students who had to redefine their roles. I also had to acknowledge my potential impact as a facilitator of open knowledge. I slowly started to embrace a new mission: forming new generations of Wikipedia editors.

A Bit of Context
If you are unfamiliar with Mexico and its limitations, there are some facts useful to know. First, our population is of approximately 120 million people, but those with university studies are a minority. Only 22.6% of 25 to 34 year-olds have tertiary education. This is below the 44.5% average of OECD countries (51.6% in the UK) (OECD, 2019). Roughly 6% are expected to pursue a master's degree (OECD average: 24%) (OECD, 2018). Mexican graduate students are thus in a privileged position to share with others specialised knowledge.

Second, most Mexicans do not understand English. Many open initiatives have originated in the developed world: UK, Canada, US, Australia, etc. They are wonderful but inaccessible for non-English speakers. It is unclear what percentage of Mexicans can read English, but stats range from 5% to 44% (Becerril, 2015; Notimex, 2015). Even when people report knowing English, they might not feel confident enough to learn a different topic in English or might consider doing so too much of an effort.

Third, information in Spanish is limited. In Wikipedia, about 1.5 million articles are available in Spanish, a number overshadowed by the 5.8 million articles in English (Zachte, 2019). The sad implication is that many Mexicans (and Latin Americans) cannot benefit from the easy access to reliable knowledge that Wikipedia offers.

Within this context, the relevance of documenting knowledge in Spanish became evident. With the support of my students and my colleagues, I can help with this.

First Official Editathon: Wiki FaPsiUANL
In December 2017 my Master's students and I agreed to transform the regular course assignment into an editathon called Wiki FaPsiUANL. We applied for a grant from the Wikimedia Foundation, which was approved. The funding, though small, meant the world to us. We had international support!

We involved other graduate students, alumni, lecturers and researchers at the Faculty of Psychology of UANL. We taught them how to edit Wikipedia and provided a space for them to work on their contributions. We had 21 participants, who described the experience as interesting, innovative and collaborative. In a follow-up survey, they reported feeling satisfied and wanting to be part of other initiatives related to openness.
Growing: Wiki FaPsiUANL + Wiki UANL + Wiki Universitarios
Wiki FaPsiUANL was just the start. This year we used the Open Education Week as a platform to expand our reach. Once more, we got funding from the Wikimedia Foundation (yay!). We organised a series of editathons and talks about open knowledge. We invited past contributors and encouraged new ones to become Wikipedia editors. The Faculties of Medicine and Sports Organisation at UANL joined our initiative and helped with the logistics for the face-to-face sessions. The University da Vinci, a Mexican online institution, provided virtual rooms where people could find support. We added to the name of the event to reflect its growth: Wiki FaPsiUANL + Wiki UANL + Wiki Universitarios.

We had about 70 participants overall. I feel quite happy about the outcomes. We wanted the event to be a relaxed and social occasion. After a brief training, people could start editing Wikipedia directly, search for information, have a snack or chat with others. More experienced editors helped the newbies. After one of the sessions ended, people were so focused on their work, they did not want to leave. I have been receiving unexpected messages from participants telling me about their contributions and their feeling of empowerment. I am smiling as I write this.
Challenges
As our scope has grown so have the challenges. Organising the editathons is something we are doing for the fun of it. It is a responsibility additional to our regular workloads. People at each participating faculty and at the University da Vinci helped with the logistics, which became complex and required coordination. Some struggled to effectively manage their time and efforts. One of the participating faculties felt overwhelmed and backed out on the week of the event (and later backed in!).

We found encouragement but also criticism. A senior coordinator strongly questioned the value of the event. We listed the benefits of participating, such as enhancing academic writing and developing digital literacy. But he was not convinced. He did not want students to be a part of such an initiative and recommended that the session at his faculty was cancelled. We did not, but we were a bit surprised about such a negative reaction. For me, this was an eye-opening situation. I usually surround myself by people highly involved with openness. I need to remember that embracing the beauty of sharing is a process that requires a paradigm shift not always easy to make.

Thoughts for the Future
I have learned so much. While we have certainly had ups and downs, I feel quite positive about this path. I think with editathons, everyone wins. Wikipedia readers have increased access to reliable information in Spanish. Wikipedia editors realise that they have something worthy of sharing. They strengthen their sense of social responsibility. They become part of an international community and also, part of history.

I am planning on conducting a study to obtain an insight on participants' experiences. Meanwhile, I hope our journey will inspire other institutions and academics. Next year, during the Open Education Week, we might try to go global. Please let me know if you are interested.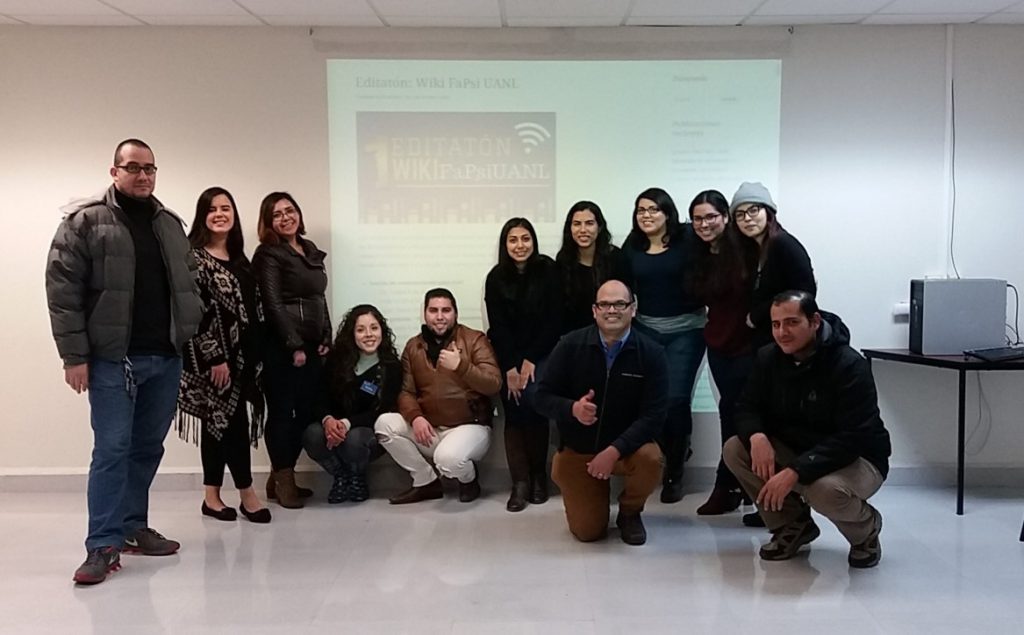 References
Becerril, I. (2015, April 27). En México sólo 5% de la población habla inglés: IMCO [In Mexico, only 5% of the population speaks English: IMCO]. El Financiero. Retrieved from
Notimex. (2015, December 2). ¿Sabes cuántos mexicanos hablan inglés básico? [Do you know how many Mexicans speak basic English?]. Excélsior. Retrieved from https://www.excelsior.com.mx/nacional/2015/12/02/1060908

Organisation for Economic Cooperation and Development (OECD). (2018). Education Policy Outlook: Mexico. Retrieved from http://www.oecd.org/education/Education-Policy-Outlook-Country-Profile-Mexico-2018.pdf

OECD. (2019). Population with tertiary education (indicator). doi: 10.1787/0b8f90e9-en

Zachte, E. (2019). Wikipedia Statistics. Retrieved from https://stats.wikimedia.org/EN/TablesArticlesTotal.htm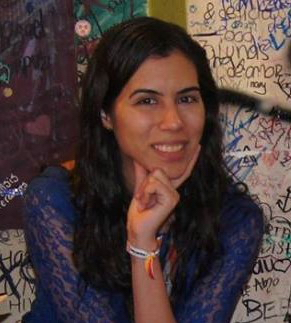 Brenda Cecilia Padilla Rodriguez (a.k.a. Brenda Padilla) is a lecturer and researcher for UANL, an online tutor for University da Vinci, and a consultant for E-Learning Mty and E-Learning Mexico. She is passionate about online education, learning technologies and open initiatives. Twitter: @BrendaPadilla
If you enjoyed reading this article we invite you to join the Association for Learning Technology (ALT) as an individual member, and to encourage your own organisation to join ALT as an organisational or sponsoring member