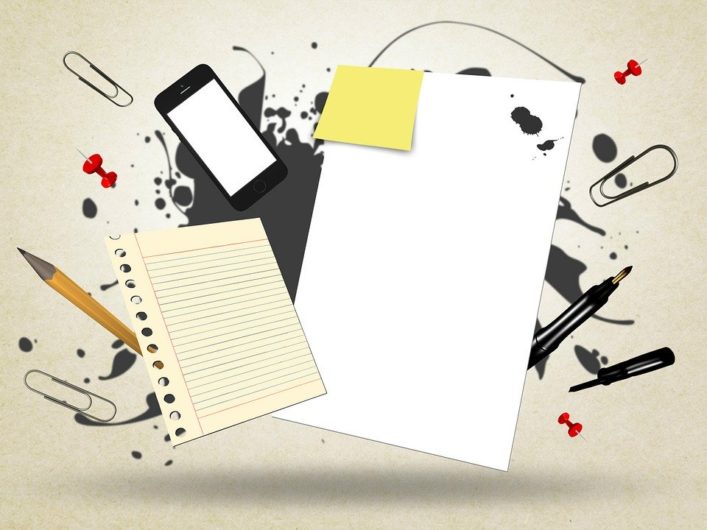 Dominik Lukes
Digital Learning Technologist (Saïd Business School
University of Oxford)
From Wave to Notion
It has been over a decade since Google Wave made its last splash. So much promise and excitement that ultimately didn't go anywhere.
But now the promise is being fulfilled by new products that not only build on what Google Wave was offering but take this even further. There are many players in this space but the ones that stand out to me are:
What they do is create fully integrated and dynamic documents that combine the features of a word processor, database, spreadsheet and project management system. They each approach it from a different perspective but what they share is ease of use and focus away from standalone documents or notes.
The power of new documents
Anybody who's ever tried to create an Access database or even embed an Excel spreadsheet in a Word document would be amazed by the power of these tools and the way in which they made it incredibly usable.
In fact, anyone who is using Excel to keep track of records, should immediately have a look at one of these tools. But they even threaten established players like Evernote or Onenote for note taking, or project management tools like Trello or Asana.
Notion: From note taking to project management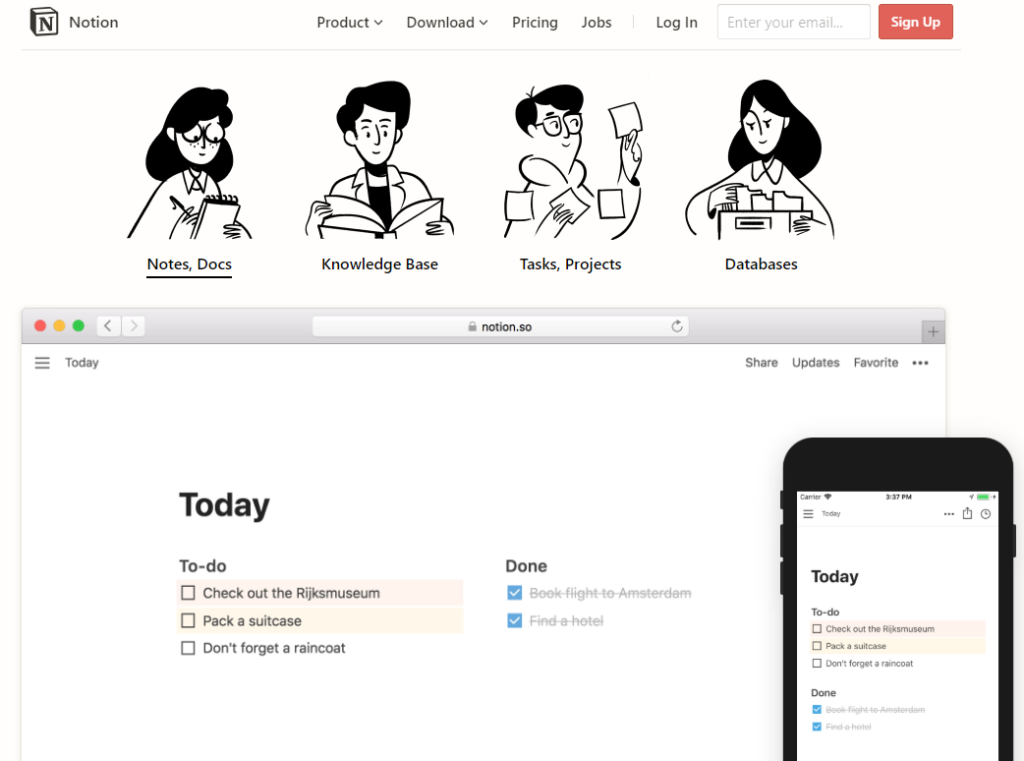 Notion is the tool that a lot of productivity experts are buzzing about. The company was founded in 2016 and the 2.0 release that put it on the map happened in 2018. It is really a project management and collaboration tool but its primary purpose is to take over from the likes of Evernote as the natural place to keep notes on one's life. Next to Notion, Evernote looks old and tired (although it looks old and tired even on its own).
For somebody who is looking to organise their own life and is struggling to keep it all together between their notetaking app, documents and spreadsheets, Notion is the obvious choice. Notion is now firmly a part of the mix of my productivity apps. I love the keyboard shortcuts and the fact that no matter whether I start with a page or a table, I can always connect the two.
There are features that are still missing (see below) but their feature releases are frantic and their roadmap is exciting. It also helps that students and educators (ie anybody with an .edu or .ac. email address) can get access to Notion's personal plan for free.
A passionate community of Notion users means that a lot of resources (free and paid) are available to support new users. This is made easier by a great feature by which Notion lets you create public pages that can be duplicated and reused as templates. This makes getting started much easier. Here are some of the resources I found most useful to help me get started.
The writer's ultimate guide to Notion
The Most Powerful Productivity App I Use – Notion
Coda.io: Documents and spreadsheets reimagined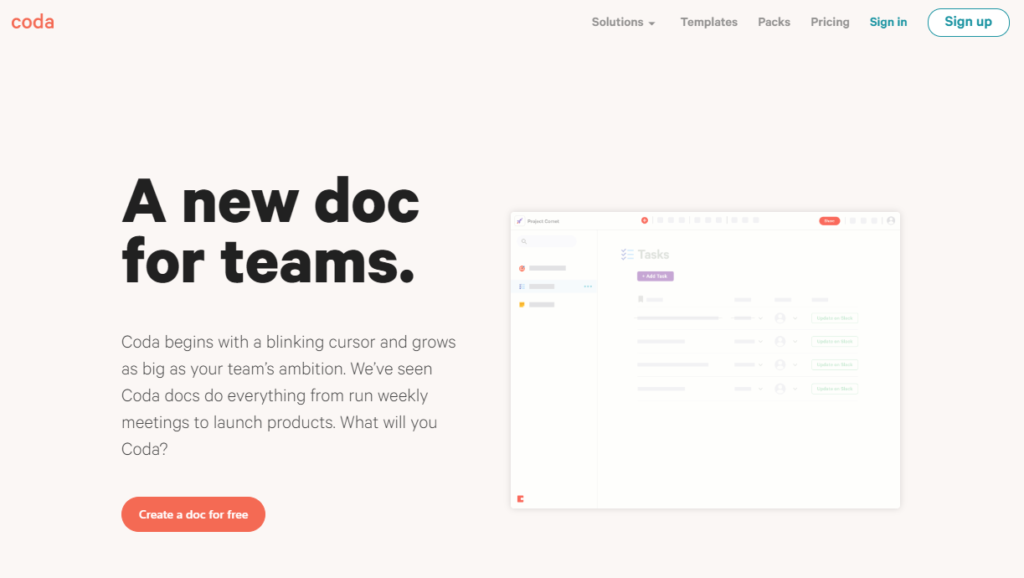 Coda.io is the freshest of the three, with their first release in 2019. I first came across Coda when I was looking for a better way to share dynamic spreadsheets that were essentially databases. Coda was very good at this. It can integrate tables into documents, view them as charts or boards.
The one standout feature for me is the focus on automation and many rules that can be set up. These allow for things like monitoring documents and sending automatic reminders. It also integrates with an external workflow automation systems like Zapier, although still not IFTTT.
Coda's spreadsheet origins also show in the number of the chart views available for tables. This is very high on my list of feature request for Notion.
As all these three platforms, Coda is promoting the project management and collaboration aspects but it is a very powerful tool for individuals. However, teams may be attracted to their laudable unique pricing structure. Instead of paying the same fee for all team members, only Doc Makers are counted. This means that a team with a number of lightweight contributors can sign up for Coda and not worry about skyrocketing costs. I wish more services would adopt a similarly tiered approach.
Airtable: The future of databases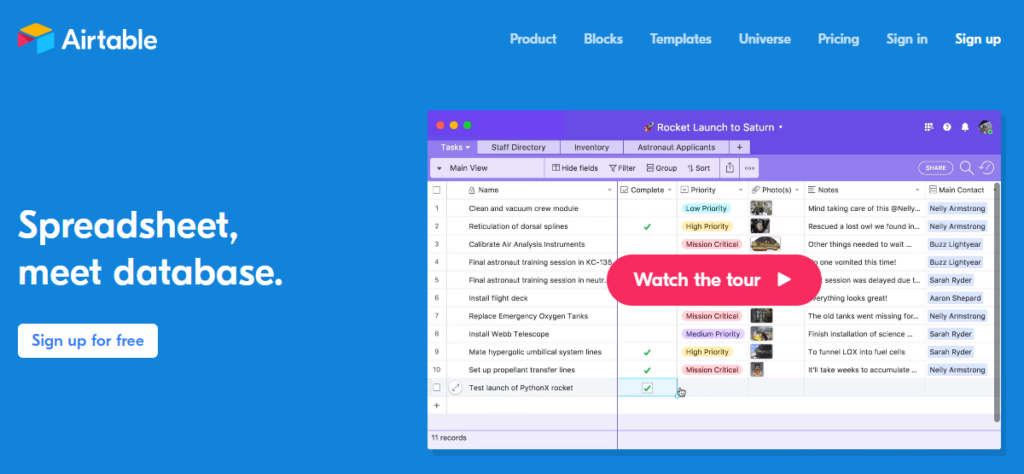 Databases are hard. But walk into any office and you will see hundreds of databases masquerading as spreadsheets. This is bad in any way imaginable. Building an Access database is the next logical step but fraught with dangers. Airtable is essentially an online database that is as easy to use as Excel but has most of the features one would expect from a full featured database. Most importantly version control and data integrity.
Compared with the other two, its focus is clearly on tables although the content inside them is much richer. The one feature I wish I could find in Notion or in Coda is a form view for any table that makes it easy to enter and/or collect information.
Airtable has only been around since 2012 but next to Coda and Notion, it is the venerable elder. You can see many of its design choices replicated in how the other two solve problems. But unless databases are your primary focus, you can probably get more out of Notion or Coda and get the benefits indirectly.
Honorable mentions
Onenote
Onenote has many of the same strong editing features and even some I'd like to see in Notion or Coda. For instance, it's very easy to create a table simply with a Tab. It is also possible to create a checklist or a tag anywhere on a page and search that globally. What is missing is better list management, searchable database like structures and better page interlinking. Also, its lack of sharing individual pages all these years later is simply unforgivable. As mentioned above, Onenote's mobile app is absolutely top at taking photo notes of whiteboards and in presentations thanks to its integration with Microsoft Lens technology.
Dropbox Paper
Dropbox Paper has been innovating in this space for a while, as well. It has great inline tables and lets you create a lot of embeds while collaborating with others. But ultimately, you end up with a collection of standalone documents which is where Notion or Coda beat it handily.
Google Docs
Google Docs is the pioneer and still the undisputed master of live collaboration (although Microsoft Office is catching up). Its other strength is the ability to link to live information on the web. My favourite feature I still turn to for documents with lot of links is the live web search in the insert URL dialog. If you ever need to insert a lot of link into a blog post, it's worth going via Google Docs just for that.
Another innovation Docs introduced was Ctrl-/, a shortcut that let me search for commands instead of trawling through menus. This is now also in Office apps hiding under the Alt-Q shortcut.
Docs pioneered the document sharing we now take for granted. But like Paper, you end up with a lot of standalone documents. Also, Docs is falling behind Word in accessibility (no built in text to speech or distraction free mode) although Google's built in Voice Typing is a definite winner.
Fluid Framework
Microsoft Fluid Framework Preview shows that even the Office giant is aware of these trends and is experimenting in this direction. Fluid looks very much much like a clone of Dropbox Paper but it has some nice features such as inline mentions of collaborators and preset task list tables. It is clearly inspired by the other players in this space but it is still a bit too bare bones to be a true competitor.
Bear
Any list on new documents has to mention Bear which offers a uniquely strong combination of outlining, notetaking and document drafting. Its huge standout feature is inline tagging anywhere in a document which makes for an incredibly powerful tool for organising one's notes and drafts. It is the ideal combination of a distraction-free editor and note organiser. But before you get too excited (as I did), it lives entirely in the Apple universe. Bear only has Mac and iOS apps and uses iCloud to sync between them which pretty much rules out a future Windows version. The web-based version has been in development for years now with no estimated release date.
Conclusion and future prospects
When Microsoft introduced a way to embed Excel sheets and other objects inside Word documents back in 1990, it was almost unusable. It is still barely usable now but at least it won't lock up your computer. Twenty years later, Google Wave briefly tried to take this to the next level. But now we're seeing the potential of these early innovation grow into something truly special.
Like many others, I'm switching to Notion. Unfortunately, I can't completely replace all the other tools I'm using. But we always live in a hybrid world. To completely replace the likes of Onenote or Google Keep in my life, I'd like a mobile app that supports drawing and makes it a bit more seamless to take photo notes. A mobile app with better notification management, would also make it an easier decision to completely ditch TickTick (which I only recently moved to from Todoist). Here's my Notion wishlist for anybody to contribute to.
Notion is also still working on an API that would allow me to connect it with my other apps via IFTTT or Flow to bridge some of the gaps (even though I'm happy with the import options).
But even if I still need other tools for certain tasks, what Notion (and the others) have to offer is compelling enough that I don't want to stay away.
Links