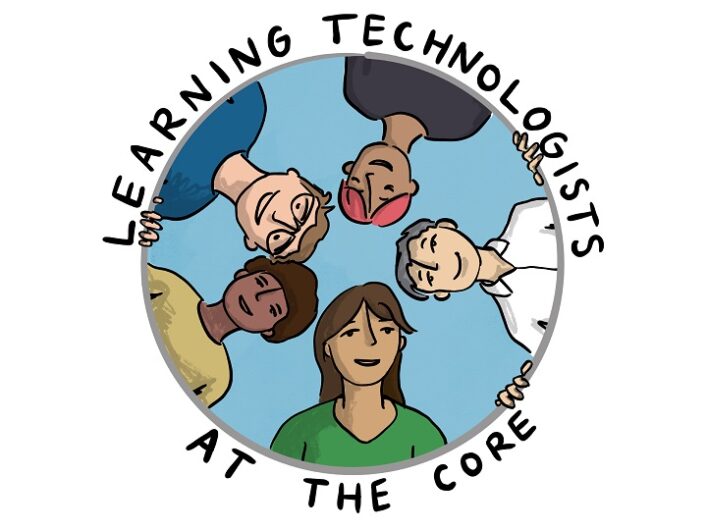 I am delighted to update Members personally on our strategic aims for the next 18 months. We now provide access to expertise to a much wider community of digital practitioners. We work hard to champion professional recognition for a growing range of Learning Technology roles and we inform and support institution leaders engaging with digital education. Our strategy needs to reflect this growing remit. 
Informed by the findings from our Annual Survey, our Board of Trustees and I have worked together to set practical goals to move us beyond crisis management towards celebrating our community at ALT's 30th Annual Conference in 2022 in Manchester, UK.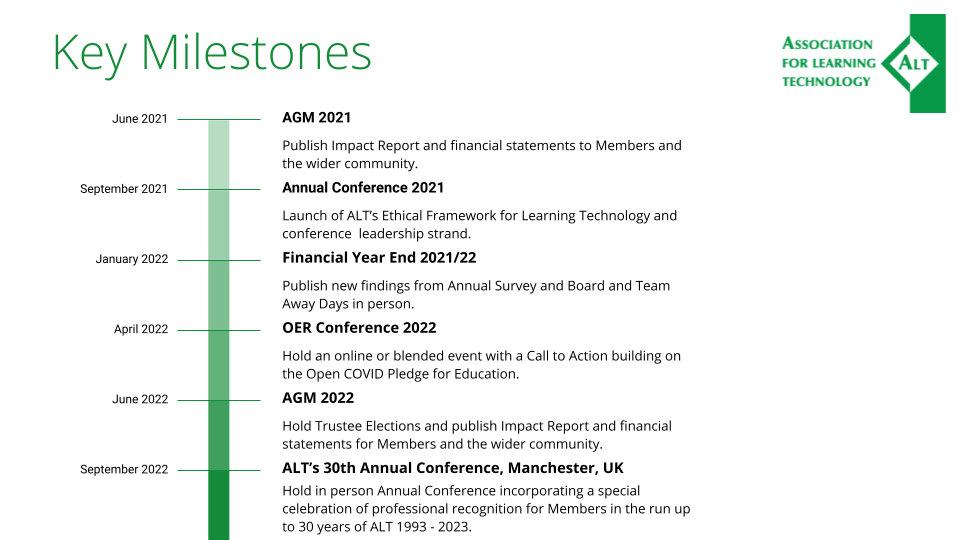 We will work across the UK and internationally to increase the positive impact of Learning Technology in education and training for public benefit. Our aims are to:
Increase access to Learning Technology expertise and professional development.
Strengthen professional recognition for and representation of all Learning Technology roles across the communities we support.
Provide pathways to accreditation for general practitioners, advanced professionals and leaders through our professional and ethical competencies framework.
You will see updates across ALT's platforms and social media channels and if you'd like to get in touch with me personally, you can reach me at ceo@alt.ac.uk.
Key findings from ALT's Annual Survey
Our Chair, Helen O'Sullivan, and I wrote a commentary on the findings from the survey on Wonkhe, and I urge you to explore key findings from the ALT Annual Survey 2020, with three summary reports: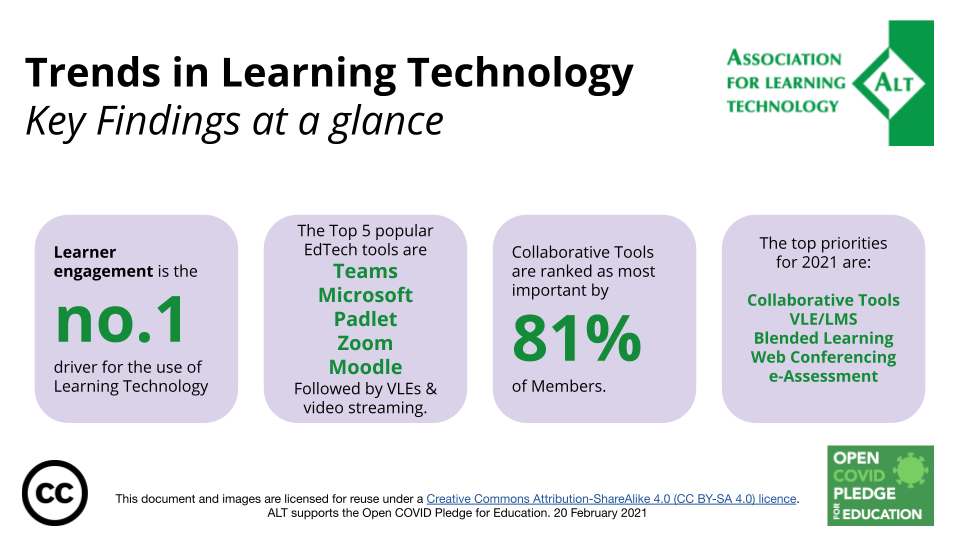 Progress on ALT's ethical framework
Work to establish ALT's new ethical framework has progressed well since October 2020. Following the initial period of establishing the working group and holding regular meetings, we have now collected input and feedback which will inform the next phase of work. Our working group now has 85+ members including learners and representation from industry.
Over the next six months, we will draft, consult on and the finalise the framework and tools for launch at the Annual Conference in September.
Here is an overview of the key dates and activities as well as an indication of what outputs we are aiming to create and this recent article offers further commentary.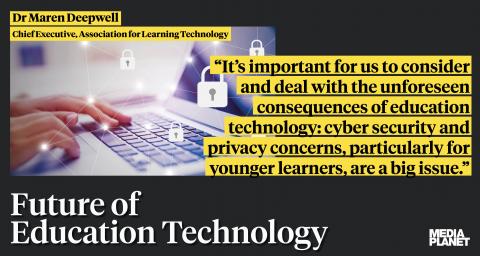 In other news #altc
I also wish to draw Members attention to much progress all around our community, as we approach this year's OERxDomains Conference. It was my pleasure to attend Friday's launch of ALT's newest SIG along with over 80 Members and supported by Debbie Baff. ALT's staff team is back to greater strength as we welcomed Christina Vines, who will be providing maternity cover for Fiona Jones this year and Emma McAllister joins us to provide additional systems support.
I look forward to a busy few months ahead as ALT moves out of crisis mode, and I especially look forward to September's Annual Conference Shared Experience, Different Perspectives for which the Call for Proposals is now open.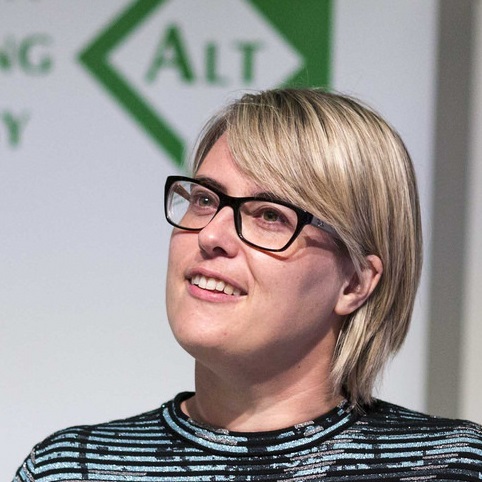 Dr Maren Deepwell
Chief Exeutive
ceo@alt.ac.uk