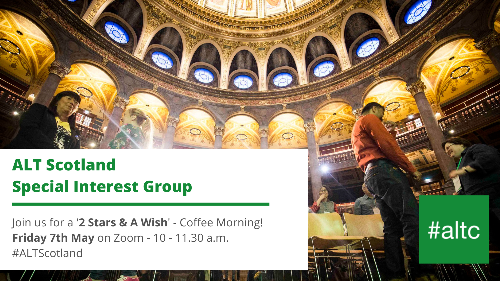 Written by Joe Wilson and Louise Jones

The ALT Scotland SIG are holding their first event of the year bringing everyone together for an informal blether. As well as an opportunity to just be with fellow Learning Technologists in Scotland our '2 Stars and a Wish' morning is a chance to contribute to and hear some grassroots reflections on the last year.
Friday 7th May | 10 – 11.30 am on Zoom
We are simply asking you to join us and share two things that worked well for you or your students, positive impactful outcomes. Your wish is really just that, something that would make life better or bring about a positive change, this can be fun or serious!
This reflection activity is the perfect opportunity to capture your thoughts and share with the community, or for your CMALT Portfolio. We'd love you to join us and present them on the morning, we did think of using the infamous Teachmeet Style Russel Tarr roulette wheel, but as we are a cosy group, so we're opting to use an imaginary 'Pass the Baton' to ensure everyone gets a chance to share.
Being true to our edtech and collaborative core we're using some cloud based tools to bring all our stars and wishes together. Click the tags to contribute to the Padlet and Flipgrid, you can do this in advance of the morning, or even if you can't attend we'd love to hear your reflections. Louise and Joe are kicking things off, click on the tags below to hear their 2 Stars and a Wish.
https://www.thinglink.com/card/1443496195124101122
We look forward to seeing you there!
Louise and Joe
Co-Chairs ALT Scotland Special Interest Group
When & Where and How
Sign Up Here and we will send you the Zoom Link.
We're always looking to welcome new members, find out more about ALT Scotland Special Interest Group and the Members.