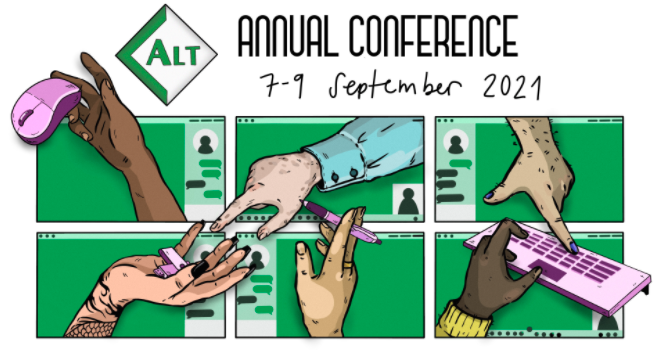 We really appreciate the support of our Sponsors and Partners in organising our events and are pleased to announce our current conference sponsors for #altc21.
We currently have a limited number for some of the different pathways available to organisations.
Headline Sponsor
The Canvas Learning Management Platform is developed and fully supported by Instructure, a software as a service (SaaS) technology company dedicated to education and learning. Canvas delivers an open, extensible learning ecosystem that allows institutions to build a digital learning environment that meets the unique challenges they face.
Today we're the #1 used LMS. Voted #1 by both students and educators. With the highest retention rate, and top-ranked implementation services and Support.
The Canvas LMS is open, customisable, reliable, mobile, time-saving and born in the cloud.Most importantly, it is easy to use so it gets used. That is why it continues to be the fastest-growing LMS in the world.
Canvas isn't just about innovating with our integrated open-source platform, it is also about creating a better teaching and learning experience for everyone. With Canvas, "better" begins with a passionate community of educators, a commitment to open standards and cloud-native hosting for industry-best up time and security. It continues with an intuitive interface, easy-to-use tools for engagement and collaboration, resulting in proven learning outcomes that would make any student, teacher, administrator or parent proud. In short, we integrate more easily, drive adoption faster and deeper across educational institutions and have the passionate and supportive community to prove it.
Session Sponsors
Noteable is a cloud-based computational notebook service developed by EDINA at the University of Edinburgh, that provides access to the most commonly used computational notebooks including Python and R. Notebooks available within Noteable can be accessed directly through your Virtual Learning Environment and come with a large number of libraries and extensions already set up. Noteable also comes with an auto-grading feature enabling teachers to set assignments for a class of learners with defined rules around automated marking of the code that the learner has written.
Open LMS is an all-around eLearning solution provider that leverages open-source software to deliver an effective and engaging learning experience. As the largest commercial provider of eLearning hosting and support services for the open-source Moodle™ learning platform, we help organizations and institutions deliver great learning experiences without complexities. Previously a Blackboard product, Open LMS was acquired by Learning Technologies Group plc (LTG) in March 2020.
Talis Elevate is a collaborative annotation tool that builds discussion activity directly into heart of resources used in teaching, spanning text based documents, image based content, audio, video, digitisations, and 3rd party content like YouTube.
Students can engage in different ways; privately, collaboratively, anonymously, emotively, supporting a variety of student preferences to resource usage, lowering barriers to entry for student engagement.
Underpinning all of this, Talis Elevate provides new levels of analytical insight for academics and students, helping academics make informed decisions in real time around their teaching practice, learn more about student interaction, and to identify who may need more support.
Please go to https://talis.com/talis-elevate/ to find out more.

Vevox is the award-winning live polling and Q&A app designed to increase student engagement and knowledge retention through interaction. Accessible on any smartphone, tablet or computer,Vevox is a simple to use Student Response System (SRS) for your online, hybrid or face to face classes. Vevox helps educators to gain instant student feedback, test knowledge, increase participation and above all, give every student a voice. Used in 150+ countries by over 1500 businesses and educational institutions, winner of the 2018 Bett Award for higher education and the highest independently rated SRS system on the market (4.8 out of 5 on Trustpilot.)
Partners
The Open Access movement has changed the world of publishing forever. As Open Access publishing evolves and gains momentum, traditional publishing houses have a hard time keeping up. The need for author-friendly, flexible and highly configurable systems, has left many publishers in the backwaters. More and more academic societies are now turning to open source technologies to manage digital publishing on their own. And that is where Open Academia comes in.
Open Academia is ALT's publishing partner for Research in Learning Technology.
The Positive Internet Company (www.positive-internet.com) has been an innovative open-technology company since 1998. Focusing on high-end hosting with second-to-none customer support, we own and operate our own data center near Cambridge, UK with hundreds of our own servers (almost all running Debian). We host and maintain a variety of systems, many of these are fully managed by the Positive technical team. In addition to working with some big and interesting corporations (including major financial organizations and media groups) and household names (British celebrities like Ricky Gervais and Stephen Fry), we host none other than the father of Free Software himself, Richard M. Stallman.
The 2021 ALT Annual Conference sees Edtech leaders, innovators and educators from around the globe come together across 3 days online. The conference provides organisations the opportunity to reach out to this audience, promote their own expertise, products and knowledge and enrich the future of all things digital education.
We have a number of different pathways available to organisations and are now accepting applications:
Strategic Sponsorship 
Session Sponsor 
Scholarship Sponsor
Learn more about our sponsorship packages please visit our website and if your organisation is interested in sponsoring future ALT events please get in contact with eventsmanager@alt.ac.uk.