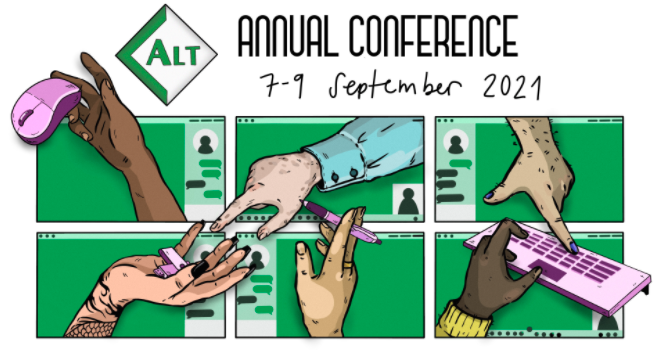 Dr Elaine Pang, Lancaster University, UK
Scholarship places
The ALT conference committee always work with sponsors to provide scholarship places to support unfunded individuals to attend or present their work at the annual conference. I was very fortunate to receive a partial scholarship from ALT in 2015 and 2016 when I was a PhD student to present my work at both conferences.
Meeting new people
Delegates from various higher education institutions, organisations and the industry from many countries attend the annual ALT conference. Most of the people I've met at the ALT conference in previous years were from the learning technology community and educators in higher education. Although I'm an early career researcher from a different field (language learning and transnational education), I found it a very welcoming experience to meet new people and discuss about new trends and development in learning technology.
Meeting old friends
When I attended previous ALT conferences held at the University of Manchester and the University of Warwick, I was pleasantly surprised to meet up with fellow PhD researchers whom I had met earlier at other conferences such as the ESRC DTP Midlands Conferences.
New Techniques
Based on work presented by delegates at the ALT conferences, I've learnt more about different techniques to improve the teaching and learning experience for students. Some of these include incorporating students' choices of apps in one's practice, using Facebook groups to facilitate peer learning among students and developing flexible MOOCs such as 'cMOOCs'.
New Tools
While attending ALT conferences, I've been introduced to new tools such as the Brightspace learning platform, creating videos with mobile devices and using e-portfolios as a sharing tool for students. Prior to that, I've only been using different learning platforms such as Moodle, a VLE developed by Brightside while teaching for The Brilliant Club as well as developed a blended learning course using Canvas. I'm looking forward to this year's conference to learn more about new tools which I can try out and integrate into my practice.
Novel Research
Coming to the ALT conferences from a non-specialist background, I feel very fortunate to listen to talented experts sharing about their work and novel research in the area of learning technology. Some of these which were new to me in previous ALT conferences and provided new insights included topics on using learning analytics to shape students learning, an approach to evaluate evaluation and fostering collaboration in MOOCs.
Free Souvenirs
Apart from meeting experts in the field of learning technology and gaining new knowledge and skills, I've been really happy to get a few freebies each year such as pens and soft toys which I passed on to friends who couldn't attend the conference. These little gifts have brought smiles and joy to many people. 😊
Green name tags
The green name tags I've been given at ALT conferences are special. It helps me to remember names of new people I've met at the conference. Additionally, it's always great to see everyone wearing a green name tag and to feel a sense of belonging to the ALT community. Although we are having a virtual conference this year, there will be more opportunities in the future to register for the conference and get a pretty green name tag again.
Electronic badges
As a newbie to the ALT community, I've been grateful to receive a few open badges for my role as a participant and speaker at ALT conferences as well as a member and conference committee member this year. I've never received electronic badges in my other roles or from other organisations and this makes it unique and special to be appreciated by the ALT community.
Learning with the ALT community
Since I came to know about and joined the ALT community in 2015 as a PhD student, I've learnt a lot by participating, presenting and chairing sessions at the ALT conferences. In addition, after volunteering to be in the conference committee and working with very experienced and senior committee members, I've gained additional skills which will help me in organising other events in the future.