The artwork for this year's Online Winter Conference has been selected, following a student competition at London College of Communication.
For the second year running, the competition was part of an industry project brief for second year BA Illustration and Visual Media students. The panel chose Vanya Dancheva as the runner-up this year competition and we are delighted to be using Vanya's work as the imagery for the ALT Winter Online Conference 2021.
Artists Bio
Hi! I am Vanya. I am an illustrator and a third year student at University of the Arts London. I love drawing, image making and communicating visually. Storytelling is central to my illustrations with a touch of playfulness and optimism. I have a background in technologies and a degree in Computer Science. From my training and experience in computer science I have developed an analytical and critical thinking which I apply to my illustration projects too. I come from a small town situated just at the foot of the Balkan mountains in Bulgaria where I grew up. I also love travelling and am fascinated by different cultures, which has led me to move to live in different countries, first to Switzerland and now to the UK (though loving to drink lots of tea probably had something to do with this too).
Idea behind the artwork
To create the main artwork for the conference I drew on the fact that it was going to be an online event and tried to imagine how everyone would be connecting from their homes. At this point most of us had already spent months primarily in front of the screen due to the global pandemic and might have got a little tired of it even (I know I was). So, I tried to present the idea with a lot of positivity and to show participants engaging with enthusiasm in conversations and discussion in the comfort of their own homes, maybe with a cup of tea. It was also essential to show the vibrant, diverse and caring community of ALT.
The second artwork that I developed was more conceptual and I allowed myself to get a little geeky with it too. It revolved around the history of technology since ALT was founded. I wanted it to represent not only the development of technology but also the growth in knowledge and community.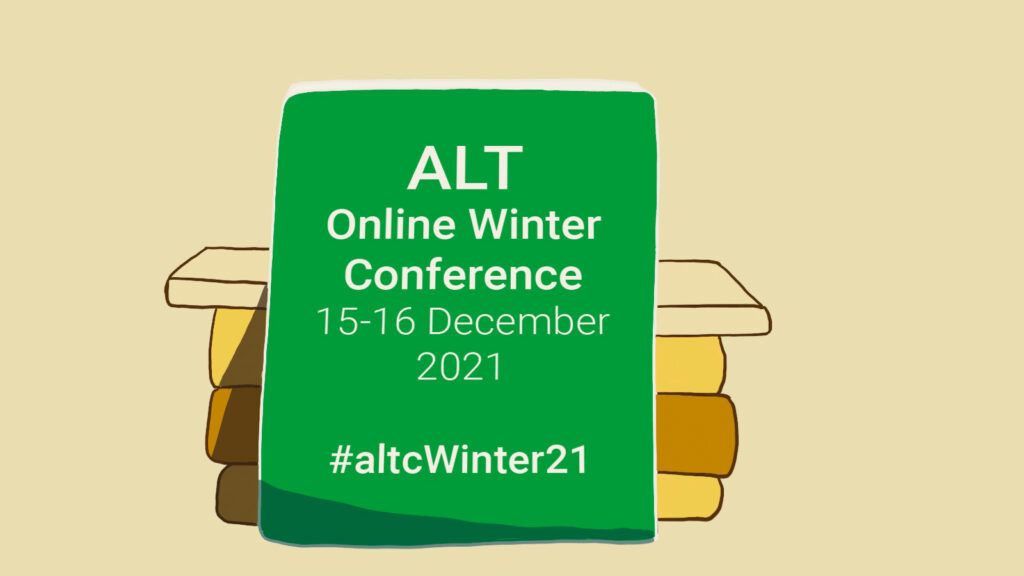 ALT's longest established online conference is returning 15-16 December 2021, for a special celebratory edition incorporating this year's Learning Technologist of the Year Awards.
We are offering discounted rates for ALT Members, and free scholarship places.  Registration is now open!