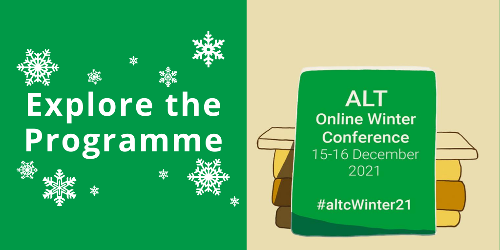 November 15, 2021 12:04 pm
The draft programme for our 2021 Online Winter Conference Dec 15-16, has now been published! Register here to join us next month.
The full two day programme will feature speakers from across sectors and bring together experts to discuss the most urgent questions facing institutions and individuals as they scale up the use of technology for learning, teaching and assessment. From creating a framework for the ethical use of Learning Technology to scaling up provision in an emergency and beyond, the conference will provide an opportunity to showcase excellence in EdTech practice and research.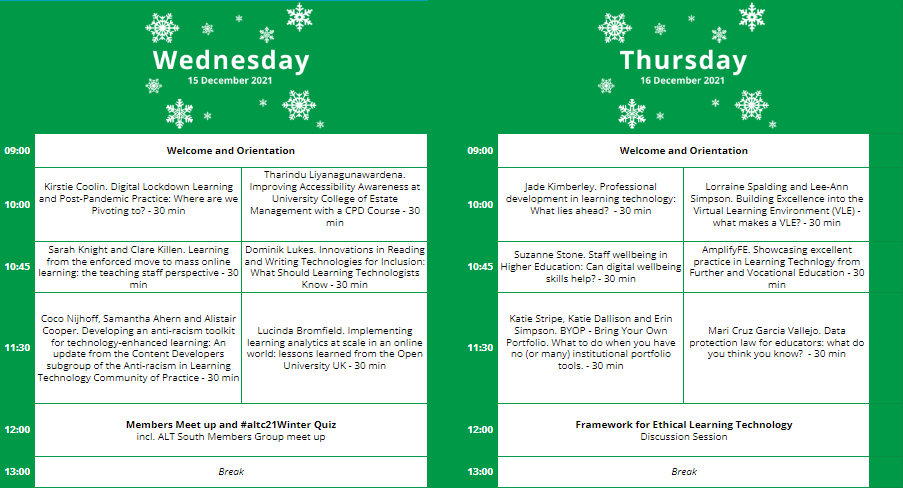 Each day commences at 09:00 GMT with a welcome and orientation session, followed by a full programme running throughout the day. You can browse sessions to design your own programme, to create a day that suits your preferences. Our Member and Special Interest Groups are also holding meetups in the run up to and during the conference visit our events page for more information.
Alongside the academic programme, the conference will offer a full social programme and networking opportunities including the Learning Technologist of the Year Awards ceremony to close the conference.
Register for the Online Winter Conference 2021. We are offering discounted rates for ALT Members, and free scholarship places.