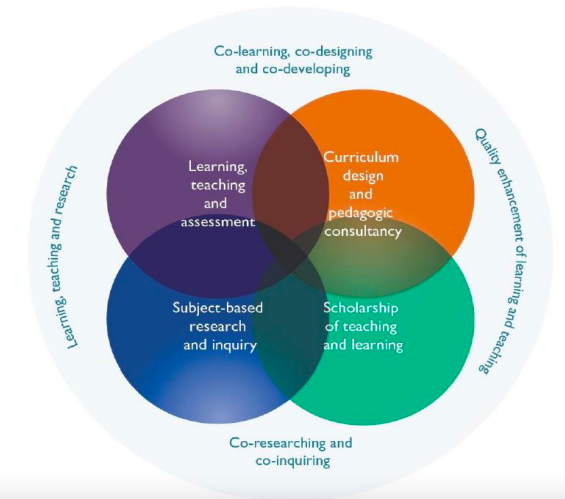 By Jim Turner
This session was presented by Champions Helena Thornton, Olivia Muggleton and Georgie Pitts and Senior Digital Education Developer Naomi Beckett all from the University of Bristol. Naomi, with her colleague Suzanne Collins, have been running the Student digital champion project since 2020 and the champions are part of the last group she worked with. 12 students are recruited on a three-month period and support a wide range of activities as well as developing their own project during their time in the department. This is a paid, non-technical position, 3 hours a week, although students do learn new digital skills along the way.  
Obviously, trying to set up and run the champions group over covid has been difficult, and has led to this project focusing on developing materials and supporting staff and student transition to online delivery. Having this direct connection to the student voice and the lived experience of the students has helped the team, and the institution, to understand how to implement learning technology during this difficult time. There are obvious benefits to students, which came over with their enthusiasm for the work they have accomplished, and the interest sparked in areas such as accessibility and well-being. There is an administrative burden, which Naomi believed was worth the investment because of the benefits this collaborative process it offers. Here are some reflections on student champions and session.
Student champions summit!
Many of those who attended the session were running similar schemes or thinking about it. It rapidly become obvious that some kind of joint event or even annual 'champions camp' could be useful for those running the schemes and those taking part. With a quick google search you can identify Southampton, Bristol, Plymouth, Kent, Cardiff, Edinburgh, Warwick, Leeds, Staffordshire, Durham, and Manchester that all seem to be running similar projects and there are differences and commonalities that could be shared. This also shows that perhaps the champions idea becoming a recognised 'standard' feature of TEL departments and processes.
Being an insider/outsider
For me, one of the most interesting aspects of a champion is how they become an 'informed user'. What I mean is that by experiencing learning technology from the other side, they become more critically aware of the issues involved and become more realistic when consulted on design and development. The possibility of involving them in faculty and institutional level meetings could provide a space to amplify their voice and make even more out of this opportunity.
What the research says
Being an ELESIG session, we are interested in the research in this area. As you might expect there is little research specifically on digital champions. However, there is a great deal in the area of students as participants (SaP), and there are some useful findings here that might help develop these types of schemes such as these themes from a recent review (Mercer-Mapstone et al., 2017).
Curriculum development: Most of the projects (40%) are on curriculum development, which misses out opportunities to influences other areas of institution. Here is a diagram that tries to map the many ways SaP could work across an organisation (Healey, 2014).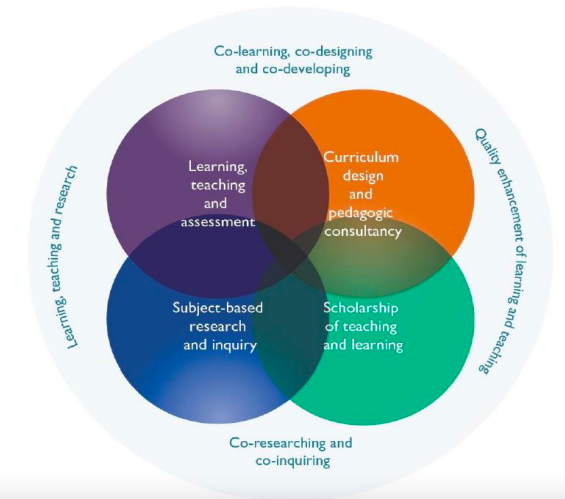 Done to rather than done with: SaP projects tend to be constructed in a way that predetermines outcomes rather than developing objects with students.
Amplifying privileged voices: There is a risk that those that apply and become participants may be from a particular group that could already be seen as having a privileged voice within the institution. However, it can be difficult to recruit greater diversity.
Co-authored: Few studies are co-authored with the students, there are practical reasons why this might not be possible, but seems a shame, and an opportunity for anyone looking to explore their scheme in more depth.
Reporting bias: Papers in this area tend to be on the positivistic side, meaning there may be some reporting bias, and a missed opportunity to explore what might not be going so well.
Opportunities for studies across institutions: There are few studies that look at schemes across institutions or look longitudinally at impact.
Getting more students to our events
It was great to have students delivering at the session and helping us to understand their experiences. We must try harder to create events where more students share their perspectives.
References
Healey, M et al (2014), Engagement Through Partnership: Students as Partners in Learning and Teaching in Higher Education, The Higher Education Academy
Mercer-Mapstone, L. et al. (2017) 'A Systematic Literature Review of Students as Partners in Higher Education', International Journal for Students as Partners, 1(1).