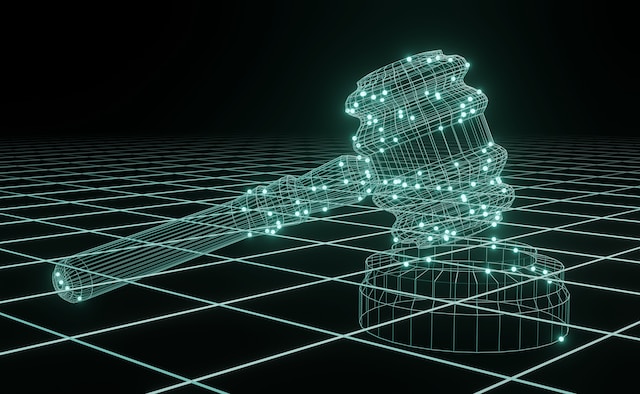 By Dr Ann Thanaraj, Dr Emma Jones, Francine Ryan, Terry Jones
The legal profession is undergoing its digital transformation journey, reshaping how we practice as lawyers and the nature of how legal services are delivered. Becoming a digital lawyer is vital to success within the legal profession and digital literacy is a key attribute in society generally. As educators, this requires authentic practice to train and prepare students for the digital transformation of society by giving them the means to understand and face the challenges that the digital world presents. This includes using law as a lens to identify challenges and develop potential interdisciplinary solutions.
As such, in a quest to digitally transform legal education in today's rapidly changing legal landscape, the four of us co-authored Digital Lawyering: Technology and legal practice in the 21st century, published by Routledge in 2021. This one of the world's first textbook examining the key attributes and skills required to thrive in the radical transformation of the legal profession and the justice system. We have coined an original definition of digital lawyering which encompasses a body of theory, coupled with practical experiences, which begins to identify and explain the sorts of learning that are required for law students and future professionals. It also encapsulates an understanding of some of the complex and disruptive changes brought about by technologically mediated practices including:
Understanding the impact of digital transformation on existing and new legal practices.
Developing new knowledge that make up a law degree, exploring interdisciplinary knowledge, research methods linked to addressing several of our grand challenges in the world and awareness that can equip a law student to be future ready.
Within any discipline area, now is an exciting time to reflect on curriculum. It is possible to explore how professions adapt and evolve to embrace the affordances of technology into their practices. In law, this can include examining the changing ways of working and service delivery, the standing down roles that are no longer needed and the creation of new roles that bridge professional expertise with technology (for example, legal design engineers and technology lawyers).
This is also an exciting time to be studying a subject area at University, where students are being prepared to thrive in a digitally transforming professional and enterprising world that is transforming fast. As a law student, this can involve undertaking modules focusing on digital lawyering, gaining experiences of app developments to harness different ways of thinking and enhance one's digital skills, and working in a virtual law clinic to develop digital ways of working under the governance of professional responsibilities.
In Digital Lawyering: Technology and legal practice in the 21st century , we encourage students to build their own understanding, fostering their autonomy to choose how they can contribute towards the challenges and opportunities which come with the digital transformation of the law and society and society. With the exponential growth of technology and its myriad of foreseeable and unforeseeable impact on existing and fast developing new professions and roles, a single discipline alone is insufficient and therefore we have advocated that preparing students for the legal profession through digital lawyering cannot be done within rigid disciplinary boundaries. It extends its boundaries beyond the components of subjects and modules that make up a law degree, drawing on a broad range of knowledge and awareness that can equip a law student to be future-ready. We encourage as many course leaders and academics to consider how their own subject discipline may be revisited through an interdisciplinary lens and the value that could bring to how students are being prepared to problem find and solve in the real world.
The legal profession will undergo a digital transformation in the coming years that will leave its members with a stark choice: to embrace technology with all its disruption and opportunities for new ways of working and serving clients, or to stay the course with the known knowns given all the challenges that already exist in in the field. Digital Lawyering theory highlights the possibilities for hybrid roles, augmenting legal practice with powerful tools that make once impossible or prohibitively expensive tasks now possible or even trivial in time and cost. This allows professionals to serve clients better and more effectively. However, these advantages do not come gratis. With the challenges of learning new technologies and changing work habits come new risks and concerns for online property, privacy, and free expression as well as the protection of the vulnerable and disadvantaged both online and offline.
Lawyers and students have before them great opportunities and responsibilities as the agents of change in this great digital transformation of the legal profession. Applications of Machine Learning and other disciplines of Artificial Intelligence in law will bring practical challenges and revolutionary capabilities to service delivery, as will more mainstream collaboration technologies that have enable firms to adopt up virtual service delivery models with law professionals working 100% remotely. Legal systems continue to adopt technologies for dispute resolution, small civil claims, and legal process administration. We encourage students to explore for themselves the widening impact of digital lawyering, drawing on the growing body of theoretical literature and accounts of real-world practice, weighing evidence and claims as critically and in as informed manner as possible for themselves as they would when serving a client.
We have developed three themes for law curriculum, which can also be relevant for all different subject disciplines:
Building digital confidence and fluencies
Digital literacy for law students includes understanding the gaps in the profession and the opportunities to merge law with technology towards creating hybrid professions within the legal sector. It also involves knowing what technology works best in a given situation to deliver legal services effectively and securely. The affordances of digital transformation, particularly through the developments across artificial intelligence (AI), automation, big data and analytics, and the use of Internet of Things (IoT) are changing the roles within the legal profession. The emergence of new hybrid roles within the legal profession such as legal knowledge engineer; legal technologist; legal process analyst; legal project manager; legal management consultant, and legal risk manager begs the question how our education and training can be reimagined, redesigning and recreated to become fit for purpose, leading to renewed debate around its telos and axiology once again. The book also aims to prepare students with the knowledge and skill set required for the changing professions which are both technology and AI-mediated. The need to communicate and work collaboratively within interdisciplinary teams, problem finding and solving across a broad area as no one real world problem is neatly contextualised into a subject discipline alone, developing an understanding of the affordances of innovation in problem finding and problem solving within the context of client care, developing understanding of how design thinking approaches can be used to design innovative and collaborative client experiences and to appreciate the affordances of harnessing technological solutions to challenges, service offer and sustainable practices.
Understanding that any problem we need to solve transcends boundaries and there are limitations and gaps in one discipline alone.
Using a blend of legal knowledge and interdisciplinary knowledge and methodologies beyond the components of subjects and modules that make up a law degree is essential to thrive in legal practice. An inter-disciplinary body of theory is beginning to identify and explain the sorts of learning that are required for law students and future professionals to thrive in a digital age. It encapsulates an understanding of some of the complex and disruptive changes brought about by technologically mediated practices. It can also be used to explore limitations and gaps in the existing law and how it can be interpreted more broadly to capture both the physical and digital worlds. This raises much wider questions about the intersection between technology, law and society. In encouraging interdisciplinarity into the curriculum, we have taken an approach that weaves in the following perspectives to enhance the study of law:
A legal perspective looking at how laws and regulations have had to, or may have to, adapt to reflect the changes in digital technology and the legal profession. This includes identifying gaps in the area of encouraging innovation and balancing recommendations for users including liability and responsibilities.
A technical perspective highlighting that digital lawyers must not only being aware of emerging technologies, but also have an understanding of the way in which technology works in order to really appreciate the impact that technology has on. This is not about requiring lawyers to be IT professionals. Instead, it is about having enough knowledge to understand where law and technology intersect, be aware of the implications of technology and become digitally literate. This allows lawyers to leverage the benefits of technology in the professional work.
A sociological perspective looking at the impact digital lawyering has upon the profession and wider society, drawing on historical, societal and cultural values.
A developmental, coaching-led reflective perspective encouraging reflections on one's journey towards becoming a digitally proficient lawyer
The digital lawyer will be prepared with
(i) the art and science of lawyering,
(ii) digital literacies which require grounding in authentic disciplinary and professional values and identities to be operationally meaningful,
(iii) interdisciplinarity of legal knowledge that bridge the physical and digital worlds and
(iv) creative, collaborative and communication skills taking ownership of problems which are not neatly compartmentalized in linear disciplinary areas and neither are solutions: problems have to be redefined, innovative solutions found and action taken.
We conclude this blog by posing some questions as to the sorts of knowledge which is now needed and relevant for a tech-mediated world of living and work. The journey towards reimagining legal education requires consideration around the future role of lawyers and this in turn influences the authentic practices of legal academics:
What is the role of lawyers in the future where it is possible that many currently lawyered tasks can be automated?
What are the problems that the next generation of lawyers (or other professionals) need to solve?
What will lawyers do if many of their tasks are automated? How can we ensure that humanity is retained in legal processes? And will lawyers (or other professionals) enjoy being lawyers (or other professionals) in this new environment?
Who will and who should dictate what future and current lawyers (or other professionals) need to know/change in their thinking should design the curriculum?
Did you enjoy reading this? To become a member of our community see Membership details here https://www.alt.ac.uk/membership