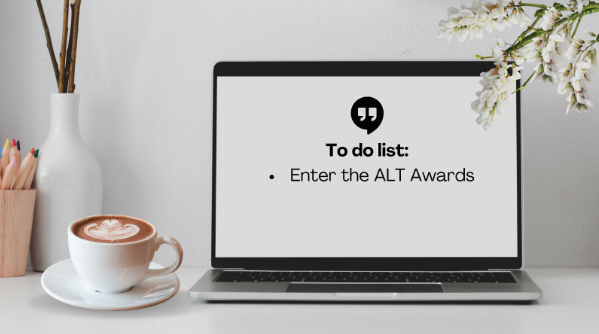 The ALT Awards are now in their 16th year of celebrating and rewarding excellent research and practice and outstanding achievement in Learning Technology. 2023 sees the return of five award categories including: Award for Individuals, Award for Teams/Institutions, Award for Leadership in Digital Education, Award for case studies in Ethical EdTech, and the Award for Digital Transformation in partnership with Jisc.
Entries are now open until 12 June 2023, and you can find out more on how to enter over on our awards page. This year, there will be no interviews for our award finalists, so judging will be completed solely on the entry forms. Award winners will be announced at our Awards Ceremony in September, taking place as part of the Annual Conference 2023 in Warwick.
This blog post explores some of last year's award winner's highlights of entering and winning their 2022 award, and any tips they have for you if you're thinking of entering yourself this year.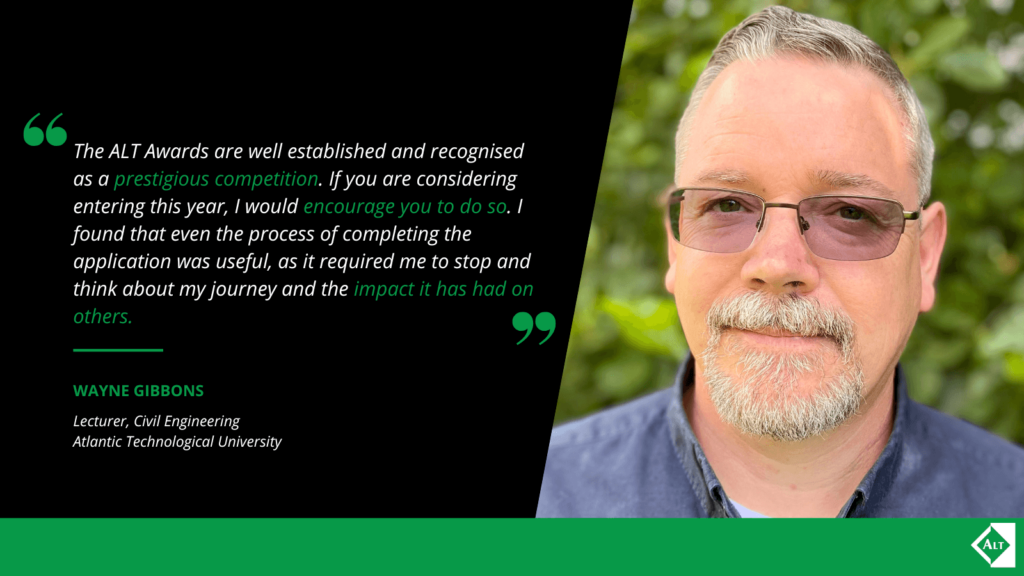 "The ALT Awards are well established and recognised as a prestigious competition. If you are considering entering this year, I would encourage you to do so. I found that even the process of completing the application was useful, as it required me to stop and think about my journey and the impact it has had on others. The very act of such reflection gave me the confidence to enter, because having taken the time to think about it, I felt I had a meaningful story to tell. After entering the competition, I found the ALT staff to be very friendly, accommodating, and helpful with the process. Overall, entering the competition gave me a confidence boost, and for that reason alone I would recommend entering.
When it comes to tips on entering the awards, you will get as many different pieces of advice as people you ask! In my case, I wanted to focus on the human side of the technology by putting the impact and benefits for students to the fore. My entry was based on Doctoral research, and although I could have taken a theoretical and statistical approach to presenting the findings, I think having a more human approach helped. So, my advice would be to make your entry as relatable as possible, especially if you have evidence of your work having a positive impact on the teaching/learning environment. And as always, a good general tip is to start writing your application good and early, with draft and re-draft, to make it as succinct as possible. We don't like it when our students try to cram, so lead by example!
Winning the award has had two great outcomes for me. Firstly, it meant I could travel to the ALTC conference in Manchester and meet lots of like-minded people to chat to. It was a great opportunity to listen to other presentations too, and I was grateful for the invitation to attend. Secondly, winning the award has added considerably to my professional profile. My university was very proactive in promoting the award win, and the story was picked up by two newspapers in Ireland. The confidence boost from the congratulations was great, but since my feet have come back down to earth now, I am still delighted with the award and the recognition it has brought to my work. I am also delighted for all stakeholders that were involved in my research, including about 130 students, because it would not have been possible without their input".
Wayne Gibbons, Lecturer, Civil Engineering – Atlantic Technological University
Winner of the Individual Award 2022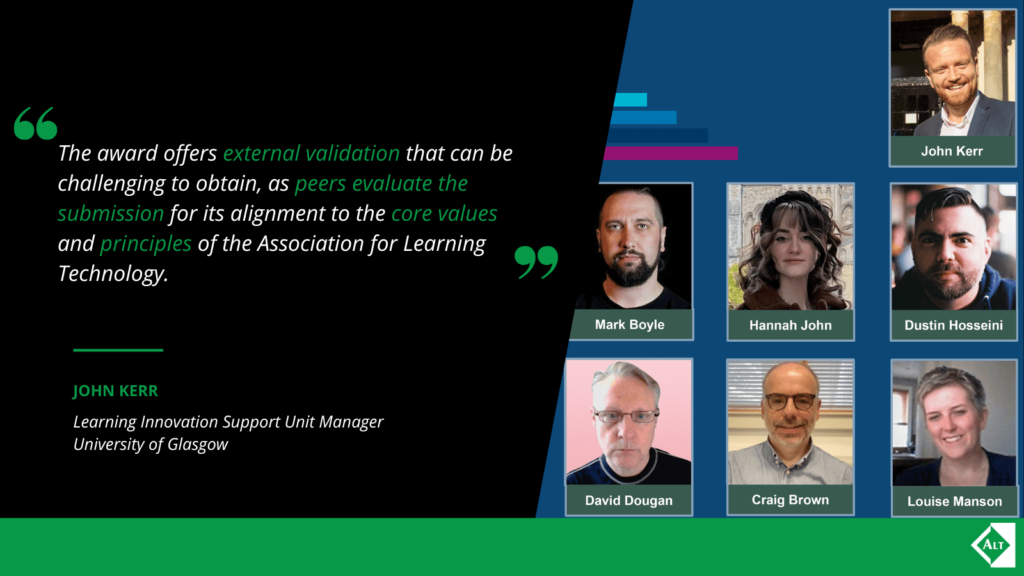 "The decision to enter the Learning Innovation Support Unit (LISU) for the 2022 Team Award was an obvious choice for me. The award offered external validation that can be challenging to obtain, as peers evaluate the submission for its alignment to the core values and principles of the Association for Learning Technology. It was a way for me to express my gratitude for the unit's outstanding work over the previous 12 months.
Winning the team award was an outstanding accomplishment that was celebrated by many throughout the university. It reinforced the work the unit had accomplished during the previous year and provided everyone with a real confidence boost. The award remains proudly displayed in the office as a centrepiece to this day.
I would, without doubt, recommend to any manager or leader to recognize the exceptional work of their teams and submit them for the ALT team award. Celebrating their work and dedication with their peers and the ALT community can be a source of motivation and recognition".
John Kerr, Learning Innovation Support Unit Manager – University of Glasgow
Winner of the Award for Teams/Institutions 2022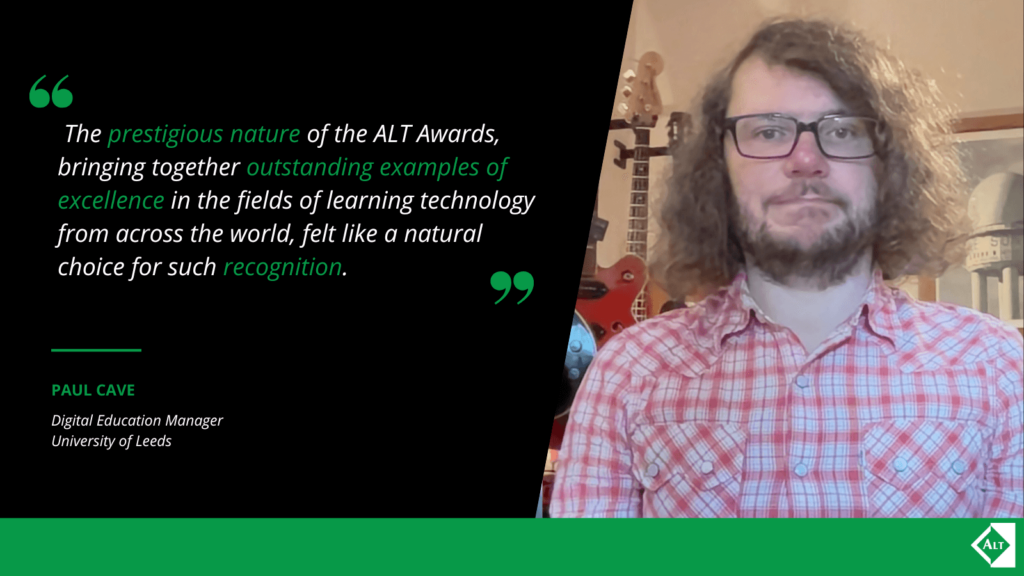 "As Programme Manager responsible for the Minerva Upgrade Project – a multi-year project to upgrade the University of Leeds' Blackboard VLE – I was conscious of how much effort my project team, and stakeholders throughout the institution, had put in to deliver successful outcomes. The Project Academic Lead, Steven Montagu-Cairns, and I felt that this work also represented the very best of Leeds, showcasing our commitment to high-quality teaching and learning, underpinned by transformative digital education systems. As a result, we believed it was important that not only the core project team, but also the many staff, schools, faculties and services involved in the project had their hard work recognised and that the huge improvements the project delivered at Leeds were celebrated. The prestigious nature of the ALT Awards, bringing together outstanding examples of excellence in the fields of learning technology from across the world, felt like a natural choice for such recognition.
I found the entry process to be straightforward and intuitive. Writing the application provided a good opportunity to reflect on the project and the achievements the team had made over several years, in challenging times, coinciding, as work did, with the COVID-19 pandemic.
I was incredibly pleased that Leeds won the Award for Digital Transformation in partnership with Jisc. After years of hard work, it was very satisfying to see the hard work of the core project team, and the institution as a whole, be recognised.
Winning the award, and attending the ALT Annual Conference, provided valuable networking opportunities and, I hope, inspiration for others currently undertaking large-scale digital transformation projects".
Paul Cave, Digital Education Manager – University of Leeds
Winner of the Award for Digital Transformation in partnership with Jisc 2022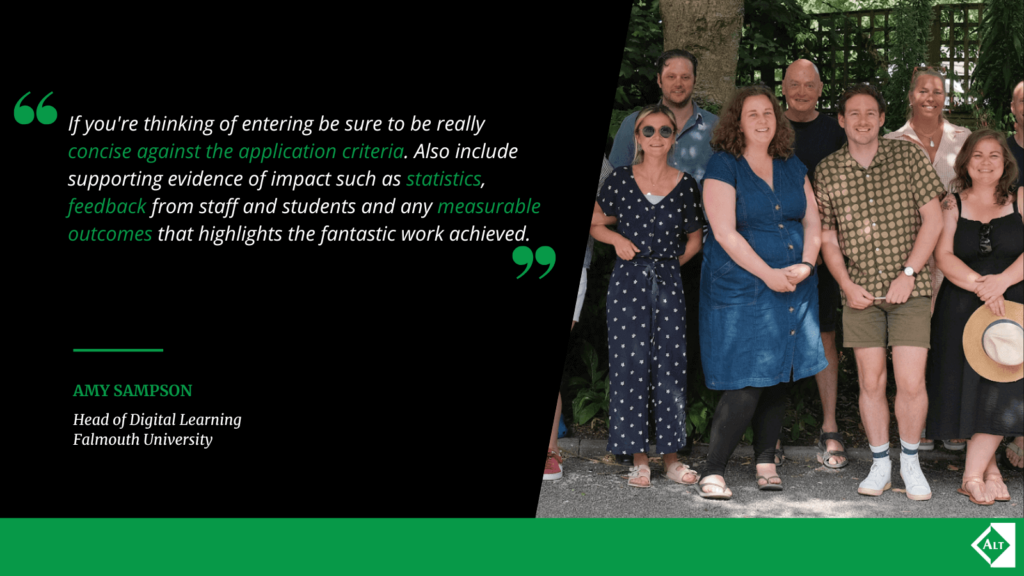 "Entering the awards last year provided us an exciting opportunity to share the work we're doing internally with a wider specialist community. It was fantastic to be recognised for our contributions to the sector, so often we're focused on the next piece of work and the application process gave us a chance to reflect on our efforts and the impact we've had.
If you're thinking of entering be sure to be really concise against the application criteria. Also include supporting evidence of impact such as statistics, feedback from staff and students and any measurable outcomes that highlights the fantastic work achieved. Keep in mind that the panel might not have experienced your work to date, so applications need to be clear and informative.
Winning the award has validated the work we've done and widened our visibility in the sector in this space. The ALT community has always been very supportive, and it's been a real boost for our contributions to be recognised and provides validation going forward for other projects. It's been a great CPD opportunity and would recommend others to submit for future awards, good luck!"
Amy Sampson, Head of Digital Learning – Falmouth University
Highly Commended for the Award for Teams/Institutions 2022
Entries for the 2023 ALT Awards are now open until Monday 12 June 2023. To find out more and to enter, visit the Awards page on our website.