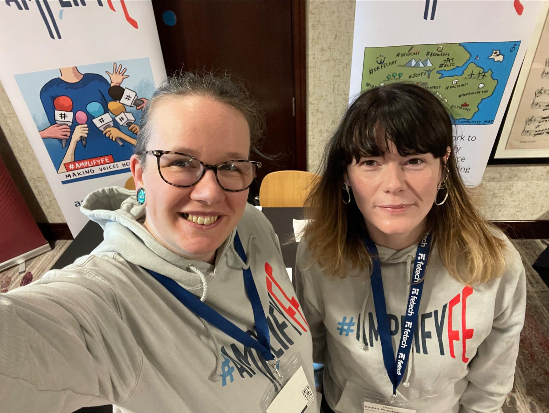 by The AmplifyFE Team
The #AmplifyFE team have been busy bees this year, travelling up and down the country to attend a variety of conferences. We started the year at the Society for Education and Training (SET) conference at the Vox Centre in Birmingham. Our stand in the conference foyer with the eye-catching Amplify Community Map attracted dozens of people from across the diverse FE and Training sector to talk about all things post-compulsory education and to find out how they could participate in the #AmplifyFE community. By the end of the day we had signed up lots of enthusiastic potential participants for our regular #AmplifyFE webinars, podcasts and blogs with teachers, leaders and managers and exhibitors at the conference all expressing an interest.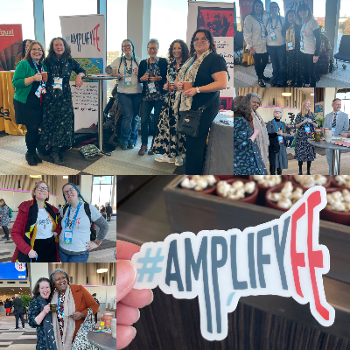 In April AmplifyFE was at the LSRN conference, where Lynne Taylerson presented the #AmplifyFE 'Insights' research on how we can design and deploy learning technology and digital tools to best support vocational learners most impacted by the digital divide.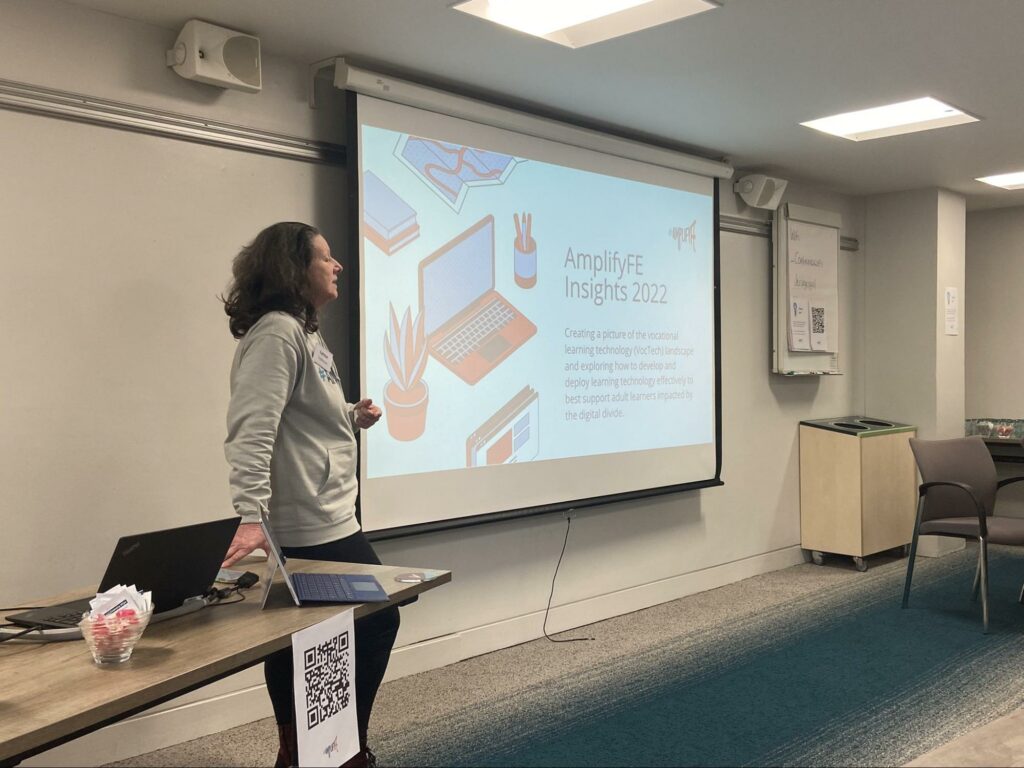 More recently we were at the Skills and Education Group conference in Leicester, where the AmplifyFE team had a stand. It was another busy day of talking to delegates and making connections. We came away with another couple of webinars confirmed and delighted to meet more members in real life! There was much interest in the opportunities to get involved with the AmplifyFE Community Space. A number of delegates commented on how they planned to share our newsletter with colleagues and a lot of interest in our FE Diary of Events.
So what's next up for AmplifyFE? We will be at the Blended Learning Consortium conference, on Monday 10th July. We are excited to have a stand and be running a workshop at the event. This will be another wonderful opportunity for us to meet more of our members, share updates on our AmplifyFE Insights research work, to share more about the #AmplifyFE Community Space and an opportunity for delegates to feed into this year's AmplifyFE Communities of Practice Sector Audit
Looking ahead to the next academic year, we are looking forward to kicking off the year at ALT's Annual Conference 2023 in early September. Join us and over 500 learning technologists at this year's conference to celebrate ALT's 30th anniversary and the phenomenal changes in the sector over this time.
For the latest AmplifyFE news, sign up to our newsletter, follow us on social media @AmplifyFE, or email us at amplifyFE@alt.ac.uk.