November 7, 2011 10:25 am
The 4th annual Future of Technology in Education (FOTE) conference, which took place in the University of London on 7th October, aimed to shine a light on student expectations and the role technology plays in meeting them.
I'm just catching up with the Twitter back-channel and really like Martin Hawskey's (@mhawskey) infographic using #fote11 conversations coded with sentiment data from ViralHeat [NodeXL]; a great way to visualise data (Figure 1).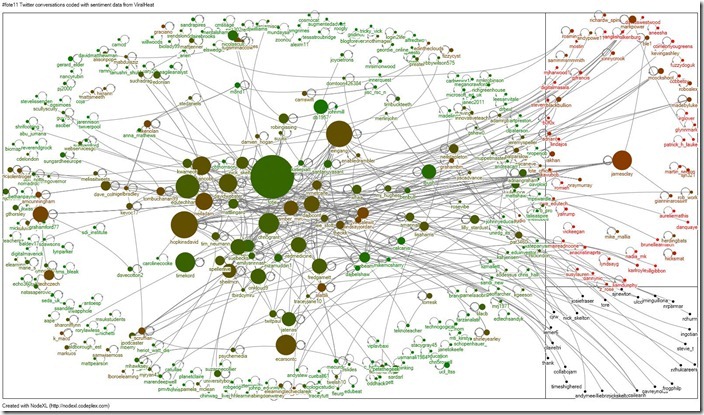 All videos and slides of the keynotes, 140Challenge and Bring Your Own Device (BYOD) panel are now available online and we also uploaded close to 500 pictures to Flickr. As always you can share and reuse all of those in your own blogs and website as long as you attribute. Trying to write a summary of a conference one organised and hosted, feels somewhat odd, even self-congratulatory, but I'll try to be as impartial as possible.
With the theme being on student satisfaction I was pleased that both Emily-Ann Nash (delivering a keynote) and Nizam Uddin (being on the BYOD panel) played an active role at this year's conference.
#fote11 could Emily-Ann Nash's student expectations point of view be the most relevant .. follows on from @jamesclay
by @timekord, Fri Oct 07 13:50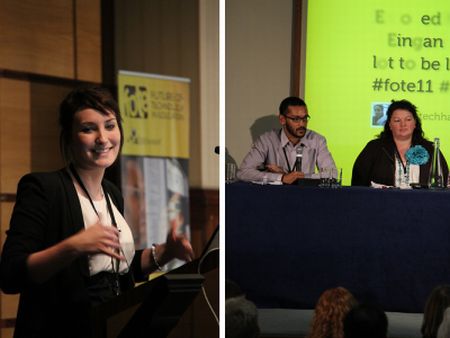 The 140Challenge seemed to work very well and we are fairly certain it will be back next year. A few people remarked they'd like to get up on stage but were a tad nervous. Maybe we should give out wine beforehand next year to help with the nerves?
I really enjoyed Andrew Bollington's talk and his suggestion to look at things with different lenses. All too often we get engrossed in our own little world of Marketing/IT/Learning Technology/add your own profession and either forget the bigger picture or the people we are working with and for.
A point also well made by James Clay in his 'The student as the agent of change' presentation and something that seemed to come up during the BYOD panel and Emily-Ann's keynote.
@amber_miro Get your jeans on and buy some coffees – face to face interaction is the best! Use the JCR and talk to them! #fote11
by @amannall, Fri Oct 07 14:05
So could the Future of Technology in Education really be less about technology on more about the face-2-face interactions with students? What do you think?
True, we must take care not to overdo it! @mjryan42: @tim_neumann many students like f2f and [do not want just] more e stuff! #fote11
by @tim_neumann, Fri Oct 07 09:31
If I had to name one key point to take away from this year's conference it would be – Engage With Your Students/Colleagues.
Frank Steiner
Marketing Manager
University of London Computer Centre
Twitter: @fstoner
If you enjoyed reading this article we invite you to join the Association for Learning Technology (ALT) as an individual member, and to encourage your own organisation to join ALT as an organisational or sponsoring member.