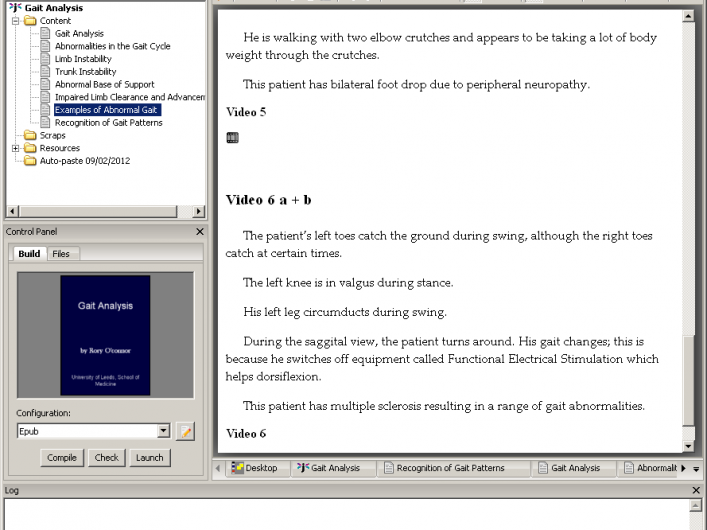 February 27, 2012 1:28 pm
The ebook medium is gradually evolving from its text based roots into a multimedia format, as can be seen by the emergence of the International Digital Publishing Forum's EPUB 3 standard and Apple's announcement that its iBooks reader supports rich media content.  In particular the adoption of interactive HTML5 technologies into the EPUB standard makes ebook publishing a promising platform for elearning resources.
Part of the success of an elearning technology is whether it can be adopted and maintained by learning and teaching staff – rather than technologists – and in order to promote ebooks within our department I was looking for an easy to use publishing tool that ran on institutional Windows PCs, rather than Apple hardware.  I tried a range of solutions available for ebook publishing from conversion software, such as Calibre, desktop publishing applications, such as Adobe's InDesign, to developer tools like the open source Sigil.  Eventually I came across Jutoh, developed by an Edinburgh based software and publishing house Anthemion.
Jutoh is a cross platform application that runs on Windows, Linux and Mac and can also be carried on a USB stick, which allows it to be shared between workstations. It isn't open source, but at £24, the licence cost is trivial in comparison to high end desktop publishing applications, such as Adobe InDesign. Unlike Apple's iBooks Author that exports to the proprietary ibooks format, Jutoh saves EPUB files, compatible with a wide range of ebook readers, and mobipocket files readable on Kindles.  Jutoh has an easy to use interface and like Apple's Pages supports the embedding of audio and video content into an ebook page.  Currently only the iBooks app renders embedded media files, but this may be more widely supported as more ebook readers begin to adopt the EPUB 3 standard, such as Readium which was launched by the IDPF on the 13th February. Those who prefer the familiarity of a word processor can author content in an external editor and bring the content into Jutoh and I was able to test this by converting a Word file to a 'filtered' web page and importing it successfully.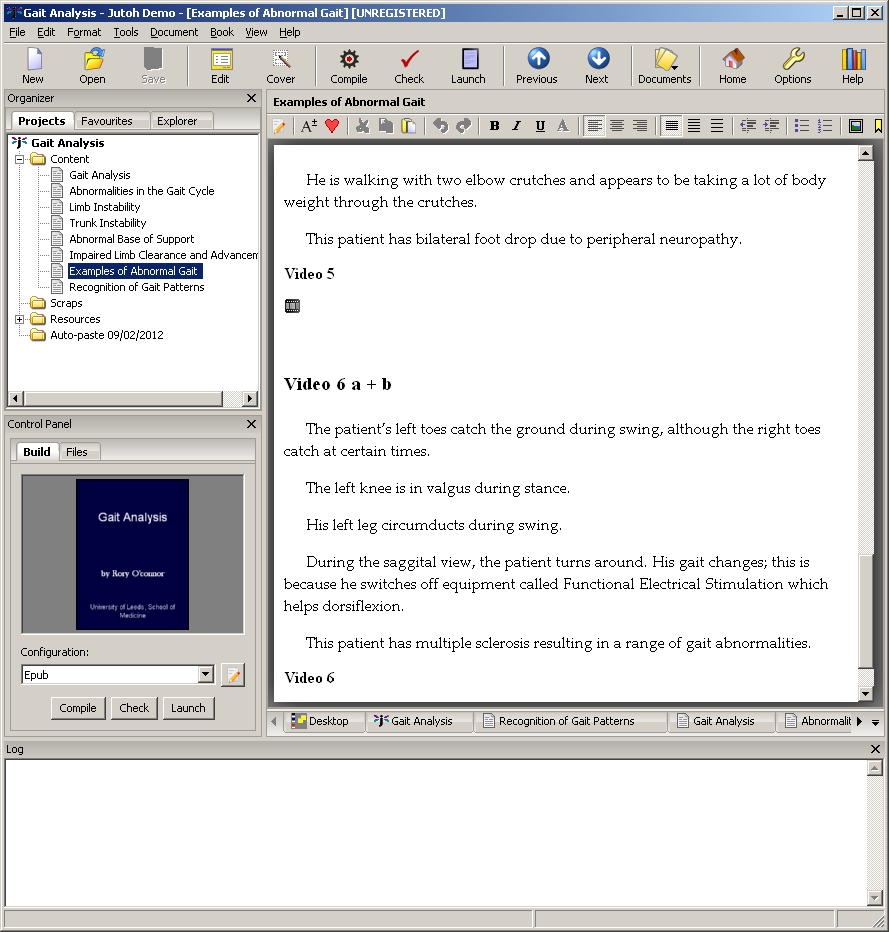 Further formatting can be made using a set of predefined styles in the the Jutoh editor; the most useful of which I found was the html style which allowed me to embed a scripted quiz question from a web page that worked correctly when tested in iBooks on an iPhone.  As the application matures it would be good to see some of the quiz features of iBooks Author that allows authors to create simple review questions using a graphical interface.
Overall I found Jutoh a low cost, easy to use solution for Windows users and a good starting application for those wanting to dip their toe into the water of mobile content development.  To see what is possible with interactive ebooks, I recommend Elizabeth Castro's commentary on using location aware technology in her photo book and a demonstration of game based interaction by the French Publishing House Studio Walrus.
Links and Resources
Anthemion Jutoh hompage, http://www.jutoh.com/
International Digital Publishing Forum, http://idpf.org/
EPUB 3 overview, http://idpf.org/epub/30/spec/epub30-overview.html
Readium project, http://readium.org/
Barcelona Beyond Gaudí Demo: Interactive Fixed Layout ebook, http://vimeo.com/24579915
Studio Walrus Epub Demo #3:  http://www.walrus-books.com/2011/06/epubdemo3/
Scott Hennessy
University of Leeds
s.hennessy@leeds.ac.uk