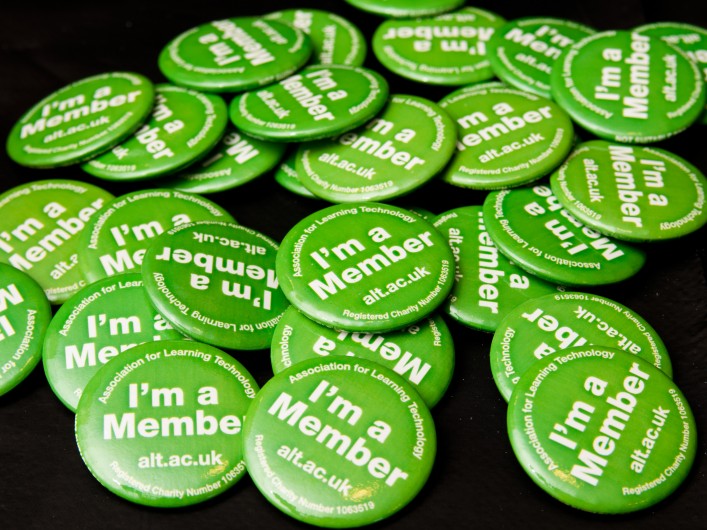 altc2013
This time of year ALT gears up for its annual conference and this year is no different. With registration open, preparations to define the social and academic programmes is progressing well. The keynote speakers this year include a learner keynote with contributions from students and NUS officers, Wendy Hall and Stephen Downes. This year we will be celebrating ALT's 20th birthday as well as the finalists and winners of the Learning Technologist of the Year Award on the Wednesday and have a focus on FE and Skills on the first day, while we'll be looking towards the future on day three. With more community-led sessions than last year the activities of Special Interest Groups, projects and others will be given a real presence and there will be many ways to network and get involved. Register now at http://www.alt.ac.uk/events/altc2013.
Policy developments
ALT is preparing to convene its Policy Board, consisting of representatives of all Organisational and Sponsoring Members, this autumn. In preparation a small round table discussion on current policy developments was convened in May, chaired by ALT's President, Martin Oliver. The output from the discussion is a report which will be published shortly and which will serve to inform the Policy Board's meeting in autumn. Alongside this work, ALT has also responded to a number of consultations on the National Curriculum and Open Access. See http://www.alt.ac.uk/about-alt/what-we-do/policy-consultation-responses
AGM and election of Vice-Chair and two Trustees
The calling notice for this year's Annual General Meeting was published alongside the details for election of a new Vie-Chair and two new Trustees of the Association. The AGM will take place at the University of Nottingham, on Wednesday 11 September 2013. All members are encouraged to attend or use the proxy voting arrangements to participate. Full details are available online at http://www.alt.ac.uk/get-involved/election-trustee
ocTEL – Open Course in Technology Enhanced Learning
ALT's first online course is currently running until the end of June. The course was designed and is supported on a voluntary basis by members of ALT and has received over 1200 registrations. Weekly webinars have had guest speakers including Diana Laurillard, Liz Masterman, Helen Beetham, Martin Hawksey and Nancy White. We have adopted an interactive approach to the running of the course and have continued to develop the platform and content with the help of feedback from participants. If you would like to find out more, visit the course website http://ocTEL.alt.ac.uk
Developing ALT's accreditation scheme, CMALT
With the scheme gaining wider recognition and increased participation from within the UK and internationally, work is underway to further develop CMALT. Informed by the work of the CMALT Development Group we are developing and implementing improvements in two key areas of CMALT: firstly, we are working to belatedly introduce the update process by which CMALT Holders will be able to demonstrate their continued development over time; and secondly we have undertaken an initial quality assurance review of the scheme, with a view to ensuring consistent quality of assessment and effective feedback for all candidates. Work on both is ongoing and further information will be circulated to members and published online in the coming months.
On a final note, a major new release of the ALT website is also planned for the end of the year.
Maren Deepwell
Chief Executive, ALT
maren.deepwell@alt.ac.uk
If you enjoyed reading this article we invite you join the Association for Learning Technology (ALT) as an individual member, and to encourage your own organisation to join ALT as an organisational or sponsoring member.