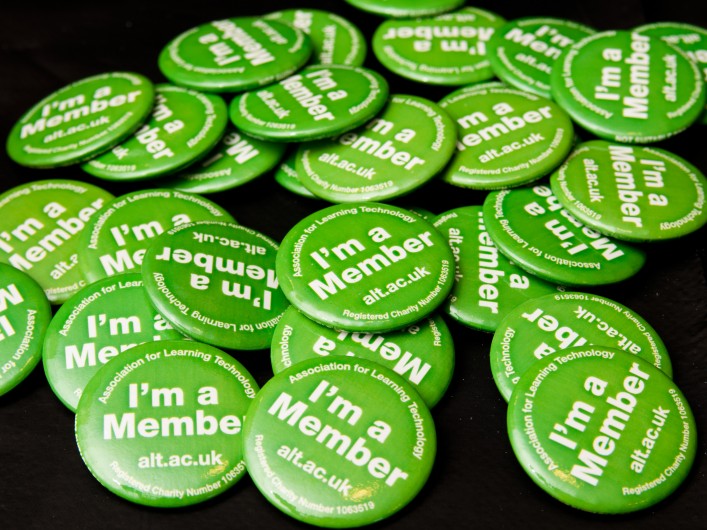 A shared vision for the future
In early February Diana Laurillard, Chair of ALT, led the launch of our new strategy for 2014-17. The strategy sets out a clear vision for the work of the Association over the next three years and strongly articulates our core values of being participative, open and inclusive, innovative, collaborative, transparent, and independent. Together with members, Trustees, and staff I look forward to working towards making our aims a reality.
Policy for Learning Technology
Members actively contributed to the conversation and report of the Further Education Learning Technology Action Group, FELTAG, convened by Matthew Hancock MP, Minister of State for Skills. The FELTAG report, with recommendations for funding, regulation, support for teachers, and involvement of learners and employers, was published in early March on the FELTAG site hosted by ALT. We are continuing to represent our members in policy development via the recently established ETAG or Education Technology Action Group, which has a remit covering schools, Further and Higher Education.
The open course you cannot fail…
…unless you fail to find something interesting. Written, designed and supported by members on a pro bono basis we are getting ready for the second iteration of ocTEL, the Open Course in Technology Enhanced Learning. The course now has a shorter format and provides flexible and open professional development on key topics related to the intelligent use of Learning Technology. This new version of the course is aimed at those whose role involves Learning Technology across all learning contexts including Further and Higher Education, Adult Learning, and Skills.
Working together with the Irish Learning Technology Association (ILTA)
A new Memorandum of Understanding between ALT and ILTA was formally signed last month. This new partnership will help us work together to serve our members better and build stronger international ties in relation to funding and policy. We look forward to working together and meeting new colleagues at both forthcoming annual conferences.
A new Chief Innovation, Technology and Community Officer for ALT
Last month we also welcomed Martin Hawksey as our new Chief Innovation, Technology and Community Officer. As a senior member of staff Martin will have a broad remit across many of ALT's services and activities and working with our community. We are delighted to have Martin on board and you can find out more by reading his own introduction.
Coming up: ALT's 21st annual conference, the Learning Technologist of the Year Award and elections
In May we will publish our annual call for nominations for a new a Vice-Chair of ALT and advertise vacancies for Trustees. Alongside these there will also be vacancies on all of our Operation Committees for Further Education and cross-sector engagement, membership development, communications and publications. If you haven't considered becoming involved in the work of the Association in this way, we would like to encourage you to this year. We will run an online session with current Trustees to share their perspectives on their experiences and telling you how you can take an active part in shaping our future. Find out more about our current Trustees.
Also later this month the Learning Technologist of the Year Award, sponsored by ULCC and supported by Nesta, will open for entries.  So if you, your team, your learners or someone you know is doing something exciting, inspiring or innovative we are looking for you. Help us recognise and promote excellence in Learning Technology on a national scale and show what is happening in classrooms, online or in social spaces in learning, teaching and assessment.
Last, but not least, I hope that you have submitted a proposal for our forthcoming annual conference in September at the University of Warwick. You can submit a short abstract for sessions of varying formats or a full research paper for inclusion in the special conference issue of Research in Learning Technology. With speakers, exhibitors and sponsors signing up fast this year's conference promises to have a full programme, plenty of opportunities for networking and community-led sessions as well as showcasing new technologies in action.
Read the Call & Guidelines for Submission.
Maren Deepwell
Chief Executive, ALT
maren.deepwell@alt.ac.uk
If you enjoyed reading this article we invite you join the Association for Learning Technology (ALT) as an individual member, and to encourage your own organisation to join ALT as an organisational or sponsoring member.