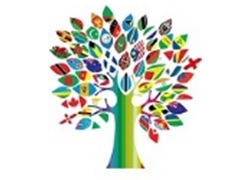 Sheila MacNeill is a Senior Lecturer at Glasgow Caledonian University
Glasgow Caledonian University have taken their first steps into the world of open online education this week with the launch of GCU Games On – a three-week, open online event to celebrate the Glasgow 2014 Commonwealth Games.
The event has been developed by GCU's Blended Learning team: Professor Linda Creanor, Jim Emery and Sheila MacNeill. It has been designed as a fun way of bringing people together to share their experiences during Glasgow 2014 and to enable people to experience a little bit of online learning. Each week there have been a number of simple activities including a digital wishing tree where participants can share their wishes for Glasgow 2014. Participants also get the opportunity to win bronze, silver and gold digital medals.
The event has been developed very quickly, in little over a month, with no budget (just lots of our time). These factors brought a set of challenges which influenced the design of the event. What began as little more than an A4 proposal of what could be possible, is now up and running with participants from the UK, Canada, Australia and South Korea.
Due to the time and (no) budget constraints, we as the design team, knew that we couldn't develop a full-blown course. We were, and still are, in the middle of an upgrade to our VLE. We also started the development just as most of our colleagues with relevant subject area expertise went on leave. So we decided to go for something with a light touch which tapped into social media, in particular Twitter. We also decided not to have any learning objectives or a set learner type. We really wanted this to be open to anyone and to be a fun way for anyone and everyone to be able to participate in something a bit different during the Commonwealth Games. You don't even have to like sport to take part.
The core activities for each week are: a digital wishing tree (this idea came from an actual wishing tree we had on campus to celebrate Commonwealth day in March this year) and a medal activity (a quiz). Calling badges medals was just too good an opportunity not to miss, and it has been a good way for us to experiment with awarding badges. We are also encouraging people to share their thoughts and experiences of the Games via Twitter.
A key factor that enabled us to develop the event so quickly and easily including badges was our VLE BlackBoard which has just launched their new MOOC platform Open Education. Originally we had planned to use Coursesites, the open version of Blackboard Learn, however, after a few emails, we were lucky enough to be offered early access to the new platform. We are the first University in the UK, if not the world, to actually go live with this system.
We're really pleased with the response we've had so far, and have plenty of medals to give away to anyone who would like to join in. We're hoping this is the first of many such online events. More information about #GCUGamesOn is available at www.gcu.ac.uk/gameson.