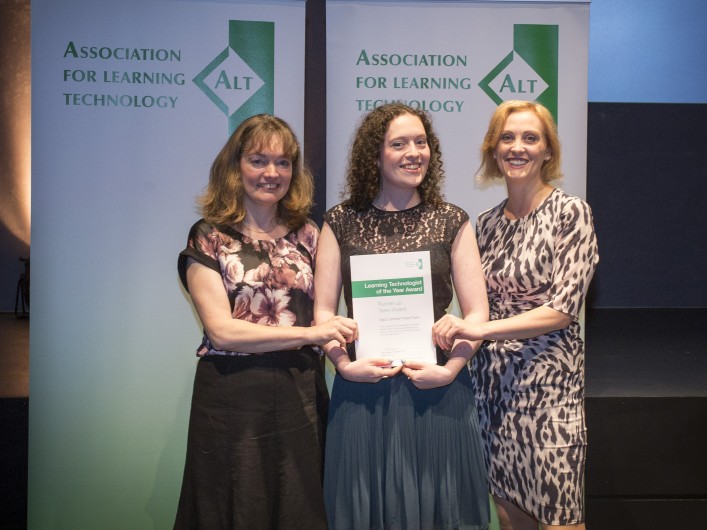 September 25, 2014 10:46 am
The DigiLit Leicester Project Team won the joint runner up for the Learning Technologist of the Year Team Award 2014
DigiLit Leicester: supporting school staff, promoting digital literacy, transforming learning.
#digilitleic is a two year collaboration between Leicester City Council, De Montfort University and 23 city secondary and specialist education schools, running from September 2012-2014. The core project team are Lucy Atkins, Josie Fraser and Richard Hall.
The project takes a situated approach to digital literacy, working with 1,780 staff who support learners across the city: school leaders, teachers, classroom assistants and library staff. The project models and promotes open educational approaches, and supports teacher agency and collegiality through pedagogically grounded self-evaluation. It identifies and addresses strengths and gaps at individual, whole school and city wide level.

The DigiLit Leicester framework was developed in consultation with schools and staff. The framework identifies and defines six key strands of digital literacy for secondary school staff: Finding, Evaluating and Organising; Creating and Sharing; Assessment and Feedback; Communication, Collaboration and Participation; E-Safety and Online Identity; Technology supported Professional Development.
The framework was used to create an online survey, which was carried out in both 2013 and 2014. 450 staff (25% of the cohort) completed the survey in 2013, and 701 staff completed the survey in 2014 (39%). 209 staff members completed the survey in both years, making total of 942 staff who have engaged with the project survey.

Impact
The project has established a significant cultural change in its approach to the use of technology to support learning, teaching and community development, and created a shared understanding of how digital literacy relates to professional practice.
All 23 BSF schools have engaged with the project, developing relationships, collaborating, and sharing practice and resources. In relation to the survey findings and recommendations, the DigiLit team have led on six related events and projects, with schools designing and leading on 21 projects.
The project is formally structured as a Knowledge Exchange Partnership between Leicester City Council and De Montfort University, and is supporting a new digital literacy strategy and implementation plan within the University.
Analysis comparing the survey data from 2013 and 2014 shows that a statistically significant, positive change in staff confidence has taken place.
All of the projects outputs, including the project approach and methodology, research findings and recommendations, and information and resources relating to project activities, have been collected and released with a Creative Commons licence: http://www.digilitleic.com/
Key reports include:
Initial Project Report (outlining the secondary school digital literacy framework and including all of the survey content), June 2013
2013 Survey Results, October 2013
Defining a self-evaluation digital literacy framework for secondary educators: the DigiLit Leicester Project – Research in Learning Technology, April 2014
DigiLit Leicester: Project Activities Report, May 2014
If you enjoyed reading this article we invite you to join the Association for Learning Technology (ALT) as an individual member, and to encourage your own organisation to join ALT as an organisational or sponsoring member