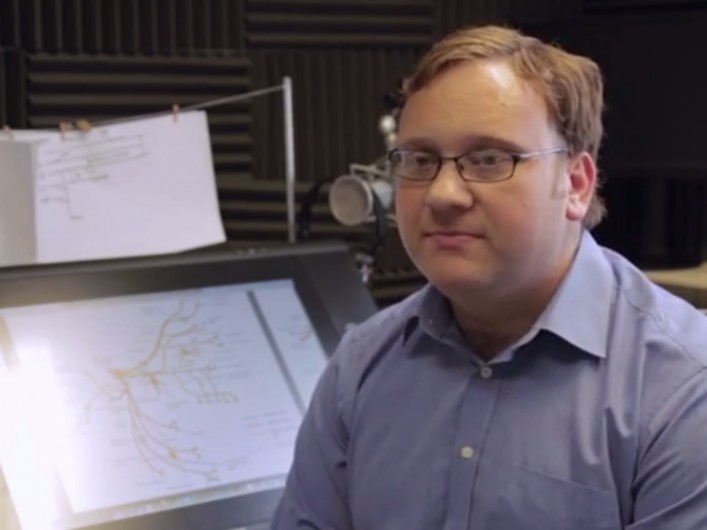 September 8, 2014 9:35 am
Dr James Pickering (University of Leeds) is the winner in the individual category of the 2014 ALT Learning Technologist of the Year Award.
Winning the Learning Technologist of the Year award is a real career highlight and something I am immensely proud to have achieved.
I am an anatomist at heart and spend a considerable amount of my time teaching medical, dental and biomedical science students. This is an incredible rewarding part of my job as I take real pleasure in engaging and supporting students through their education.
My use of technology to enhance my teaching and the student experience starts in the lecture theatre. Although lectures have received a lot of criticism in the recent past, I strongly believe this approach to be a key method of information delivery. If a student can sit in a dark room for 2 hours and watch the latest blockbuster at the cinema, why can't they sit through a 50 minute lecture?
You might say interest, how can you make X and Y as interesting as a multimillion pound Hollywood production?
Well, isn't that my job!
I view a lecture as an event, a performance, where you have this unique opportunity to talk passionately about your subject to young open minds that, believe it or not, want to learn.
So, even in this traditional setting I use technology to enhance my teaching and allow students an opportunity to re-live the experience afterwards. When I leave my office for the lecture theatre I carry some simple pieces of technology: a dictaphone and some pens and paper.
I adopt the old-fashioned approach to teaching anatomy and spend considerable time drawing out the complex structures and continually engage the students, prompting them for answers, asking them to think and shout out what comes next. They can engage behaviourally and copy out the drawing as I progress – learning by doing – not sitting passively as the lecturer flicks through PowerPoint slides.
These simple tools enable me to deliver highly interactive and engaging lectures. But, once the lecture has finished the teaching is lost. The drawing is done, but the development of it lost, moreover, as they were busy concentrating on the drawing, they may have missed what I was saying.
That is why I record my lectures and screencast my drawings. A quick turn around after the lecture and they are on the VLE for students to access wherever, whenever.
The question then is why should this innovative and interactive teaching style be left to sit in the VLE. There are numerous online repositories – YouTube, iTunesU, Jorum – that can host (for free) your resources and make them available to anybody around the world. I have recently created my own YouTube channel and this has quickly been a success, with many hundreds of thousands of views from all over the world. This simple teaching from the lecture theatre at Leeds, is now being streamed on an iPad in Malaysia. Supporting those students in their education. Simple, easy and effective.
Although this method is great and allows students to dip in and out, looking at the specific elements they need for their own learning, repositories such as YouTube are not ideal for actually engaging with the learners. Here MOOCs can potentially fill this void. In this format learners can engage with other learners and create a diverse online community, exchanging knowledge and experience, enriching the learning environment. Having taken my local resources and along with some bespoke material delivered a highly successful MOOC I can only say how rewarding and worthwhile an endeavour delivering on this scale is.
So, I am keen to use technology where possible. Not for its own sake, but were it can add value to the student experience. The possibilities are really endless and trying new approaches to learning is a deeply rewarding approach to education that can have a massive impact on students around the world.
Dr James Pickering
School of Medicine
University of Leeds
If you enjoyed reading this article we invite you to join the Association for Learning Technology (ALT) as an individual member, and to encourage your own organisation to join ALT as an organisational or sponsoring member