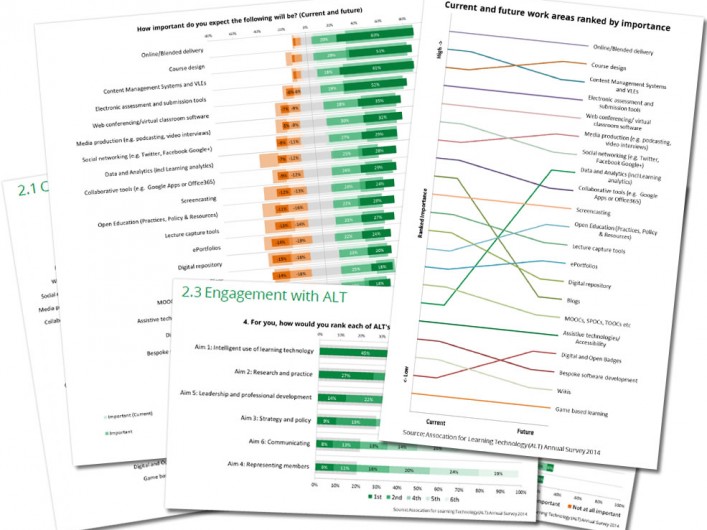 Dear Members of ALT,
This is a busy time for our community and I am pleased to report on so much activity:
In February we published the findings from the Annual Survey carried out in December and January, the analysis and report being led by my colleague Martin Hawksey. This being the first in a new series of Annual Surveys we were interested to see which areas of Learning Technology are rising up the agenda with Learning Analytics gaining the most relevance. On behalf of the Trustees of ALT I would like to note our thanks to all who contributed their responses.
In March during Open Education Week the ALT Open Education SIG and members across our community joined into a number of activities including webinars, a preview of OER15 and the ALT Open Access Repository got a fresh look. Contributing to policy as well as research and practice, ALT has also joined the Open Policy Network and we took part in a Twitter debate on Open Policy led by Cable Green of Creative Commons.
We have also issued a Special Call for a new Honorary Treasurer for the Association and together with the Trustees I invite you to consider this opportunity to get more involved in the governance of ALT. The call closes on 1 May.
Together with members, our staff team, in particular Anna Davidge and Liz Wyatt, helped give ALT presence at BETT in January and the Jisc DigiFest in March – with members sharing their experiences of both in the newsletter.
On 14-15th April meanwhile we are looking forward to supporting the OER15 conference in Cardiff, chaired by Haydn Blackey and Martin Weller. The full programme is now available on the OER15 Conference website.
With the deadline for submitting proposals for our Annual Conference on 30 March we will now prepare to open registration in May, the conference taking place in Manchester, 8-10th September 2015. Keynote speakers this year include Laura Czerniewicz, Jonathan Worth, Steve Wheeler and a virtual keynote by Phil Long. Visit the ALT conference website to keep up to date.
This year's Learning Technologist of the Year award will likewise open for submissions in the next month.
I will end my report by reflecting on how we see priorities of policy makers change, particularly ahead of the General Election, placing an ever greater importance on individuals and institutions to collaborate and share knowledge to meet the challenges of a rapidly evolving learning landscape. One of the developments we support is the founding of a new Special Interest Group set up by members, focusing on meeting the challenges set out in the recommendations originally published by the Further Education Learning Technology Action Group (FELTAG). While the recommendations are primarily focused on the Further Education system, there are many commonalities for members working in Higher Education and the new FELTAG SIG is open to all with an interest in their work.
Alongside the Trustees, all members and my colleagues in the staff team, I look forward to continuing our work together as I begin my fourth year as ALT's Chief Executive – I feel privileged to serve this community and thank you for your continued support of ALT.
Maren Deepwell
Chief Executive, ALT
maren.deepwell@alt.ac.uk
If you enjoyed reading this article we invite you to join the Association for Learning Technology (ALT) as an individual member, and to encourage your own organisation to join ALT as an organisational or sponsoring member