As part of Open Education Week 2015, Dave White and Donna Lanclos facilitated a Visitors & Residents workshop "Marvellous Mapping" for educators and researchers at the National University of Ireland in Galway. Dave is the originator of the Visitors and Residents concept and Dave and Donna are on the research team that developed the related JISC infoKit. Catherine Cronin writes about the workshop and some of the thinking and discussion it stimulated.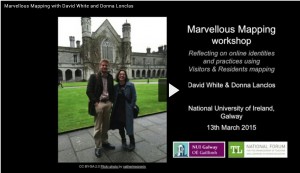 Visitors and Residents is a way of describing the range of ways we engage with the Web, encouraging us to think about the social traces (rather than data traces) that we leave online. In Visitor mode you might access an online resource in a purely instrumental way, while in Resident mode you view the web as a series of spaces or places, engaging with people not just information. We are never wholly Visitors or Residents, however: V+R is a continuum. Somewhere in the middle of these two poles is where a lot of online activity happens – behavior which as Dave said is "resident in character but within bounded communities", e.g. interactions within Facebook groups or VLE discussion boards.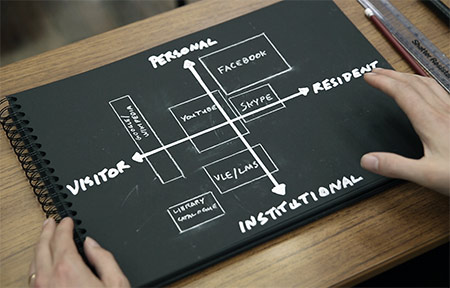 V+R mapping is a useful exercise for what Dave and Donna describe as "making the virtual visible". The two axes used in V+R mapping are a horizontal Visitor-Resident axis and a vertical Personal-Institutional (or Personal-Professional) axis.  For education professionals the line is often blurry between personal and professional. Do we wish to combine or separate these? There are many ways to separate the personal from the professional, or even to separate different strands within our personal and professional lives. Some people do this by having different personas, e.g. on Facebook, Twitter, Google+, etc. Some enact boundaries by using different devices for different activities. We make our own boundaries, consciously or unconsciously – separating or merging the different spheres of our lives. During our discussions at the workshop, opinions differed. Some found that making their personas and practices separate (personal vs. professional) made things easier, others found that this made things more difficult. One thing was clear, however – the act of mapping, of making visible, was a significant aid to both reflecting on and discussing these ideas.
Use of the VLE was also the focus of interesting debate. Some participants see the VLE moving on – no longer just a repository but becoming another learning space. But what do students think? In their work with students, Donna and Dave found that many liked the idea of the VLE as a consistent home or a hub, with other connections (e.g. social media) being voluntary. As one student in their study noted: "there's always somewhere to come back to". For undergraduate students, many of whom are just forming their voice, it is useful to have a home, a place to start and return to. But must this home be within a VLE, or could it be a more open, networked hub? As one workshop participant noted, for those who operate predominantly in Resident mode it can be tough to have a VLE-based course home page. This can be "just another place to visit", "a dead end" rather than a place on the web that can be integrated with other learning activities and networks. Compromises can surely be struck. As educators, we need to think about the best ways to facilitate a home or hub for our courses – depending on the course, the context, the needs and preferences of our students, and our own abilities, experience, values, and preferences.
If you'd like to follow up with Visitors & Residents work, check out the YouTube video series, the JISC infoKit, and the #vandr hashtag.
Dave White is Head of Technology Enhanced Learning at the University of the Arts London; Donna Lanclos is Associate Professor for Anthropological Research at the University of North Caroline, Charlotte; and Catherine Cronin is an educator and PhD researcher at the Centre for Excellence in Learning & Teaching at NUI Galway. The workshop was sponsored by the National Forum for the Enhancement of Teaching & Learning in Higher Education in Ireland.
If you enjoyed reading this article we invite you to join the Association for Learning Technology (ALT) as an individual member, and to encourage your own organisation to join ALT as an organisational or sponsoring member.
You may also like to watch the recording of Catherine's 2014 ALT Conference keynote, Navigating the Marvellous: Openness in Education.