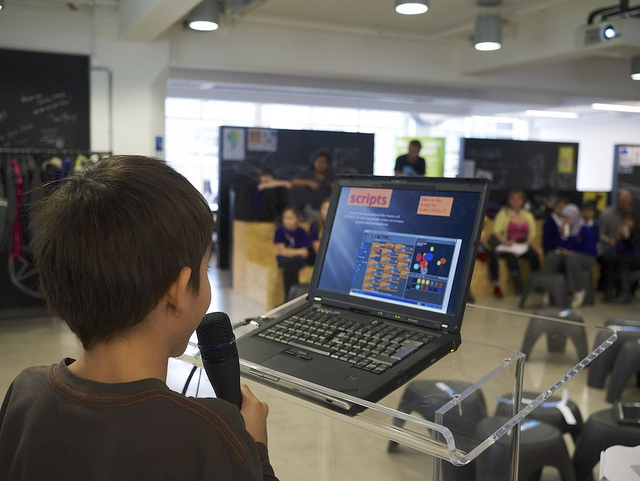 For the past few years Nesta have been trying to get young people digital making. Technology shapes so much of the world. We think it's important that young people understand they can influence this and have the technical skills to do so. Digital making can take many forms, from manipulating images and editing videos to creating interactive objects with electronics and programming apps. The process of making builds towards a meaningful goal whilst learning skills along the way, and we think it is a powerful way of understanding how to manipulate technology.
In April we published a new report that looks at what is happening across the UK in digital creativity for young people. 'Young Digital Makers' shows an exciting field of activities developing, as well as huge enthusiasm from young people and their parents. Despite this, the report also reveals that much more needs to happen for all young people to have an opportunity to learn to be digital makers.
Our research explored attitudes towards digital making from young people, parents, carers and teachers, to discover what young people are making and why. Face-to-face experiences, such as workshops and short courses, are an important part of this learning. We mapped the providers offering such experiences across the UK.
Across the country, 82% of children and young people are interested in digital making and 89% of parents and carers think it is worthwhile. Young people are making a wide variety of digital projects. These range from the less technical, such as editing photos, to programming software and games. 66% make something digital at least once a week.
Despite this interest and support, there is a low awareness of the opportunities that are out there. Only 12% of parents and carers said they felt able to signpost young people to online resources to develop their skills. The same was true for face to face activities. There are many organisations across the country providing excellent opportunities for young people. Yet they are currently only providing 130,000 places for the 10 million school age children in the UK.
There is a need here to  build on the enthusiasm and grow the opportunities to learn about technology through making. In the report we make seven recommendations to help enable this: we need to see more volunteers supporting young people to achieve their ambitions; more support from corporates to grow grassroots activity; and more awareness of the opportunities available.
Nesta set out to do this work because we felt that someone needed to draw a picture of what was happening in digital making in the UK in 2015. As well as our broad recommendations for what should happen next, this information will be useful to grassroots organisations and the instigators of new organisations to grow their activities.
There is still much to do if we are to support a generation of children and young people to become digital makers. For the first time we can see what is happening across the UK, including both the exciting activity and the gaps that must be filled. The work now is to build on that activity and fill those gaps. Enable young people to realise the ambitions contained in their enthusiasm for digital making.
You can download the Nesta report 'Young digital makers' from: http://www.nesta.org.uk/publications/young-digital-makers
Oliver Quinlan is Programme Manager for Digital Education at Nesta, the UK innovation charity. His background is in education as a former teacher and leader of primary Computing education at Plymouth University. He authored Nesta's Young digital makers report, and researches the impact of learning technologies in schools.
If you enjoyed reading this article we invite you to join the Association for Learning Technology (ALT) as an individual member, and to encourage your own organisation to join ALT as an organisational or sponsoring member