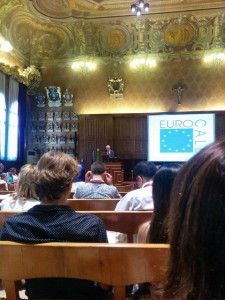 The European conference for languages connects linguists globally.
This annual event for the European Association for Computer-Assisted Language Learning brings together language practitioners from around the world to share and network. The movers and shakers of our community, including those from the US sister organisation CALICO, connect and international collaborations are formed and reinforced. The programme is available here. This year's theme, delivered at one of Europe's oldest universities, Padova University was Critical CALL, an opportunity to reflect on our practice and unpack assumptions. The keynote, delivered by Robert O'Dowd (University of Léon, Spain) in the spectacular Aula Magna provided a context for our deliberations, focusing on a rapidly developing area of CALL, Computer-Mediated Communication (CMC).
Revisting the history of CALL.
When CALL first established itself as a domain of activity it led the way in bringing together pedagogy and technology. Breaking new ground at the time, journals such as ReCALL captured the state of the art in the use and creation of CD-ROMs and early computer-based programmes. Times have changed of course and so therefore has our need to return to first principles. The keynote encouraged us to look beyond language learning, take more risks and collaborate with other disciplines. Keynote speaker Sian Bayne (University of Edinburgh) despite suffering from a failing voice due to a bad cold, encouraged us to examine the research space where human meets technology, to "see double" – she shared her Teacherbot research with us. Our final keynote came from Lynn Mario T Menezes de Souza, (University of Sao Paolo, Brazil) who focussed our attention on the critical importance of our role in supporting global understanding and transforming the potential for violent and bloody confrontations into one with more productive and mutually beneficial outcomes. He stressed the importance of working within our contexts to create a compassionate world.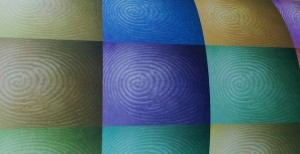 Building the future of CALL.
Eurocall is always a positive international event bringing many contexts and backgrounds together. This year seemed to be a particularly significant point in the development of CALL. Participants from Iran had queued for days to get visas to attend. In total 354 participants registered from 35 different countries. The virtual strand provided live streams for all our keynotes, social networking around the event, which was largely mediated by twitter (Wi-Fi in Italy is somewhat hit and miss) #eurocall2015 will give you a taste of the friendly interactions and some intriguing glances into the nocturnal activities too!
Next year's Eurocall will be in Cyprus at the Cyprus University of Technology.

Teresa MacKinnon,University of Warwick. T.MacKinnnon@warwick.ac.uk
If you enjoyed reading this article we invite you to join the Association for Learning Technology (ALT) as an individual member, and to encourage your own organisation to join ALT as an organisational or sponsoring member