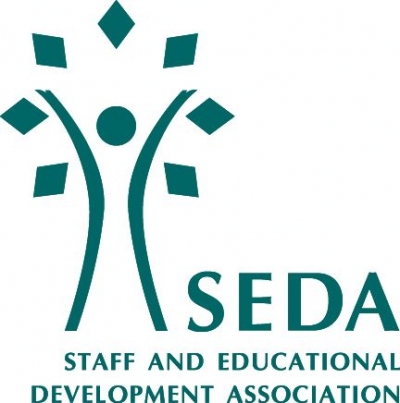 November 23, 2016 9:32 am
"You must have seen lots of changes"
At the conference dinner, someone attending his first SEDA annual conference asked me if I'd been to many of them. I replied "Pretty much all of them", and explained why. He said, "So, you must have seen a lot of changes." Which got me thinking.
Three keynote lectures – check. PowerPoint that usually works, except when it doesn't – check. Lots of workshops, in parallel sessions – check. Small exhibitor display – check. A poster or two – check. Conference dinner – check. Some awards, SEDA Fellowship and Roll of Honour – check.
This time, I think for the first time, also some short paper sessions, accepting that not everyone wants or needs to runs a workshop, and accepting that maybe some previous conferences had included one or two papers that had been tortured into the shape of workshops because, after all, SEDA means workshops.
So much for form. What about content?
Keynotes
In her opening keynote Rhona Sharpe from OCSLD described what OCSCD does, and how, and why, and in what contexts. "OCSLD just wants to be really useful." OSCLD does more and more bespoke work – people like development to meet their own particular needs. OCSLD practice is work-based, undertaken at scale, evidence-based, and evaluated. There is pressure to run events, but other processes, including developing tools and working with teams and communities, can often be more effective. Rhona described how researchers are fine collaborators for development projects – they find what's in the literature, help with evaluation … It was great to hear a leader of a development unit talking about what developers actually do. Technology is part of the environment, part of the solution. The bigger purpose is to make things better. "We third space unbounded professionals have huge freedom to act." All it takes is expertise and courage!
How best to spend £330m well on a new University campus? Answers from Alejandro Armellini at the University of Northampton included a new primary pedagogy – active blended learning (ABL). For staff, getting to make good use of ABL needs evidence on what works; support (including via accredited CPD); and agency – the personal power to act. The new campus will have no lecture theatres. The focus instead will be on high quality contact time. Also there will be no staff offices. The Northampton VC already hot desks in a large shared space. But this is still a tough sell to staff – and to some conference participants, who, whilst excited by a new pedagogy, wondered what will make this a good place for staff to work, and a safe place for those necessary 1:1 conversations. Four challenges identified by the speaker were developing new pedagogies; managing workload and space; digital transformation towards digital fluency; and the continuing problem of communication and consultation on such a large change.
I can't do justice to Sheila MacNeil's closing keynote – sorry, Sheila – blame Southern Railway.
Some workshops
Rather than a similarly detailed account of workshops, some fragments and ideas may be more useful.
In a pre-conference CPD workshop for holders of SEDA Fellowship / Senior Fellowship, Alke Groppel-Wegener from Staffordshire University encouraged us to work on the use of analogies to teach writing to creative practice students. I was wary. I started the session as one of the small minority of people, who, Alke told us, hate analogies, especially the constrained kind that we were being offered. Odd for someone who writes and plays. Anyway. I learned, yet again, and this time believed, that the best way from A to C isn't always through B, and can productively and enjoyably also involve Z, Q and / or N.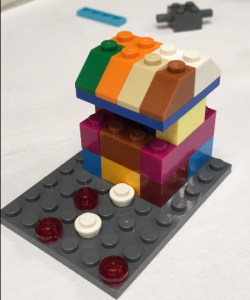 Photo by David Walker @drdjwalker
Emboldened by this rediscovery, I took part in a session by Kelly McAteer and Ruth Bavin of UCLan on developing interdisciplinary learning communities. Partly because we were promised Lego. This time, along with other participants, I developed Lego representations of barriers to and qualities of effective learning communities, cheerfully explained them to colleagues, and enjoyed and learned from others' models and accounts. In the spirit of Lego® Serious Play®. This took me back to synectics, and other creative problem solving methods. I realised that such approaches may feel contrary to a current rational / digital culture. I also realised that (a) major uses of digital are in entertainment and play, and (b) being rational involves doing what works.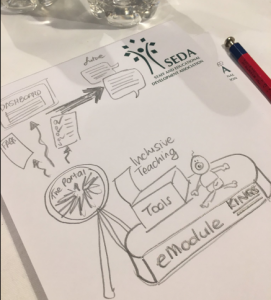 Photo by Danielle Hilton @hintondm
Sally Brown and Shân Wareing acted out fictional but realistic scenarios at the educational developer / PVC interface (see Brown & Wareing, 2016), and encouraged participants to do the same, with powerful effect.
Chrissi Neranzti reviewed with us her ambitious doctoral work in progress on cross-boundary collaborative open learning within cross-institutional academic development. This is a large phenomenographic study. It considers among other elements a spectrum of open learning development opportunities from individual through selective collaborative to immersive collaborative learning. Potentially powerful stuff.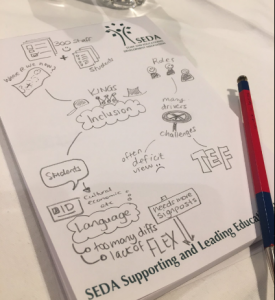 Photo by Danielle Hilton @hintondm
Participants in my session on collaboration for development suggested that collaboration can sometimes be easier between institutions than within an institution, and easier between development units within an institution than within a single, perhaps heavily siloed, unit. Opportunities for small-scale ad-hoc collaboration should be seized. Almost any institutional priority – retention, TEF, researcher development, anything – can be a basis for effective collaboration.  Effective collaboration needs, and also builds, relationships, trust. Relationships matter more than structures, although structures can hinder cooperation. If we let them.
Technologies and development
Technologies permeated the conference, but often below the surface. The discourse seemed occasionally to remain stuck in consideration of digital literacy, although reference to digital fluency was welcome. But there were glimpses of a world in which technologies are becoming unremarkable, though increasingly vital, supporters of learning, and of attention to teaching, learning and development, served and supported by systems, structures, pedagogies, people, ideas, practices, values, capabilities – and technologies. Most teaching, learning and development events are surely now, in appropriate part, about technologies.
Reference
Brown, S., & Wareing, S. (2016). Academic development and senior management. In D. Baume & C. Popovic (Eds.), Advancing Practice in Academic Development (pp. 258–272). London: Routledge.
David Baume PhD SFSEDA SFHEA
David is an independent international higher education researcher, evaluator, consultant, staff and educational developer and writer. He was founding chair of the UK Staff and Educational Development Association (SEDA); a founder of the Heads of Educational Development Group (HEDG); a founding council member of the International Consortium for Educational Development (ICED); and founding co-editor of the International Journal for Academic Development (IJAD). He is a member of SEDA Conferences and Events Committee.
@David_Baume