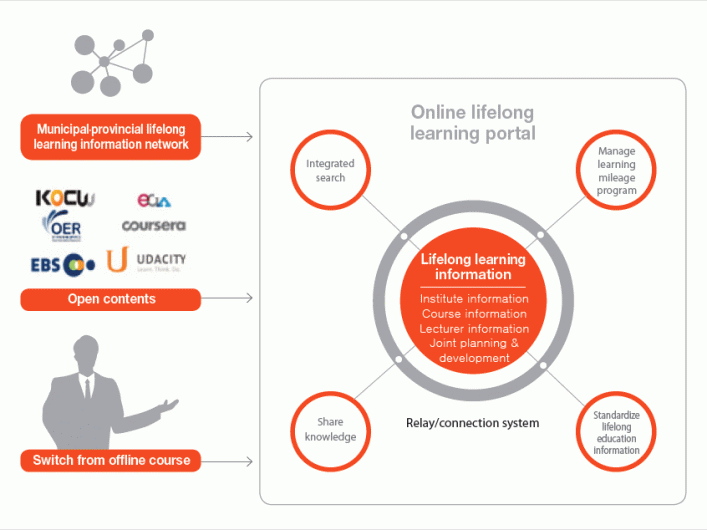 January 13, 2017 10:27 am
South Korea is developing open learning on par with any nation in the world, fuelled essentially by virtually unlimited bandwidth and connectivity; considerable government spending and investment in education, a progressive step in increasing accessibility to education for all; and as a step towards offsetting the rapidly declining birthrate which stands as the lowest in the OECD.
Many educational programmes are subject to political shifts in agendas; a programme advanced in one administration is retracted by another, a point driven home by the recent attempts to impeach the sitting president. Yet the population data is being taken seriously as eleven universities were closed between 2000-2014 out of a total of 220, with a further 47 universities having merged with 41 other universities (Korean Council for University Education). The Ministry of Education (MoE) has suggested that this will devastate the nation's higher education system as it currently stands. Initiatives are therefore aimed at bolstering education elsewhere.
The technological infrastructure isn't downsizing and the Ministry of Education is out front on this: in 2015, the MoE support for bandwidth equated to approximately 10.5% of its entire budget (KERIS, 2015). Much of this investment was originally developed to support digital textbook development and application, online education, open educational resources and content, online assessment; to strengthen information and communication, and teacher's use of ICT and has spilled over into lifelong learning and MOOCs.
Open Learning as Lifelong Learning
The core of most of this work in open learning is handled by the National Institute for Lifelong Learning (NILE). Neulbaeum is the online lifelong learning portal;  K-MOOC is the platform geared towards higher education. Both are administered by NILE and both are being positioned to lead towards university credit and degrees for those unable to participate in higher education.
South Korea is situating open learning under the aegis of lifelong learning here partly out of necessity, as there has been resistance to making this a credible pathway for achieving university accreditation.
NILE has supported open learning pathways to those without tertiary degrees. Ewha Women's University tried to establish a state-funded college of continuing education, which didn't turn out so well, so it stays decidedly a lifelong learning affair.
But the investment is there, particularly in the development of Korea Open CourseWare (KOCW), modelled on MIT's open courseware, which is designed to utilize lectures and lecture data that Korean universities have made openly available: an attempt "to correspond to the flow of Open Educational Resources (OER) that is unfolding worldwide" (KERIS, 2015).
After years of working with Coursera, edX, and FutureLearn as independent Korean universities, the Korean government invested in K-MOOC, a platform to deliver Korean-developed MOOCs. They are designed to bridge higher education with lifelong learning initiatives, as well as private enterprise by promoting recruitment links between students and companies in Korea (MOE, 2016). K-MOOC is set to offer 500 MOOCs by 2018 with student uptake increasing gradually on the topics one might expect: arts, humanities, science, maths, and the ever-popular job-related upskilling courses.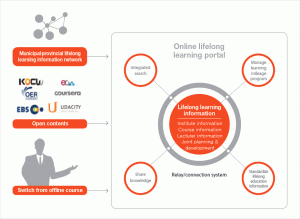 Uptake is indicative of the country as a whole. Predictably, those who graduated from a four-year university or higher account for 74 per cent of the total users. However, those who hold a diploma for secondary education or lower account only for 21 per cent (NILE, 2016). While this trend towards the "already educated" is noticeable worldwide, it mirrors Korean society where 67.7 per cent of 25-34 year olds have obtained some form of tertiary education compared to 70 per cent for MOOCs (OECD). So the jury is still out, particularly as we see some dramatic political change in the coming months (a worldwide trend, it seems), but the level of investment in open learning in Korea seems robust at the moment.
Dr. Michael S. Gallagher, Researcher at the Centre for Research in Digital Education at the University of Edinburgh, michael@panoplydigital.com. Michael is also Co-Founder and Director of Panoply Digital, a consultancy dedicated to mobile for development (M4D)
If you enjoyed reading this article we invite you to join the Association of Learning Technology (ALT) as an individual member and to encourage your own organisation to join ALT as an organisational or sponsoring member
Image courtesy of the National Institute for Lifelong Learning (NILE)