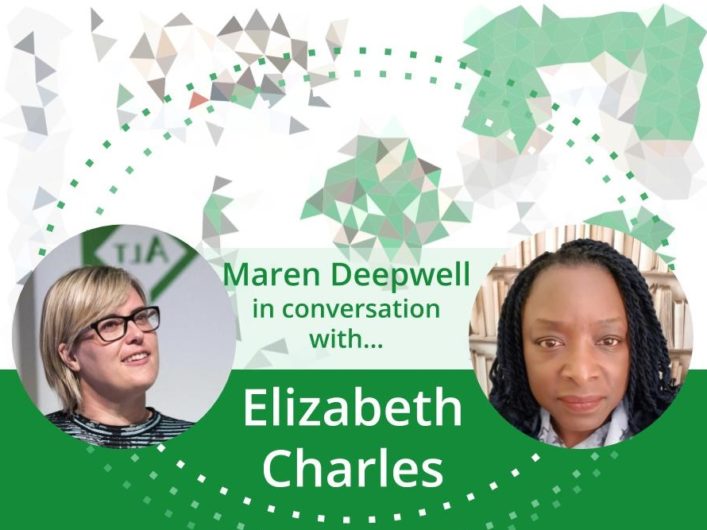 Welcome to this new regular interview series on the #altc blog. For this interview, I am delighted to welcome Elizabeth Charles, Assistant Director of Library Services at Birkbeck, University of London.
Maren: Tell us about what you are currently working on?
Elizabeth: Well, I am currently working on several fronts. I am working with colleagues to ensure that our web presence and the content we (the Library) provide in the VLE are accessible and complies with the Public Sector Bodies Websites and Mobile Application Accessibility Regulations, as well as looking to hear from our colleagues in the Information Technology Service as to what approach is being taken and how is that going to be supported and communicated to all relevant staff in the institution. At the same time, I am also contributing to the discussions and sharing of practice, resources and standards and policies via the FHEDAWG (Further Higher Education Digital Accessibility Working Group) (recent webinar on inclusive design) and the other sub-groups via the Jiscmail discussions groups. I think clarity is starting to emerge but there is still so much to be decided and then implemented in a timely fashion.
I am preparing to update our version of the Digital Skills Awareness Moodle module course that was created collaboratively with the Bloomsbury Learning Environment member institutions and will be available for reuse under Creative Commons Licence later in the year. I should start this hopefully mid-June!
I am on a Decolonising the Curriculum Working Group (outside of the Library) and we are working towards sharing good practice and resources, as well as putting on seminars and events for colleagues in Birkbeck to discuss this issue which is broader than just the curriculum. Within the Library, over the summer we hope to undertake a proof of concept project looking at what's on the reading lists we receive. We are currently in the process of reviewing the parameters and what data is required and available and how this data will be organised. I am also writing two articles and have completed the first draft of both articles. Almost ready to submit one for publication, just need some time to sort out the references. Having read the Black, Asian and Minority Student Attainment at UK Universities I am trying to identify ways that the Library can help in #closingthegap and contributing to the discussion on this at Birkbeck and how the Decolonising the Curriculum Working Group can provide input and support to address this. Finally, amongst the other day-to-day stuff that I do, the Library is getting ready for the first phase of a two-year refurbishment of the Library to begin in earnest after the exams!! What could possibly go wrong?
Maren: What influences your work?
Elizabeth: My passion for widening participation and lifelong learning of which education, digital literacy and skills to use relevant learning technologies are key drivers. These influence my work heavily and that is why I chose to work at Birkbeck.
Maren: Current recommended reading?
Elizabeth: The two books that I just finished reading are Caroline Criado-Perez – Invisible Women: Exposing data bias for a world designed for men; Simon Sinek – Start with the Why. I am currently halfway through Tressie McMillan Cottam – Thick: And other essays. I would recommend all three of them highly.
Maren: How do you make your to-do lists.. analogue or digital or both?
Elizabeth: I haven't got to the stage of using Trello but I use Outlook/calendar functions and I have a handwritten list pinned up on a notice board in my kitchen.
Maren: On work travel, you are never without..?
Elizabeth: My iPad and a book (print or e).
Maren: Which learning technology makes the biggest difference to your work (and why)?
Elizabeth: Google Apps For Education because it is ubiquitous and can be used individually and in conjunction with each other to do so many interesting and collaborative activities or projects without having to download additional software.
Maren: Who are your learning technology heroes?
Elizabeth: Hmmm that is a difficult one! I am going to say that my learning technology heroes are those who take part in the LTHEchat on a Wednesday evening. The topics covered are varied and some are more in my area of expertise than others, but I always learn so much from those chats about theories, practices, resources and research.
Maren: If you had learning technology superpowers for a day, what would you change?
Elizabeth: I would make all learning technology accessible.
Maren: What are your favourite hashtags? [or equivalent if you don't use hashtags]
Elizabeth: #LTHEChat, #UKlibchat #decolonise.
Maren: What's the best way for someone to learn more about what you do?
Elizabeth: Follow me on Twitter @ElizabethECharl and look out for me at webinars, seminars, conferences, or invite me for a chat over coffee, f2f or in digital space. Also have a look at http://www.bbk.ac.uk/library .
Maren: Thank you, Elizabeth, for a really interesting conversation #altc!
If you enjoyed reading this article we invite you to join the Association for Learning Technology (ALT) as an individual member, and to encourage your own organisation to join ALT as an organisational or sponsoring member.