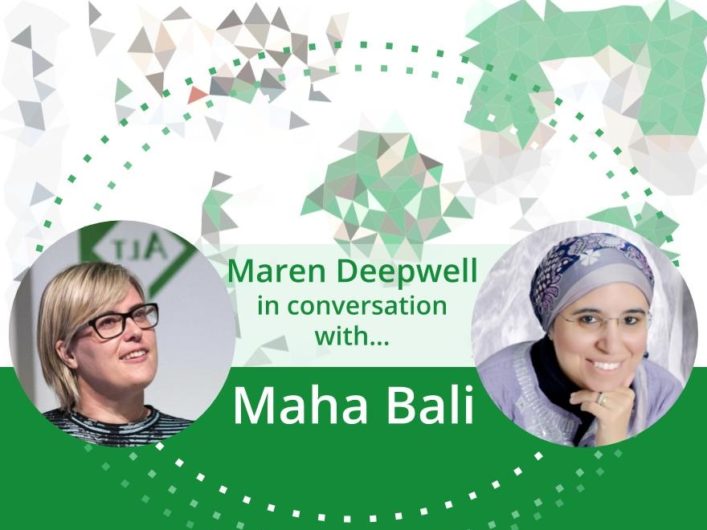 Welcome to this new regular interview series on the #altc blog. For this first interview, I am thrilled to welcome Maha Bali, Associate Professor of Practice, Center for Learning and Teaching, American University in Cairo.
---
Maren: Tell us what you are currently working on?
Maha: Ok wow. Several things.
Related to my teaching, I teach a digital literacies and intercultural learning course, and I plan to integrate the Data Detox Kit https://datadetoxkit.org and Glassroom Exhibition (see https://tacticaltech.org/#/projects/the-glass-room), partnering with Tactile Tech to offer their open source work an Arabic/Egyptianized version (this should hopefully also work well with the digital literacies campus project, too!!!); and also to use sava saheli singh's Screening Surveillance videos (available here: https://www.screeningsurveillance.com ) into my course next semester inshallah and hopefully have students ask her questions on Twitter or Zoom or such. I also hope to do some kind of co-located work with Mia Zamora (Mia, Catherine Cronin and I had co-created the open, connected, equity-focused curriculum Equity Unbound last year so this would build on that work. Mia is also OER20 co-chair!!) with the Data Detox Kit and any other points of intersection we find. Funny enough, Data Detox Kit partners with Mozilla and our Equity Unbound project was mentored under Mozilla Open Leaders. Kind ofs all comes full circle
In terms of research and such there are a number of things I am working on:
Coming soon, I co-authored with Virtually Connecting co-directors an article in eLearn Mag on Intentionally Equitable Hospitality, which is the approach that underpins our values and guides our actions. It's our own naming of what we do. Will be published in this special issue here: https://elearnmag.acm.org/special-issue-2019.cfm
Coming later, I just finished a book chapter on doing Autoethnography on the internet (I blogged some early drafts of parts of it here) . It made me want to do a collaborative autoethnography book on Virtually Connecting…
Coming soon, in Media and Communication journal, an article about doing digital literacy with a feminist approach in a postcolonial context. Now published OA here http://www.cogitatiopress.com/mediaandcommunication/article/view/1935
Also working with Rajiv Jhangiani, Robin DeRosa, Catherine Cronin and Laura Czerniewicz on an edited collection of critical perspectives on open education. And on an article extending the work of Cheryl Hogkinson-Williams and Henry Trotter's work applying Nancy Fraser's framework of social justice to non-OER-based Open Educational Practices. I actually incorporated some of this into the Intentionally Equitable Hospitality article I mentioned earlier
I'm giving a workshop, seminar and keynote in Cape Town in August inshallah.
Maren: What influences your work?
Maha: Really pretty much any work that focuses on social justice, and particularly the practice of it, not the abstract philosophical aspects of it. So if I were to talk about broad influences on my work in general, they would be:
Generally the work of bell hooks, Edward Said
Curriculum theory. Recognizing not all curricula need to be content or outcome based but they can be based on processes that promote learning and other important less measurable values; or a curriculum can be social justice based. A quick reading here http://infed.org/mobi/curriculum-theory-and-practice/
Elisabeth Ellsworth's writing on the complex practice of doing critical pedagogy in the classroom https://pedsub.files.wordpress.com/2010/11/ellsworth-1989.pdf
Lina Mounzer's highly emotional article War in Translation https://lithub.com/war-in-translation-giving-voice-to-the-women-of-syria/ which influenced Equity Unbound and so much of what I do
My daughter influences my work. Just being a parent makes me reflect a lot on so many things related to education!!
My students and the kind of ideas they bring to class and blog and talk about
Virtually Connecting- I meet so many people I wouldn't necessarily have ever met and the conversations sometimes spark some new ideas or directions for my thinking. Because we have a team of people organizing sessions, I often don't know who will be on or what to expect… it can be really thought-provoking. And you build longer relationships with people you may never have come across anywhere. One example of a wonderful group I met recently are the co-directors of Whose Knowledge (Siko Boutrese and Adele Vrana) and Majd Al-Shihabi at the Creative Commons Summit – session recording available here: http://virtuallyconnecting.org/blog/2019/05/08/virtually-connecting-at-the-creative-commons-global-summit-in-lisbon/
If I were to talk about something more specific, I'll mention it in the recommended reading :)
Maren: Current recommended reading?
Maha: Cheryl Hodgkinson-Williams & Trotter article mentioned earlier (
https://jl4d.org/index.php/ejl4d/article/view/312 ).
This is an old article on Hybrid Pedagogy but it really influenced me to think about rigor differently. Beyond Rigor. By Sean Michael Morris, Pete Rorabaugh and Jesse Stommel, 2013.
I also recently discovered this book on Data Feminism (draft open access here: https://bookbook.pubpub.org/data-feminism)
Maren: How do you make your to do lists.. analogue or digital or both?
Maha: Mostly digital. I have docs and tables (sheets can be better coz you can color code stuff automatically- my colleague Nadine Aboulmagd modeled this).
But sometimes one morning at work I'll make a written list and enjoy crossing it out throughout the day. But for anything longer than one day, it has to be digital so I can find it on different devices and update it anywhere. I lose paper!
Also, that is a really surprising question.
Maren: On work travel you are never without… ?
Maha: Ha…. my phone? As you know, I had to travel without my laptop several times, including my OER17 keynote because of the laptop ban on flights at the time. When I was younger I used to travel with several books, several cassette tapes and papers and a copy of the Quran. Now it's all on my phone. And I like to have data roaming.
Funnily, for this question, I almost said "my daughter", but if I can travel a short one-day trip to a nearby country, I don't take her. I'm not sure what will happen as she gets older; it will be more difficult to take her out of school to come to trips with me, but also easier to take her with me to the actual conferences because she'll be old enough to keep herself busy or maybe even enjoy the conferences, especially since she knows so many of my friends and colleagues because of Virtually Connecting and from previous trips.
Maren: Which learning technology makes the biggest difference to your work (and why)?
Maha: Twitter, Slack and Google docs.
Twitter obviously for connecting to people I wouldn't otherwise ever connect with
Slack for how it allows me to compartmentalize different projects within any team I am working with. Especially Virtually Connecting where different people work on different events at different times.
Google docs for how it allows such smooth collaboration with people both in my department at work and international collaboration such as co-authoring articles. I love the opportunity to comment and discuss on the margins and suggest edits rather than edit over someone's work without permission. I wish there had been Google docs when I was doing my PhD dissertation and that my supervisor would have agreed to use it.
Maren: Who are your learning technology heroes?
Maha: Hmmmmmmmmmmm so many people!!! I'm afraid to start listing them and forgetting someone important.
As this is you interviewing me, I have this in my mind: Martin Hawksey :) for his generous practice online and in person.
Others: The Hybrid Pedagogy folks (so mainly Jesse Stommel and Sean Michael Morris) and the University of Edinburgh folks (Sian Bayne, Jen Ross, Jeremy Knox et al) because they were my earliest influences (ca. 2013) on how to integrate critical pedagogy perspectives with edtech when I was frustrated with technopositivist discourses in edtech. Of course Audrey Watters for her critical straight talk (it always makes me realize how little I know and how much clouds my vision). I am also very much influenced by folks from South Africa: Laura Czerniewicz, Sukaina Walji, Cheryl Hodgkinson-Williams, Paul Prinsloo. Their discourse makes much more sense to me because I can relate to their context so much more than discourses coming from US/UK/Australia.
And honestly, so many people within Virtually Connecting for how they make things work every day. We revise our processes all the time in order to "make it work" with the underlying equity intentions. Autumm Caines, Rebeca Hogue, Helen DeWaard, Christian Friedrich and additionally the group who worked with Mozilla Open Leaders to review our processes (Nate Angell, Wendy Taleo, along with Helen and Rebecca).
And Alan Levine. So much of what I can do with tech is because of his open practice of sharing the how-to behind his work.
Maren: If you had learning technology superpowers for a day, what would you change?
Maha: Remove anything that uses numbers to represent human beings. The direction towards learning analytics and machine learning is heavily centered on quantifying and abstractly analyzing human data to produce supposed "insights" to support decision-making. Not only is much of all this stuff biased and likely to reproduce inequality… it is also dehumanizing.
Maren: What are your favourite hashtags? [or equivalent if you don't use hashtags]
Maha: I think hashtags are mostly a temporal thing for me. Whatever I'm doing at the time. One of my faves used to be the #DigPed hashtag but it's not as busy as it used to be, I think.
Maren: What's the best way for someone to learn more about what you do?
Maha: I would say a combination of my blog, my Twitter profile and generally catching up with some Virtually Connecting conversations – although I don't have much control over the actual content of those, who is on them, etc. If you're very academic, my publications and some of my past keynotes here: https://blog.mahabali.me/portfolio/research-scholarship/ though now I realize I should probably list my audio appearances coz sometimes they're really what I'm thinking about in that moment!
Find out more about Maha's work
Maren: Thank you, Maha, for a great conversation #altc.
If you enjoyed reading this article we invite you to join the Association for Learning Technology (ALT) as an individual member, and to encourage your own organisation to join ALT as an organisational or sponsoring member.