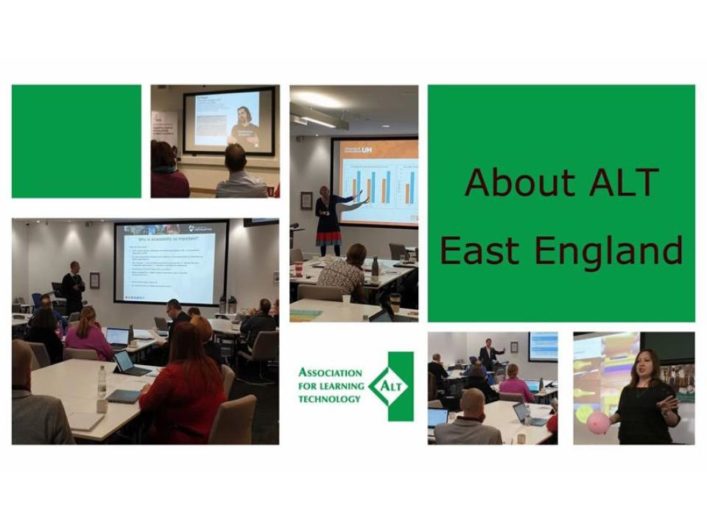 Post Authors – Neil Dixon (ARU) and Jennie Dettmer (University of Bedfordshire)
With testimonial contributions from Sarah Crudge from the University of Cambridge, Anna Judd-Yelland from University of Bedfordshire and Florence Dujardin from UEA. Video and photos by Neil Dixon and Jennie Dettmer.
In the video you'll hear Neil and Jennie from the ALT East England organising committee report on 'Technology Enhanced, Active Collaborative Learning: Challenges and Solutions', an event held on 21 February 2020 at ARU Cambridge.
The event started with a TWALK tour of ARU Cambridge's learning spaces led by Andrew Middleton (Deputy Head of Anglia Learning and Teaching). The day included a mixture of workshops and short presentations, all giving innovative ideas for collaborating with technology such as sensory circuits, digital storytelling, backchannels and more.
Watch the video (6:07 in length) on YouTube
For the schedule on the day and to view the slides please see ALT East England's website.
Details of content and images
[00:00 – 02:09]
Jennie starts by describing ALT East England, giving an outline of previous events held at the University of East Anglia and the University of Bedfordshire.
Slide 1 photos (going from left to right) – Slide from Digital Games and Interaction Design for Active Learning and attendees at ARU Cambridge, Helen Barefoot, Robe Howe, Nicholas Botfield, all presenting at the University of Bedfordshire and Kari Morely presenting (with an escape room prop) at UEA.
[02:09 – 3:48]
Neil describes two sessions which were his highlights from the event on 21 February 2020.
Slide 2 photos (going from left to right) – Matt East, sensory circuits, ARU logo, Lord Ashcroft building (ARU Cambridge), Faculty of Science and Technology (ARU Cambridge).
Slide 3 photo – Wendy Garnham presenting to the audience at ARU Cambridge on active essay writing.
[3:46 – 5:53]
Jennie reads out some testimonials collected from attendees at the ARU Cambridge event which included:
Sarah Crudge from University of Cambridge said, "I greatly enjoyed the digital storytelling session, I admired the speaker for taking a hands-on approach with such time constrictions, and I'm definitely going to follow up on the technologies she used, as these seemed quite accessible."
Anna Judd-Yelland from University of Bedfordshire said "using a digital storytelling approach is really relevant to our healthcare and social work students who are often required to write care study assignments. Using this approach allows them to also develop as digital natives embedding ILT into their curriculum in a meaningful way."
Florence Dujardin from UEA said, "Dr Garnham's session on active and creative essay-writing was an inspiration. As an academic developer, I could see how I could use her approach in a workshop with lecturers, to give them ideas about supporting their students' writing, using different technologies along the way to manage the process."
[5:54 – 06:07]
Neil outlines ALT East England's next online event on 11 June from 11am. Get details from ALT East England's website.
Neil Dixon, Anglia Ruskin University
Jennie Dettmer, University of Bedfordshire
If you enjoyed reading this article we invite you to join the Association for Learning Technology (ALT) as an individual member, and to encourage your own organisation to join ALT as an organisational or sponsoring member.