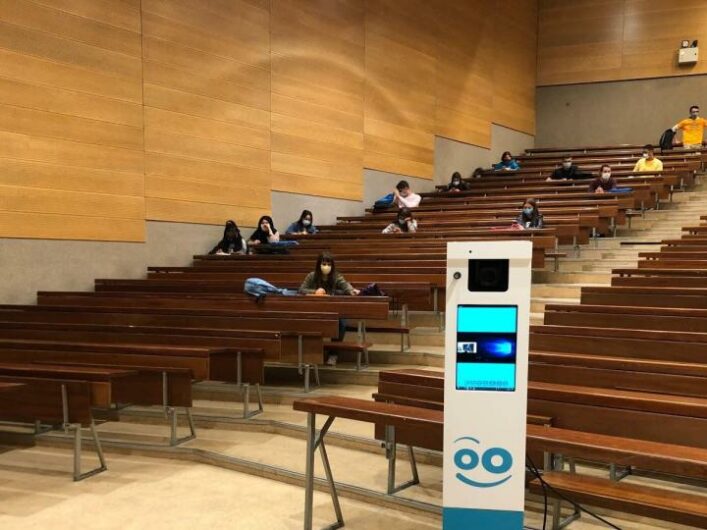 November 30, 2020 1:51 pm
It has been a tough start to the term for teachers and students across the country. There aren't many educators who would describe the transition to remote learning during a pandemic as 'easy'. But while it is easy to lament the past (we all do it), Rapidmooc believes it is essential to stay positive and continue to move forward, seeking ways to improve our education online.
The University of Oxford, The ESCP Business School and The Université Claude Bernard Lyon have all sought to improve their online education, and this blog post offers four simple ways that they succeeded by using video and Rapidmooc's all-in-one recording studios.
Put your content first
In less than a year, educators have rapidly moved away from everything they know and transferred all of their learning material onto digital platforms. While this is impressive and we should all be proud of our ability to evolve. Unfortunately, it has encouraged us to formulate new content quickly, without pausing to consider if we even think it's any good. Technology hasn't made this transition easy either, in some cases forcing teachers to put their learning material on the back burner while they gauge the best way to present it. Rapidmooc believes it is crucial to focus on the content at hand, taking the time to consider what is going to engage students while they are at home. To produce effective learning content, educators must focus on demonstrating their passion and expertise in a topic, rather than worrying about the technology around them. The ESCP Business School are a great example of educators who are choosing to put their content first:
"Rapidmooc makes shooting and production smooth, effortless and fun […] helping lecturers, admin staff and students build their confidence. The more innovative among them finally have a way to bring their most ambitious projects to life. Rapidmooc removes barriers and brings out the digital spirit that lies in all of us." (Claire Bertrand, Digital Innovation Officer at ESCP)
The Rapidmooc studio quickly removed the burden on educators and students at ESCP to become video production experts and instead allowed them to concentrate on producing content that they can be proud of (see figure 1).
Figure 1
Use body language
During a lecture or seminar, teachers present learning material while standing up, using their whole body to communicate. Body language helps to engross audiences and tends to get lost in remote learning. Stepping back from the camera and using your entire body to present learning material engages students more than you might think. In their book, The Classroom X-Factor (2011), Garner and White claim that "gesture and body language" are two of the most critical factors that help to create meaningful and immersive learning experiences. This is demonstrated in the video learning content produced by the Centre for Evidence-Based Medicine in Oxford, who use their Rapidmooc studio to teach their students whilst not only standing up, but standing in front of their learning material, using a green-screen (see figure 2). This creates engaging content that shows the students the presentation and the teacher in one shot. So, stand up and use body language to talk to your students, because as you can see, it is one of the closest ways to reproducing the classroom environment.
See the full video on Twitter here: https://twitter.com/CebmOxford/status/1128975902191308805
Figure 2
Create an active online network
Remote working has left students feeling somewhat detached from their education. Not only are they missing their face-to-face lessons, but their university experience isn't quite the same without that five-minute conversation in the corridor after a lesson, the leisurely walk with friends between lectures, and the option to simply to drop in and see a teacher when they are struggling with their work. Therefore, it is imperative to keep feeding your students content and support throughout the week, in an attempt to emulate the human connection that they have grown accustomed to. This could be a quick hello over email or encouraging discussion on the university communication platform. But, most importantly, Rapidmooc believes educators should take advantage of video as a medium to maintain personal contact. The University of Oxford has used the Rapidmooc Pro Studio to communicate with their students at scale since 2018. Not only have they used the studio to create engaging video tutorials, but they have also created videos that present students with their feedback, as well as offering constant updates about their course. The shift to video as a dominant form of communication helped to sustain the university's active online network, which supports the learning community at the university.
Have a read of the University of Oxford case study here:
https://rapidmooc.com/case-study-oxford-university-said-business-school
Create COVID-friendly environments
Although staying safe is incredibly important, it can also be incredibly tricky when attempting to create professional-quality learning material to distribute at scale. Working from home under strict social distancing guidelines makes it almost impossible to record quality video content, which is why so many are opting to use their laptops and phone cameras to record or live stream lessons. However, this tends to produce low-quality education that does not always effectively engage students. The Université Claude Bernard Lyon was one of the first to solve this issue by using Rapidmooc's COVID-friendly solution. Educators at the university in France can now create valuable video learning material both at home and on campus using the Rapidmooc Go, a portable all-in-one studio that permits one person to record a video without technical assistance. This enables teachers to comfortably produce professional-quality learning content while staying safe. For example, the university records live lectures as they happen, which offers those who cannot attend the opportunity to sit on the front row! (See figures 3 and 4).
Figure 3
Figure 4
These simple steps can solve some of the main challenges faced while teaching online with video and engaging your students remotely this year. So Rapidmooc encourages you to prioritise your content, stand up and use body language while teaching, offer a constant flow of communication online for your students, and most importantly, stay safe.
Finally, everyone at Rapidmooc sends all of ALT's readers our warmest wishes. We hope you are all staying strong during these difficult times.
Rapidmooc is a company that offers simple, all-in-one video studios for those in corporate and education. University lecturers use Rapidmooc to improve and digitise cross-curricular communication, record or live stream online lectures on campus and at home, and build online video courses. With our built-in post-production and modern green-screen technology, you can use the various recording modes to create engaging and interactive content.
Over 300+ companies and universities enjoy making videos with Rapidmooc, including the University of Oxford, Durham University, University of Portsmouth and Aston University. Do you want to be one of them?
Contact our UK manager, Christopher weeks: chris@rapidmooc.com for more information or a free demo.
References
White, J. and Gardner, J. (2011) The Classroom X-Factor. Hoboken: Taylor & Francis.