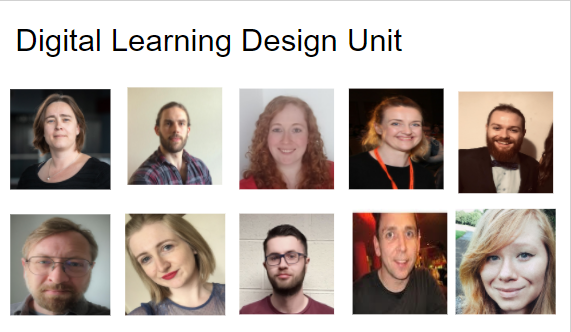 December 10, 2020 10:34 am
James McDonald and Edel Gallagher
Over the last 10-12 months the way we work, learn, absorb information and communicate has changed significantly. New technologies and models have been introduced to tackle the challenges surrounding online learning and new teams and jobs have been created to help reduce the stress that comes with how we now learn and retain information. In 2020, Dublin City University (DCU) established a new Digital Learning Design Unit (DLDU); a team tasked with supporting lecturers to transition to a new way of working, and to help address the challenges of pivoting online.
'Pleased to meet you'…'Oh, sorry you are on mute', might be a common phrase uttered during this pandemic, synonymous with people unmuting microphones and grappling with video-conferencing settings. In the case of DCU's Digital Learning Design Unit's members, the 'Pleased to meet you' was just as important as the unmuting, as we are a team of 10 dedicated learning professionals who were brought together and tasked with supporting lecturers in the university to design and deliver meaningful hybrid learning experiences to students.
The terms 'rapid' and 'ninja' were used frequently in our initial weeks as a team, and we had to get our hands dirty, testing technologies and learning about programme content in a very short timeframe. In a sense, this gave us freedom to try things rapidly, and what emerged was a series of Learning Design Sprints which could be used with lecturers to support them to design, create and deliver online learning.
In our short time together, we feel we have bonded well as a team, considering we have not met each other in real life. This is thanks to the use of collaborative technologies, such as Google Suite, particularly Hangouts, and Zoom, the web conferencing tool of choice for the University. A model Loop course was created, where team members could contribute resources. This was also used as a resource for lecturers to model best practice and support the development of their hybrid courses on Loop.
As team members had different skill sets, a focus on sharing and collaboration quickly emerged, from people asking 'for a hand' through hangouts to more structured peer-delivered training sessions. DLDU's coordinator, Dr. Orna Farrell ensured that there was a collegial, supportive environment for team members, and the introduction of a weekly Reading Circle gave space for team members to discuss various literature and resources, as well as catch up with each other.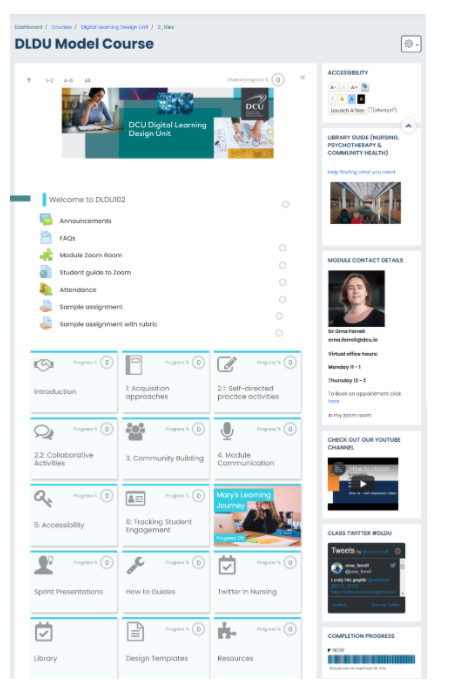 Created in the height of the pandemic, we are approaching our fifth month together as a team, we all work remotely and not one of us has met the other physically. So far we have worked with over 170 members of DCU's academic staff and have enhanced 160 Moodle course pages. We have learned to utilise a range of technologies to collaborate, which aid our work with academic staff. These technologies range from Zoom, Google Apps, H5P activities to Moodle tools, such as quizzes and Moodle Books.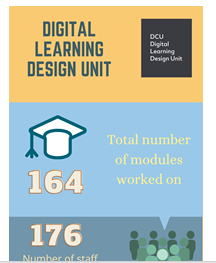 Moving completely online for the semester has been a challenge, not just for our team, but lecturers in particular. The biggest challenge of this process has been upskilling academic staff around our university in order to effectively support and engage students who are used to learning on campus. This challenge was made particularly difficult by lecturers' varying levels of comfort with technology, so creating a process which accommodated all types of backgrounds and learning abilities was a challenge and one that took a significant amount of time to get right.
Thankfully we eventually did get it right, we created a collaborative process which entails four, two hour sessions over a two-day sprint which dedicates time for academic staff to explore and learn the pedagogical and technological approaches to effectively engage with hybrid learning. The sprints focused on hands-on tailored profession learning in a small group environment.
The DLDU's agile design methodology focuses on enhancing the student learning experience and is anchored around three core pillars:
• DCU's Hybrid Learning Policy
• ABC Learning Design Framework
• Universal Design for Learning
Simultaneously, a separate team would rapidly enhance the academic's Loop page in order to bring it to life. We have created 20 rapid enhancements which focus on user experience, clear communication, and clean design which bring a page to life.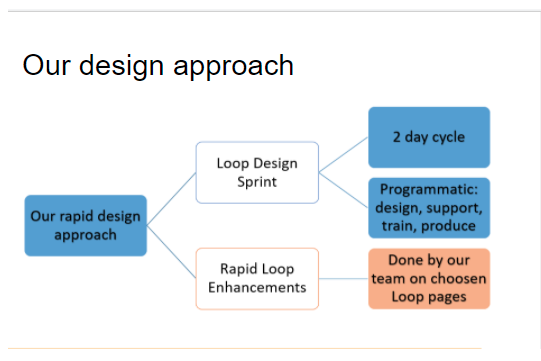 While upskilling academic staff on these tools, we also created our own Youtube channel for other members of staff who perhaps hadn't the time for these sprint sessions and these videos consisted of quick wins to really change the dynamic of a loop page that they could do at their own pace in their own time, which has had a real positive impact and enabled us to reach the far corners of the DCU campus.
Our initial Design Sprint approach was created to meet the urgent need for support for the transition to hybrid learning in September. Since October, we have broadened our support offerings based on feedback from faculty and created a richer menu of support offerings, range from individual design consultations to constructive module reviews leading to enhancement plans and to support for the design, development and delivery of new modules or programmes.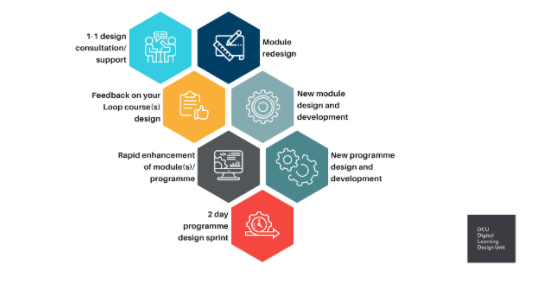 To conclude, many people are feeling the pinch of remote working and learning during a tough time for all. We were created with a purpose to ease the difficult transition online for the DCU community. While we have only scratched the surface, we have eased the pressure on many who were quite worried about the challenge ahead of online learning. While as a team, we communicate through a screen, the team has a shared purpose, to support lecturers, and ultimately students. Although we haven't met, we are driven to support each other to deliver on that purpose.
To find out more about us click here: https://www.dcu.ie/nidl/digital-learning-design-unit
Follow us on Twitter: @DCU_DLDU