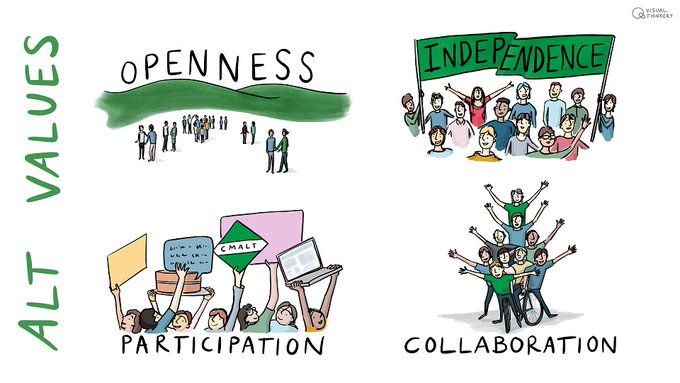 Dear Members
Since my last report to you in September, things have again moved on significantly for our community and ALT. Everyone continues to work at an incredible pace in this academic year under the continued shadow of the pandemic. Learning Technology has very much moved to be at the heart of organisations and this brings both challenges and opportunities for our Members.
Like many of you, I am looking forward to a bit of a break at the end of the year, and with that in mind, I'd like to encourage and invite you all to come and join us for a Learning Technologist of the Year Awards Ceremony like no other:
This year, at 4.30pm on Wednesday, 16th December, President of ALT, David White, will announce this year's winners in the research project, team and individual award categories – and we will also be making a special award to every and all Learning Technologists as a token of recognition for the extraordinary effort that we have made this year. We hope to come together as a community, to acknowledge the scale of the challenges we have faced in 2020 and to have a moment of celebration!
In a year when so many of us have had to work in isolation and without much support, I invite you to join in and raise a cup or a glass with us!
The Ceremony is open to all and free to attend. Register for your free place now.
Launching the ALT Annual Survey 2020: Capturing sector response to the COVID pandemic
ALT's Annual Survey has now been run since 2014 with a number of the core questions remaining unchanged providing a unique insight into how Learning Technology is used across sectors as well as identifying emerging trends in current and future practice. Given the exceptional circumstances under which our Members have been working in response to the COVID pandemic, we are using this year's survey to capture how the sector has adapted and also help inform ALT's priorities to support our community in 2021/22. The survey is open for responses now at https://go.alt.ac.uk/ALTSurvey2020 and will close on 18 December 2020.
ALT's Research in Learning Technology Journal welcomes three new Editors
We are delighted to welcome new Editors to the Editorial Team for Research in Learning Technology. Led by Editor-in-Chief, Lesley Diack, the open call for expressions of interest and subsequent recruitment and selection process has led to the following appointments: Tunde Varga-Atkins, Louise Drumm and James Brunton will join the Editorial Team as Editors alongside Lesley Diack, Liz Bennett, Michael Flavin, Sarah Honeychurch, Simon Thomson, and Gail Wilson. You can find more information about the Editorial Team here.
Staffing update
After many years of making a big impact as a senior member of staff, Martin will be leaving ALT in January 2021 to move onto new adventures as an intrepid edtech explorer, true to his influential blog's byline. We feel fortunate that we have had Martin work with us and inspire us, particularly during this year of crisis. So we, the staff and Trustees of ALT, are already making preparations to say thank you. If you would like to contribute to Martin's virtual leaving card (read: spreadsheet), please contribute them via this Google form . We are also planning a farewell karaoke special for the end of January, so get ready to practice your #TunesForHawksey.
ALT responds to Digital teaching and learning during the coronavirus pandemic: Call for evidence
I would like to thank you, as Members, for the great input submitted to this consultation. Our response is focused on the case studies and input provided by ALT Members. Many of ALT's Member Institutions have also submitted individual responses. Read more here.
We continue to support Members with a full programme of events and activities planned, including:
On a final festive note, I am delighted to say that in response to popular requests, we have now made some of ALT's visuals (created for us by the wonderful Bryan Mathers) available on face masks, t-shirts, mugs and other items to help celebrate Learning Technologists even more widely. Have a look at our #altc festive shop at https://www.contrado.co.uk/stores/alt-shop and note that 20% of all proceeds go to ALT's scholarship fund for free conference places.
Dr Maren Deepwell
Chief Executive
ceo@alt.ac.uk