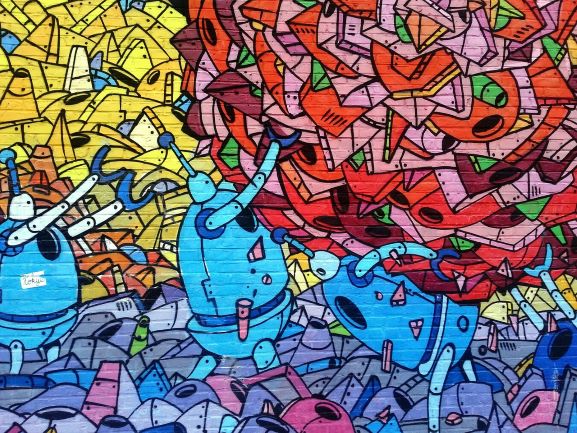 Anti-Racism & Learning Technology Community-Guidance for Content Development sub-group
Samantha Ahern, Faculty Learning Technology Lead (The Bartlett), UCL; Coco Nijhoff, Senior Teaching Fellow (Library Services), Imperial College London; Alistair Cooper, Educational Technologist, School of Clinical Medicine, University of Cambridge
How, as content creators and learning designers,  do we start to think about and approach race and racism in our work? How do we do this individually and when working with programme teams? 
In our previous post we introduced some of the ways in which race and racism feature in all levels of content creation. But how can we ensure we consistently consider and address these different aspects in our work?
Frameworks broadly offer a way to think about a piece of content creation as a whole. This includes interconnected activities and the context they fit into and who is involved. This can help to guide us into addressing each aspect with anti-racism, providing structure and ways to organise activities. In that many frameworks are designed to be flexible and adaptable, there is an opportunity to consider using these as a starting point for anti-racism content development.
Design for Diversity™ (D4D) framework
The Design for Diversity™ (D4D) framework provides an example to explore. Whilst it is not specific to education or digital learning content, the D4D framework contains tools and guided critical thinking exercises to undertake when starting work to help with "illuminating cultural and racial biases within your design, ideation, and creative processes." As such is highly applicable to our field. For example, the framework asks us to answer these core questions when approaching a piece of work:
What's the worst-case scenario in terms of who this content will affect?
How do the identities within your team influence and impact your design decisions?
Who might you be excluding?
How will you engage the audiences you intend to reach within your design process, equitably?
Is the ongoing process of improving your product/service informed by The Source? (as they term it, the 'target Source' community and the 'excluded Source' community).
These are among the questions that might be used to employ a framework in taking an anti-racist approach. The framework has the potential to make explicit some of the unrecognised biases and practices when creating digital learning content – and result in a stronger piece of work in general.
UCL Creating an inclusive curriculum for BAME students staff toolkit 
The UCL Creating an inclusive curriculum for BAME students staff toolkit specifically addressing race in Higher Education that can also be drawn on when starting to plan digital learning content.
The UCL toolkit focuses on four key themes: inclusive curriculum, inclusive teaching, learning and assessment, and belonging and creating safe spaces. Each section explains why the theme is significant and provides a selection of practical tips, resources and further reading related to that theme.
For example the Bartlett 'Race' and Space curriculum introduces a number of key questions on specific themes such as Racialised Landscapes, with core readings and resources identified. Teaching staff can bring these ideas and discussion points into their programmes of study. Work is currently being undertaken to convert this into online materials that students can more readily engage with.
University of the Arts London AEM and Attainment Resources 
The University of the Arts London AEM and Attainment Resources resources include guidance on approaching teaching through materials and practical tools, with a focus on diversity and social justice. The series of tools can again help with a structure for a team to work through. For example, reviewing course unit design to examine how a unit is experienced for different students, with prompts to examine how different groups may or may not experience belonging or assessment or the content of the curriculum in the unit. After taking steps to explore the reasons for differences in attainment in that light, content creation within the unit is that much more informed and able to take place with specific locally grounded anti racist aims.
 Advancing Racial Literacy in Tech 
Another framework, one which is presented as a broad statement on how to approach anti-racist content development, is the Data Society Advancing Racial Literacy in Tech framework, presented by the Data Society, a U.S.-based non-profit thinktank. The aim of developing racial literacy is "a method for addressing the racially disparate impacts of technology" and is a capacity that can be developed and expanded.
ALT Ethical Framework
And of particular relevance for the ALT community is the soon-to-be-launched ALT Ethical Framework. This framework will include a range of tools and applied examples to support its ethical principles and can be applied from the individual to organisational level. Launching at the September annual conference, you can get involved in a range of ways now with the development of this framework.
Recommendations
It may be that despite having knowledge of how to apply frameworks, you as a content creator might have only limited control over some parts of the work you are producing. The curriculum may already be set; the project already decided; or you may be working on just one part of the content.
Frameworks can be useful tools for you and other constituents. For example, you can share and make visible the framework to others, raising awareness of their utility. This is a good way to start a conversation on the role of structural racism in the on-the-ground activities of education in a positive and action-orientated way.
It's possible to apply relevant questions and activities presented by frameworks to the areas you do have direct control over. Applying tools presented by frameworks using a 'theoretical' approach at the project level can be a useful method for developing your own critical thinking.
Some of the activities of embedding anti-racism into creating online learning content may require specific tools and resources (in our previous blog post we mentioned databases for diverse skin tones that can be drawn on in medical education resources, for example).
In addition to addressing specific elements of content, we as content creators also need to think about what we and our institutions are bringing to projects before we even open our tools. Frameworks such as those touched on in this article can help to structure that approach.