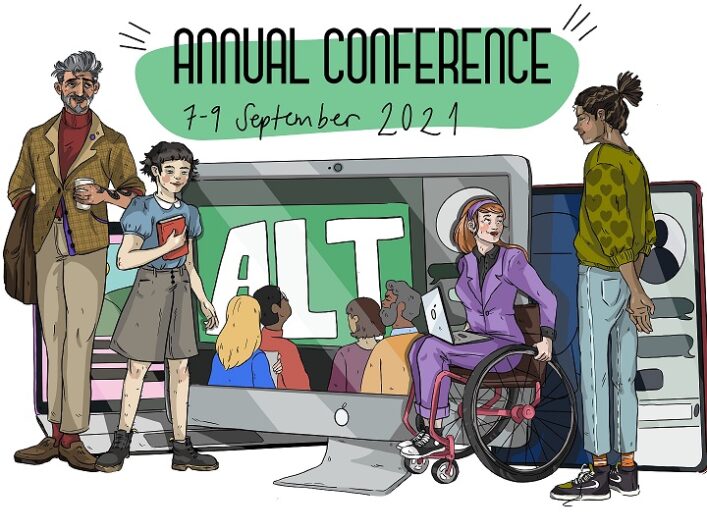 Rae Bowdler, City, University of London
Playing a part in the ALT-C Conference Committee – A newbie blogs about her role at the ALT-C Conference Committee and what she hopes to gain from the conference.
#ALT-C #ALT-C21
Looking for #edtech inspiration for the academic year ahead? Join ALT and a global community 7-9 September to inform your practice for 2021-22 https://bit.ly/3bQoCqD #altc #altc21
Tell me about yourself?
I have been at City University of London for the last 15 years in which 13 years of it has been spent in E-learning as it was known way back when! I have witnessed the expansion of technology enhanced learning and it continues to do so. I have led projects to do with Personal and Professional development Planning, Learning spaces and the Teaching Equipment in our learning spaces. I am always interested in what our new norm of learning will look like. As a Fellow of the Higher Education Academy and with a particular interest in Student directed learning, I am most interested in seeing how we can do more then it being 'just another zoom call..'
Why did you join the ALT-C planning committee?
As someone who has worked in the field of educational technologies for a while now, I felt it was time to join ranks with the ALT-C planning committee and I'm so pleased I did. Its already proving to be an exciting piece of work where you get to work with a bunch of really great people from a range of institutions across the UK. As a member of the planning committee of our internal Learning and Teaching Conference, I am hoping to come away with some real nuggets from the collective group. It's also so nice to be working with some external people that I often don't get to see as much.
Who are we all?
So, we have 79 committee members from 56 different institutions help steer the Annual Conference. We also have a very well established team, made up of co-chairs and secretaries who do the hard work for us. We get to do the nice bits like attending the committee meetings, adding our suggestions, playing an active part in the running of the conference and helping to make the conference a success for those attending.
You can find out who else is on the committee here.
What specifically inspires you about this year's conference?
This year's conference will be online which is exciting as it means I will be able to attend most of it. Not that its not nice to be away; but as a mum its much easier if conferences are online. ALT-C will be using this forum to understand how universities and colleges have moved into online and blended learning. I am excited to hear about how universities have managed this change and learn from their experiences of course.
The submissions have been themed in the following topics:
Leadership in learning technology
Inclusive practice
Digital well-being
Digital and physical spaces
Wildcard
Over a course of 3 days from the 7-9th September, speakers feature from across sectors to share their perspectives. Full registration includes:
Pre-conference orientation & networking sessions
Pre-conference workshops
Access to all live and asynchronous sessions over the three day programme
Social programme
Opt-in participant list for networking
Recordings and session materials post conference
Where do I go to register?
To find out more, please don't delay and sign up – https://altc.alt.ac.uk/2021/registration