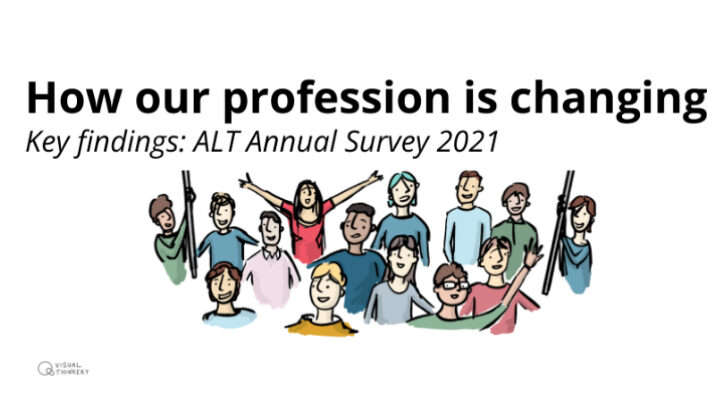 With insights from ALT's annual survey, Maren Deepwell and Helen O'Sullivan explore how things are changing in Learning Technology.
The sector landscape is changing and ALT's Annual Survey findings show that blended and hybrid models are becoming the main mode of learning for a majority of institutions (66% of those who responded). A year ago many were still expecting a 'return to normal' but this expectation has now shifted as well  as nearly half (46%) see the move to blended and hybrid models as a long term shift within their institution. This move will need to be carefully explained to students and other stakeholders to prevent long term trends being confused with a debate about value for money. 
As the demands of this new reality become clearer, there are challenges ahead, but it is heartening to see that the overwhelming majority of respondents report a continued positive shift in the perception of Learning Technology within their institution (83%).
The survey findings can help us explore key issues and how we might tackle them as a sector: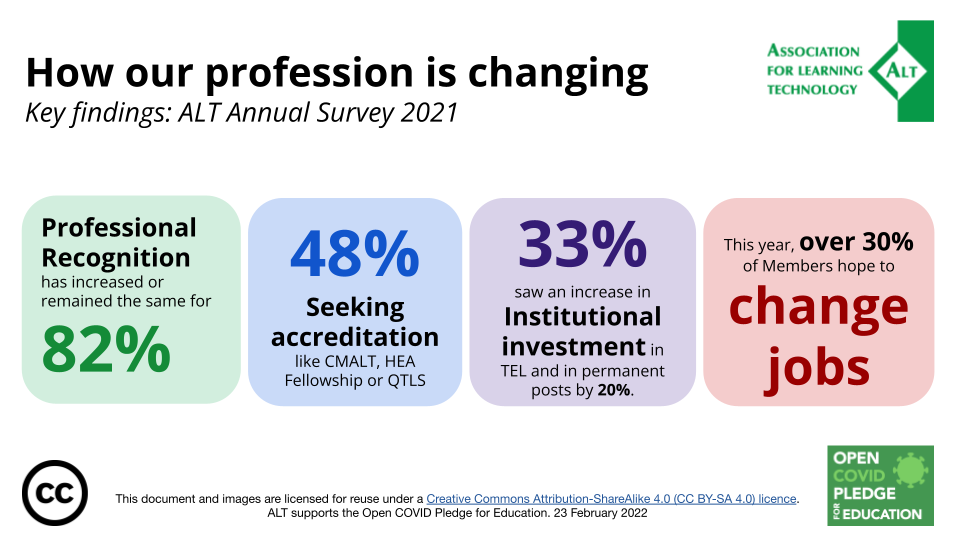 Student engagement as a driver for digital transformation
Student engagement continues to be the primary driver for use of Learning Technology, and this has remained constant for the past six years.
However, in contrast to 2020, we are seeing that digital practice reflects a move away from relying solely on popular platforms like Teams and Zoom to a bigger range of tools. This reflects many institutions moving away from a crisis provision model to a strategic vision of blended and hybrid learning longer term.
The Top 10 popular EdTech tools analyzed in the survey reflect this shift in practice towards more collaborative tools in particular, alongside video conferencing and VLEs rated as the most important by 76%.
One of the questions institutions are exploring is how to balance the need to provide a robust and reliable digital infrastructure via which students can access essential services and resources with the range of interactive and collaborative tools that academic staff want to use to bring their subjects alive in online or blended learning environments. Innovation and infrastructure are often seen to be at each end of the spectrum of digital strategy, and Learning Technologists are often those who find the essential compromises that work for everyone involved and deliver the best possible experience to learners. In this context, their role is becoming ever more important.
Growing demand for Learning Technology professionals
One of the key questions we ask in the survey is how institutions invest in Technology-Enhanced Learning, and we continue to see an increase in investment of over 30% overall, although smaller than the previous year, when 45% of Members reported an increase in their budgets.
In percentage terms, investment in infrastructure has remained on the same level as the previous year, both in terms of investment into online services (77% report an increase) and equipment (70% report an increase).
However, when we compare the data about investing in people, the picture is different. From 2020 to 2021, investment in permanent posts has increased from 32% to 54%, and for fixed term posts from 34% to 50%, emphasizing the continued and growing demands for Learning Technology professionals in the long term (in comparison to investment in consultants, which the survey shows to have decreased).
Alongside this, 53% report an increase in investment into CPD and training, which aligns with an overall increase in professional recognition reported by 82%.
Leadership continues to grow as a focus for roles related to digital transformation. The trend from last year, which highlighted that ~20% of roles are now primarily leadership roles, continues and this year's findings show that management and leadership responsibilities are included in a further 32% of roles.
This investment in people and infrastructure is a welcome and positive development in the sector. We need to ensure that this investment is made wisely and in the best interests of students and staff. ALT can contribute to this through accreditation and professional development, equipping senior leaders with the skills to create meaningful digital education strategies and through the adoptions of the ethical framework.
Explore the survey findings
ALT's Annual Survey has run each year since 2014, with a number of the core questions remaining unchanged. We think it provides a unique insight into how learning technology is used across sectors as well as identifying emerging trends in current and future practice. Explore key findings:
All data submitted is shared openly as part of ALT's commitment to the Open Covid Pledge for Education.