Dear Members
It was a pleasure to see the OER23 Open Education Conference take place both in Inverness and online. I have seen numerous pictures and presentations shared by the community. Bringing together 170 researchers and practitioners from 15 countries, OER23 showcased the strong Scottish Open Education movement and international participants to leverage our shared expertise for change in policy and practice. OER23 featured a stellar line up of speakers including individual keynotes, panel discussions, a special OER23 GASTA session and GO-GN speakers and further resources and recordings from the conference will be released in the coming weeks.
Key findings from our 2022/23 Annual Survey – Trends in Learning Technology
I found it really interesting to see the findings of our ALT Annual Survey. Last year, we explored how our profession was, and still, changing – click here to read the full report. This year, the survey explores the main trends in learning technology with a focus on the digital transformation, that includes:
The top nominated tools as the software of the year
Models of learning in the UK
Biggest challenge for digital transformation
This survey is available to provide an insight into how Learning Technology is being used across sectors as well as identifying emerging trends in current and future practice.
We shared the findings from this year's survey at the Health Education England Blended Learning Conference 2023 and at a dedicated session at Ahead by Bett, which I was delighted to present alongside Puiyin Wong and Julie Voce.
A second report from the survey, focused on professional development and CMALT, will come out in the coming weeks.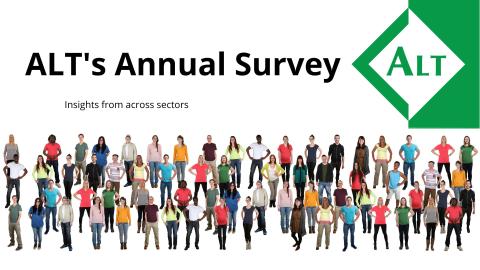 Submit your proposals for the Annual Conference 2023
Our Annual Conference will be held at the University of Warwick, 5-7 September 2022. Chaired by Santanu Vasant and Lawrie Phipps the conference will critically examine the organisations and practices we work in through a digital lens, fostering a community of future leaders and innovators in the digital space, who come together to exchange ideas, collaborate, and drive change.
Submissions should focus on the following themes:
Leading People in a time of complexity: How have individuals and teams driven change to solve complex and difficult problems? How have individuals and teams been rewarded and recognised in their institutions for being experts and leaders in digital learning?
Diversity and Inclusion: How are the most precarious and disadvantaged people being supported and empowered through technology? What future exclusions must we fight?
Sustainability and Social Justice: How green is your educational technology? How will we model green and sustainable practices in the field of educational technology and what does it mean for institutions?
How do you make decisions about tech that proactively care for the most vulnerable people among us? How should we model practices that account more for the health and well-being of people than that of businesses trying to sell technology to the education sector?
Emerging technologies and behaviours: How are emerging technologies, or new uses for existing technologies changing behaviours and practices? What do emerging technologies mean for learning, teaching and assessment? How do we prepare students and staff to critically face the hype cycles around tools such as Machine Learning, and teach them to sift through what companies are claiming, to find the truth?
Wildcard submissions: submissions that address the wider conference theme, covering practice, research or policy in Learning Technology.
For more information and to make your submission, head over to EasyChair.
Did you miss…?
A quick summary of highlights from across our community: