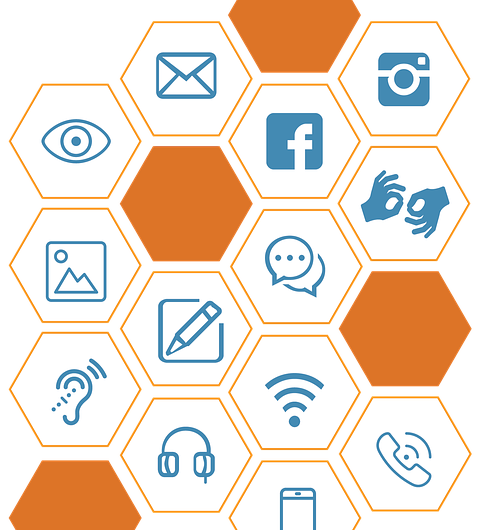 by Geraldine Foley, Julie Voce, and Yanna Nedelcheva ALT M25 Member Group
The M25 Spring meeting was held online on 26th April 2023 on the theme of "Inclusivity". A recording of the session and a copy of the slides can be found below.
How to Make Your Images Speak to Everyone by Vanessa Skiadelli, University of London.
Vanessa asked participants to answer questions on alternative text (alt) text and image captions. She used some great examples of images and diagrams to illustrate the difference between the two. Noting that the alt text should provide a description and the caption should provide further context. For complex charts it is best to use a long description. She recommended using the browser extension Wave to gain a screen reader view.
Slides: How to Make Your Images Speak to Everyone
Learning Technologists' Anti-Racism Tool by Samantha Ahern, University College London
This is a cross institutional project which ties in with the work of ALT's Anti-Racist Learning Technology Group. Sam introduced the reflection tool that the team has developed. They have also worked on bringing anti-racism into learning and instructional design frameworks. There was some discussion on the importance of recognising that technology is situated within society therefore not apolitical and some recommended reading and resources on the subject. Sam invited everyone to think about how this work can be brought into our everyday practice and for feedback on the reflection tools. Visit https://reflect.ucl.ac.uk/ar-lt-tool/ for more details.
M25 Accessibility Quiz by Julie Voce, City, University of London
After a quick break we returned with an M25 accessibility quiz hosted by M25 Committee member Julie Voce using PollEverywhere. The quiz questions were based on some that have been used at training events here at City and are available under a creative commons license if anyone would like to use them for their own events.
Slides for the Accessibility quiz.
The May of Accessibility by Yanna Nedelcheva, University of Westminster
Finally we heard from the M25 Committee member and host of the online meeting Yanna Nedelcheva. Yanna gave an overview of the work that went on in the University of Westminster for Global accessibility awareness month. In 2021 the University hired 12 full time Graduate Learning Assistants (GDLA) to work within their home departments. This had some advantages as they were already familiar with the University courses and engaged with the academics. The Graduate learning assistants went through an extensive programme of training and worked together to devise a template. They were given access to Ally reports and contacted around 200 academics each to try and arrange 121 sessions to review any accessibility issues with their modules. They also created a guidance report, highlighting common issues with feedback and guidance on how to remedy them.
Engagement varied between schools with some gaining 80% engagement and some completely ignored. The programme continued up until the present day with many events and workshops, a blog and lots of online courses. Data from Ally indicates that the overall accessibility score has increased between 2021 and 2022 and a deeper dive into the details of the reports indicates there have definitely been some improvements and there is a greater awareness of accessibility at the institution.
Yanna reflected that the timing of events is very important and that May is when academics are marking so initially this may have affected their engagement but now people are aware of the timing and are expecting events to happen. She also noted that in 2021 people seemed to be overwhelmed but are now realising that this issue is not going away and that making things accessible is a requirement but that it doesn't have to take too long and can become part of your everyday practice.
There was some discussion on the project and accessibility more generally. It was raised that often accessibility is being left to Educational Technology staff without any associated resources or support and that Ed tech staff are often referred to as accessibility experts when often they are not. Many Ed tech staff are self-taught, but we can work together to share best practice and training resources with events like these.
Slides: The May of Accessibility
Save the date
The next meeting for M25 will be on Tuesday 11 July at The Bar Tribunals and Adjudication Service (BTAS, ICCA, COIC), First floor, 9 Gray's Inn Square, WC1R 5JD, on the theme of Summer fruits – projects and work from the last year.
More details to follow shortly.
Find out more and join ALT M25 Group: https://www.alt.ac.uk/about-alt/special-interest-and-members-groups/m25-lt-group
Did you enjoy reading this? To become a member of our community see Membership details here https://www.alt.ac.uk/membership