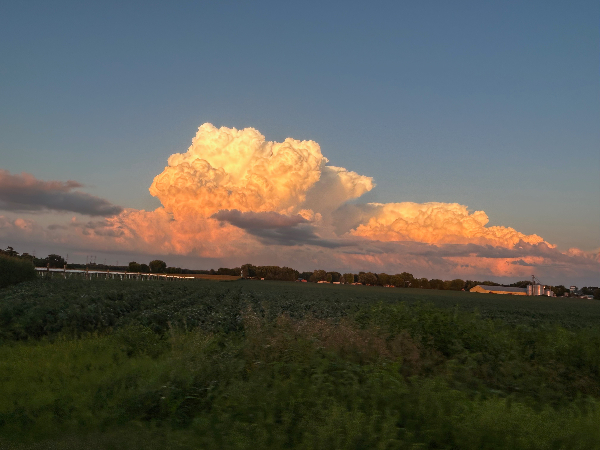 by Ilene Dawn (Ida) Alexander
I'm drawn to ALT-C as an academic space where I can wear all the hats: teaching consultant, learning designer, academic technologist, teacher with grads and undergrads, inclusion and accessibility mentor, co-creator of courses and publications. And as someone who's been wearing these many hats for 40 years while participating in creating professional roles that bear these titles, I'm finding it appropriate that the #altc23 conference is the last academic conference that I'll attend as an official university employee. Across these September days together, we'll have multiple opportunities to share "how we got here" stories, experiences in building careers, and reflections on practices we've shaped. We'll do this in a space where what unfolds will shape our next thinking.
Learning Stories
As I noted in an earlier #altc23 blogpost, a PhD school colleague conducted a professional learning disabilities assessment just after my oral exams, and offered me a diagnosis of dyspraxia. With Carol's guidance, I began to understand why I struggled as a learner, as a teacher who preferred discussions over lectures, and as a human moving about the world in less than graceful ways. She named this an 'invisible' rather than 'hidden' disability.
During that same semester, one of my students – "Brian," a high profile athlete in a "red shirt" transfer semester that kept him eligible for playing the next year – was instructed by the football coaching staff to hide his learning disabilities from his teachers, and advised by athletic program tutors to not make the essay revisions offered by his peers and instructor, advising him to "just take the C and move on."
As spring term students in a traditionally fall term course, my students were all in a catch-up mode and stood outside the profile of a midwestern Research One university student – typically white, middle class, and just graduated from a well-resourced high school. Instead, this cohort demographically included mainly first-generation, of color, mature, queer, and/or transfer students with wide-ranging talents and interests. Here they met students like themselves, and actively worked to support and advocate for each other. In this atmosphere, I learned about my student athlete's learning disability from another student athlete classmate who believed that we could support his friend, and that I could advocate for change in tutors' practices.
As a white woman teaching courses and conducting peer professional development programming as a graduate/PGR student I built on anti-racist, critical, feminist, and learning-centered pedagogies in a teaching department, the inclusive pedagogical experiences and bodymind insights I brought as a first generation university student and instructor were valued. Their support mattered as a counterbalance to my neoliberal academic department, and as a model for my work with students.  
These enacted experiences of support and advocacy mattered to my students. And they informed my career choices.
Shaping Careers
Story 1: I grew comfortable with all these hats after pulling myself out of the running for tenure track teaching positions at midwest US universities so that I could support my parents navigating health challenges. I sought out a mentor co-directing the then-new University of Minnesota "Center for Teaching and Learning Services," who soon put many-hatted me forward as a candidate for a post working with graduate students taking courses in a future faculty program akin to a PGcert in higher education program. In this unit, my experience in launching computer-based classrooms, co-creating inclusive teaching programs for teaching staff, and building accessible courses became a foundation for collaborating with peers working in academic technology, library, student support, learning center, campus diversity, and disability access.
Story 2: With that move, I realised the powerful impact of being primarily a mentor, wearing all the hats in future faculty courses enrolling 50-75 participants each term, and leading programming for a larger number of faculty members. Those 200 humans worked with their own 200 academic colleagues and students. As I write today, I feel keenly that I honour (1) Carol and Brian by practicing what I learned with each of them: that we all need multiple mentors as part of navigating academic spaces, and (2) my graduate teaching mentors: learning anew by valuing the inclusive pedagogical experiences and bodymind insights I am learning because of the future and current faculty who enrich this career I, like others, have invented.
Foundational Practices
Foundations: I teach in the spirit of Highlander Folk School, an interracial, intercultural, and intergenerational popular education centre founded in rural Appalachia in 1932 that played a critical role in the U.S. Civil Rights Movement. There, Septima Clark and Myles Horton practiced a "two-eyed" facilitation approach: first seeing participants "as they are" in order to understand where they are coming from, then to imagine with participants "where they might be" in returning to work within their local communities. As veteran co-creators of learning spaces, Horton and Clark "remained committed to continually refining their pedagogies. They knew that striking the right balance between the presentation of material and student-driven discussion was a profound challenge – especially when the goal was to empower students to confront an oppressive social order" (Nico Slate, 2022, open access article as pdf). Refining our pedagogies – all that's under our hats – is crucial.
Practices: I collaborated with Salford Uni and Manchester-based, ALT-attending colleagues for a full decade before attending my first ALT conference. At that 2018 conference, I felt my first ease at an academic conference wearing all these hats. Hearing new colleagues' learning, careers, and practices stories, I imagined ways my future faculty courses could engage students in designing courses and companion syllabuses that would be digitally, cognitively, affectively, and practically inclusive and accessible to their broad range of learners. Now five years on, I will be attending #altc23 with a two-eyed engagement to learn new practices I can bring back to my students and colleagues for next co-creations.For those of you who are first time ALT-C attenders, I invite you to listen for stories of teaching, careers, and practices with "one eye" on where you are in your learning and practices now, and that "second eye" on what you might co-create by bringing home all that you learn between 5-9 September. You can find out more about ALTC23 on their website.